In an outcome few predicted, Rasmus Ristolainen fired the shot heard around the hockey world to knock off host country Sweden in overtime and deliver a World Junior Championship to Finland.
"It feels awesome scoring the game winning goal, but the better feeling is we won and we won the gold," said Ristolainen. "It doesn't matter who scores the goal. It just happens to be me this time."
Sabres Shine in Malmö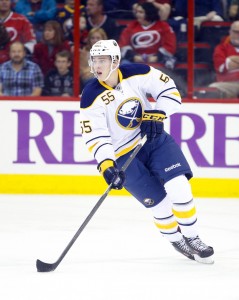 Ristolainen's game-winning goal punctuates a successful tournament for Buffalo Sabres prospects. He and teammate Nikita Zadorov were the two defensemen named to the 2014 World Juniors all-star team. Zadorov had a scoring touch of his own, leading all defenseman with four goals, including two big power-play goals to lead Russia past the United States in the quarterfinals.
Playing with Zadorov for team Russia was forward Mikhail Grigorenko. Grigorenko tallied three assists and five goals, including a goal against Canada to lead Russia to the bronze medal. "He's a good player. He helped us out a lot in this tournament," Zadorov speaking of Grigorenko. "I played with him in Buffalo and he helped me out a lot because it's his second year."
If this tournament is any indication, the future is bright in Buffalo, particularly on the blue line.
Parity in the International Game
For Finland, this marks the first time in 16 years the country captures gold at World Juniors. But, more importantly for the game of hockey, Finland becomes the fifth different nation to win gold out of the last six World Junior championships.
Gone are the days of a few privileged countries dominating international play. Canada's 14 straight years with a World Junior medal, which was culminated by a stretch from 2005-2009 where the nation won five straight gold medals will never be seen again nor will we see the days of the former Soviet Union winning every championship in sight for well over a decade.
Going into 2014 World Juniors, few experts had the Finns medaling, forget winning the championship. The difference is an international talent pool that is getting deeper by the day as well as players buying into a system and becoming a true team.
"We were the best team in the tournament and everyone stood up when we needed them to," said Team Finland defenseman Ville Pokka. "We knew we had to play defense well and generate a few scoring chances."
Not to be overlooked, Finland was able to capture gold without two of its best players Olli Mättää and Aleksander Barkov who were not loaned out from their NHL clubs. This goes to show the depth of talent from a nation not even considered one of the best heading into the tournament.
In this tournament alone, the Czech Republic beat Canada and then lost to Germany, last year's winner failed to reach the medal stage and Canada also knocked off Canada on its way to gold after losing to Switzerland in the preliminary round.
Again No Hardware for Canada
On the other side of the spectrum is Canada. After ruling the World Juniors ecosystem for so long, it appears the king has been dethroned. After losing 2-1 to Russia in the semifinals, Canada goes home without a medal for consecutive tournaments, a fate that hasn't happened since 1981.
"When you put on this crest and try to represent your country, and can't even bring a medal back to Canada for the people who've been cheering for you and have 4,000 fans come down here, it's heartbreaking," said Team Canada forward Scott Laughton. It's also been five years since Canada has tasted gold, which is the longest such drought since Canada went from 1977-1981 without a championship.
It appears there's been a clear passing of the torch.Team Canada head coach Brent Sutter said it best when he claimed, "it's not just our game anymore."