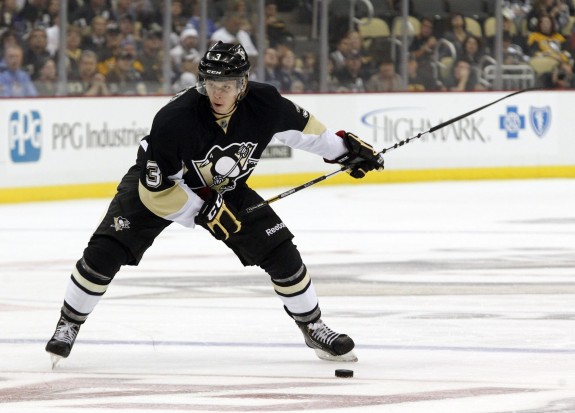 Penguins' fans, Olli Maatta is here to stay.
Let's go back in time to the 2012 NHL Entry Draft, held right here in Pittsburgh, Pa. Pens' GM Ray Shero had just pulled off the blockbuster deal of his tenure by sending Jordan Staal to the Carolina Hurricanes in exchange for Brandon Sutter, Brian Dumoulin, and the 'Canes' first round draft selection (8th overall).
With the 8th overall pick, Shero chose Portland Winterhawks' (WHL) defenseman Derrick Pouliot. But I'd prefer to focus on what Shero DID NOT give up in the Staal deal: his own first round pick at #22.
More often than not, when teams in any sport swap draft picks, you can expect that those selections will be in the same round, with the team "trading up," or acquiring the higher overall pick, contributing more draft slots to the deal (for example, if team B, who is drafting 20th overall, wants to move up to team A's slot, which is 7th overall, team B will include their selection at #20, along with perhaps a 3rd and 4th round pick, or some scenario along those lines).
But Shero maintained his team's selection at #22, which he promptly used on highly touted Finnish defenseman Olli Maatta of the London Knights (OHL). Suffice it to say that at this point, the Penguins have gotten the much better end of this deal.
Training Camp 2013
You could see the future of the Penguins' blue line on the ice during training camp, with names like the aforementioned Pouliot and Dumoulin, Philip Samuelsson (son of former Penguin Ulf Samuelsson), Scott Harrington (Maatta's defense partner in London), and Harrison Ruopp (acquired in another 2012 draft day deal that sent Zbynek Michalek back to Phoenix). Not to mention Kris Letang and is shiny new 8-year $58 million contract extension.
Then, just before the season opener, Letang was placed in Injured Reserve, which opened up a spot for one of the Pens' talented young defensemen. In all likelihood, that spot would have been taken by Brian Dumoulin, easily the highest rated defensive prospect in the organization (prospect being a player with no NHL experience). But a shoulder injury during the first game of the preseason in Columbus derailed that notion.
By the end of the preseason, Shero and head coach Dan Bylsma had a decision to make. It was between Pouliot and Maatta as to who would replace Letang on the roster until he returned. One of them was going to stay with the big club, and the other would be returned to his junior team (as both are ineligible for AHL duty because they're under the age of 20). Shero and Bylsma chose Maatta.
Now, had I been with The Hockey Writers during the summer of 2012, I would have told you before the draft how much I liked Olli Maatta. A two-way defender with good offensive upside, Maatta is a fluid skater, and more often than not makes the correct first pass out of his zone when the puck is on his blade. So when the Penguins decided to go with Derrick Pouliot at #8 with Carolina's pick, I was, needless to say, a bit disappointed. Especially knowing that the Pens were looking at defensemen in the first round. I truly thought that Shero had passed on one of the best.
But along came pick #22, and the young Finn was still on the board. Shero swooped in without hesitation and drafted Maatta.
While Pouliot is a good, young puck-moving D-man with superb offensive upside, he reminds me a bit too much of Kris Letang in the sense that he seems, at times, to be more worried about his offensive game than his defensive game (this has been a knock on WHL defensemen over the years, although Nashville's Seth Jones is doing his best to break that stigma). Maatta simply takes what he is given offensively, and makes the most of it.
Decisions, decisions…
After nine games, Shero and Bylsma will have another tough decision to make: Keep Maatta in Pittsburgh or send him back to London? They can return Maatta to the Knights at any time during the season. But if he is on the roster for the club's 10th game this season, then his entry-level contract will kick in, and Maatta is making that decision increasingly difficult for Penguins' brass.
Kris Letang has since come off injured reserve, and the Penguins now have an abundance of defensemen at their disposal. So many, in fact, that at the current time of writing this article, Bylsma has elected to play Deryk Engelland on left wing tonight against the Flyers on the team's 4th line. That is not a trend that is likely to continue, as Bylsma has opted for more grit in the lineup against a team that certainly likes to take liberties on the Penguins' big guns.
That being said, against a team like the New York Rangers or New Jersey Devils (to keep it within the division) Bylsma will have, once Letang returns to game action, eight defensemen at his disposal. Two of those will have to be healthy scratches (given the coaching staff doesn't opt for the seven defensemen approach). Maatta is the youngest (and cheapest) of those d-men, although I doubt very seriously that money will come in to play for this decision.
My best guess here is that Maatta has proven his worth, and the Penguins will feel as though he will be better served to stay here in Pittsburgh and continue to grow as a professional. At least that would be my decision. I'm not sure that I see the benefit of Maatta returning to play against competition that he has clearly surpassed. So keep him here in Pittsburgh, despite the entry-level contract kicking in, and let him mature up here. In a worst case scenario, a trade can always be worked out somewhere.
Bottom line: by this time next week we'll have our answer.
As a reminder, please get those questions for the mailbag, coming up next Wednesday, in to TDTorraoTHW@gmail.com
Or, if it's easier you can tweet them to me @TDTorraoTHW
The NHL regular season schedule was released on Friday. Check out our partners at TiqIQ for the best deals on Pittsburgh Penguins tickets for all 2013-14 games.