Ron Francis, the Carolina Hurricanes Executive Vice-President and General Manager held a teleconference Monday. He talked about the trade deadline and what he sees for his team going forward. It was inspiring in some ways and in some ways sounded eerily familiar.
A tweak here or there
When the Hurricanes failed to make the playoff last season, then GM Jim Rutherford said that the team was not that far from being a playoff team. Then the season started and it was clear that was not the case. Granted the 'Canes got hit with injuries, most notably to Jordan Staal, but the season has played out in very disappointing fashion.
During his teleconference, Ron Francis seemed to echo last season's sentiments, that the team was not that far off from being playoff caliber. That idea is based on the team's play since January when they have been healthy.
The team has been much better than they were in 2014.  Carolina is now 14-8-3 in 2015, after posting a 7-3-2 record in January. Their penalty killing has been outstanding since January, and they are currently ranked first in the NHL in the penalty kill. Ron Francis is correct, the Hurricanes have played well in 2015.
When asked how far off is his team from being a playoff caliber team, Francis was candid. He said,
"I think our structure, the way we play, I think Bill's done a real good job with that. I think our compete level on a day-to-day basis is dramatically better. When you have the structure and you have the compete it gives you chance."
It does sound like the same notion that previous management had about the team not being far off from contention. Hopefully Ron Francis has a better sense in his evaluation.
No worries
Ron Francis said that there were not really any serious attempts made to get Eric Staal on deadline day. This brings a sigh of relief to many Hurricanes fans who may have been worried about losing their captain.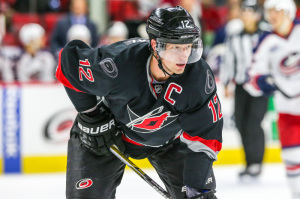 It is intriguing, however, that a team like the Toronto Maple Leafs was not knocking hard on Ron Francis' door, in light of how much they wanted to move a player like Phil Kessel. Not that the trade would have made any real sense to Carolina or to Toronto. The point is that it is interesting that there was apparently no big attempt to lure Eric Staal out of a 'Canes sweater on Monday.
Ron Francis the rookie
When asked about his first NHL trade experience as the general manager – as the guy calling the shots, Ron Francis again was very forthcoming. He said
"I'd be lying if wouldn't say you're a little bit nervous going into your first trade deadline when your calling the shots. But, you try to prepare yourself going in as best you can."
He noted that there are many variables to be aware of in the trade deadline time frame. Teams are looking for this contract term, or that cap agreement. They may not just want a defenseman but one that shoots from a particular side. In evaluating his performance he said,
"There's a lot of different things that factor into that…but at the end of the day I think we feel comfortable with the guys that returned and the guys that we moved."
It sounds like Ron Francis knows what he wants to do with the team and feels good about how he is going about achieving that goal.
Going forward
The Carolina Hurricanes are nowhere near being Stanley Cup contenders. That is stating the obvious. However, GM Ron Francis and Coach Bill Peters see a lot of potential with the team. Peters told the media that he has a lot of confidence in the 'Canes front office, and that it's really pretty simple: "We need to draft well, we need to develop well, and we need to play well." That does sum it up fairly succinctly, coach.
Francis noted that the team has a lot of guys with one year left on their deals. He said, "We got a lot of tough discussions to take place post season to kind of get a sense of where we are moving forward." He said that they will be looking at the free agency period and that winning the lottery would certainly help. He also mentioned that the defense is something they need to look at:
Francis didn't indicate the Canes would make major changes in the offseason but said the defensive corps likely would be addressed.

— Chip Alexander (@ice_chip) March 2, 2015
All in all it was a good Ron Francis teleconference. He is a straightforward, no-nonsense guy and is approaching his work as the 'Canes general manager in that manner. Some fans think he is doing just fine:
I think Ron Francis has done a good job so far and he knows what he needs to do to fix it.

Doesn't help that our prospect pool is bare.

— Leah Z. (@LMZR88) March 3, 2015
All that being said, the 'Canes went out Monday night and reminded everyone that they really do have a long way to go. Chicago Blackhawks 5, Carolina Hurricanes 2. Ron Francis does have his work cut out for him.
Mark lives in the Raleigh, NC area and covers the Carolina Hurricanes.