This is it. The margin for error is long gone. All of the trials and tribulations, successes, and Stanley Cup dreams for the 2015-16 Los Angeles Kings comes down to this. Facing a 3-1 series deficit to the detested, yet undeniably respected San Jose Sharks, the Kings are left with no choice. They have to win. Three times in a row. Or this series, and their season, is over.
There are two ways to look at what's developed through four games of arguably the most intense and skilled first round series this postseason. On one hand, every game has been decided by one goal, in the waning moments of action. But facts are facts, and the Kings have lost three of those games, and could have easily lost the fourth. Sure, L.A. is not constantly shooting themselves in the foot, bumbling over the blue line like the Jamaican bobsled team's first trial run in the movie "Cool Runnings." The Kings are just making a few mistakes, a few costly errors against a team that is peaking at the perfect time. You could easily argue that San Jose has never looked better in the entire Thornton/Marleau era than they do right now. They are playing with level of confidence that has finally caught up to their talent, and the results have been remarkably frightening.
But this isn't an obituary, and these Kings still have a heartbeat. L.A. has come back from far greater odds, against this very team nonetheless. With two of a possible three games on home ice (whatever that means at this point of the series), the Kings have the opportunity to overcome another tall order. And this is how they can do just that.
Start Faster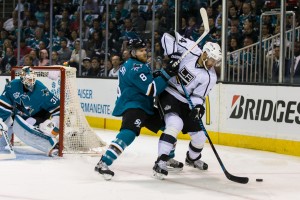 There just really isn't anything to say anymore. There has been no question which team shows up ready to play at the opening faceoff, and which team is basically stuck waiting in line at the concession stand for cotton candy and nerd ropes. The Sharks really outdid themselves in Game 3, scoring 30 seconds after the puck dropped on this Joe Thornton goal:
https://vine.co/v/iFbWKhBEX9d
I sincerely doubt any team has scored on their first shot in three consecutive games in the playoffs. Even with a series lead, the Sharks are going on the attack. Now in each game, the Kings were able to remain close, but suffering an early deficit has kept them from securing their own lead. And with a lead is where the Kings can be most dangerous and effective. Smothering opposing offenses in the neutral zone, forechecking like crazy, and playing a glorified game of keep away in the offensive zone are classic L.A. tactics with an advantage on the scoreboard. Sadly, the Kings haven't been able to deploy any of them.
Playing well in this series and any form of hockey starts in the defensive zone. Thornton's goal was the direct result from another failed breakout attempt, as Brayden McNabb passed the puck right into the skates of Milan Lucic. That won't fly. The result was a defensive breakdown, coverage gaffes, and the NHL's 4th leading scorer (Thornton) open with enough time to "Ghost Ride the Whip" in the slot. L.A. has to ensure that their defensive zone play is crisp, and that costly mistakes are eliminated from their repertoire, or they will be eliminated altogether.
Improve the Penalty Kill
Next to Ronnie Lott donning a Sharks jersey and opening the locker room door, the most shocking development as this series progressed has been the highs and lows of the San Jose power play. In the third game, the Sharks went 0-5 with the man advantage and lost 2-1 in overtime. However, in the fourth, they were unstoppable. All three Sharks' goals were on the power play, as they toyed with L.A. penalty killers every step of the way.
This shouldn't have come as a surprise, given that the Sharks were buzzing around the net  with a man advantage in Game 3, and were denied by some bad luck and several remarkable Jonathan Quick saves. There might not be a better power play in the NHL, which boasts an unprecedented level of offensive firepower. San Jose rolls with four forwards (Thornton, Patrick Marleau, Joe Pavelski, and Logan Couture) and one defenseman, the latter of which just happens to be the hybrid caveman known as Brent Burns. Like Captain Planet, when their powers unite, this group morphs into a superhuman goal-scoring brigade. Burns plays like and has the hands of a forward, which gives the Sharks five slick puck handlers that can finish at the net. As a penalty killing unit, it's tough to stymie what San Jose is doing, because they have multiple looks they can give you. Here's Burns unleashing a mammoth one-timer from an overload set:
And on this occasion, it's Marleau operating from the faceoff circle:
Marleau displays tremendous foot/eye coordination in kicking the puck to his stick, and burying the rebound with ease. But this play was really made by Couture, who walked the puck from the point over to the boards, shifting the Sharks' power play to more of a traditional umbrella look. This left Marleau open for a rebound, as the Kings were frantically trying to keep up with the pace of play.
I'm really trying not to sound like Nancy Reagan here, but the easiest way for the Kings to avoid these deadly San Jose power play situations is to avoid taking penalties. Just say no (oh well, I did it). Milan Lucic needs to reign it in and avoid trying to slash somebody's wrist off. Jeff Carter can't become the only player in a scrum to throw a punch. These penalties are always costly, but more so when they occur at the behest of the game's premier power play. The biggest penalty kill adjustment L.A. needs to make is doing a better job clearing the traffic in front of their goalie. Jonathan Quick needs to be able to see the shots he'll face, so he can do Quick-type things like hang out in the splits for 30 seconds at a time. Burns and Pavelski shoot hard enough when it can be seen it coming, let alone when your goaltender's vision is blurred.
Combating The Speed
By and large, the Sharks are a complete team. Only when they play wide-open hockey do they become absolutely terrifying. The essence of what San Jose is trying to do to the Kings involves speed. They believe that they can exploit matchups throughout both respective lineups by showcasing their quickness. It's why the forechecks have been buzzing, and have led to many of the Kings' mistakes that San Jose has cashed in. L.A.'s power play has struggled in its own right, due to the swiftness of the penalty kill unit in front of them. And given a man advantage, the Sharks never let you take a moment to size up the situation. The puck, and the man, moves fast at all times for San Jose.
Which is why the Kings cannot fight fire with fire. Getting into a track meet with the Sharks will make matters worse, and play right into the deadly hand of their northern California counterparts. L.A. needs to pick their spots, and stress puck possession more than quick striking. Shorter passes will advocate this cause more than longer stretch passes, which could result in turnovers and instant offense for San Jose. On defense, the Kings can't get greedy. Risky pinches will lead to odd-man rushes and eventually goals in the back of their net. It's really tempting to join the offensive rush, but over-committing could prove costly. And above all else L.A., hit. Playing the body (legally) is the easiest way to cause your opponent to slow down, as they will have no chose as mortal men but to feel the effects of getting checked. As Mike Tyson so eloquently said, everyone has a plan until they get punched in the face (he also said some other things about life and eating).
Trusting What Got Them Here
The Kings have all the talent in the world to win the final three games of this series. It starts with one game, one period, and one shift. That blue-collar approach has guided L.A. through the dark periods of their regular season, and can do the same as they face a sudden death situation. The offensive zone cycle game, which it is a proven championship instrument, will be needed more than ever. Gritty forwards like Trevor Lewis and Dwight King will be called upon to create traffic in front of the net. Snipers such as Jeff Carter and Tyler Toffoli must hit their targets. And as always is the case, the leaders have to prove their worth to the organization in desperate times.
Dustin Brown made his biggest impact of his season in Game 3, helping spring Tanner Pearson for the overtime winning goal:
Despite his declining play, Brown continues to compete and put his body on the line. There's little reason to doubt that he'll continue to do so for the remainder of the playoffs. Anze Kopitar, who has had by his standards an inconsistent series, will have to assert his offensive presence that much more. He is the straw that stirs that forward drink, and it will be up to him to uplift the offensive games of several role players in his shadows. And while Quick has not looked perfect in his net, he is still a factor in big games. Call it a mindset, call it another level of skill or limbs, but some nights he just refuses to get scored on. If L.A. discovers or prompts the return of that Quick, then the team might be here for a while after all.
Game 5 could be the final time the Kings lace up their skates in the 2015-16 season. It could be a game that delays heartbreak for a few days. Or it might be a date that is circled and celebrated this summer as a turning point in a championship campaign for the ages. Guess we'll find out soon enough which one it is.
Just a hockey loving American. I grew up in Cleveland, Ohio, and attended Saint Louis University where I skated for the Billikens. From 2013-14 I covered the St. Louis Blues for ESPN Radio St. Louis. I currently work in sports video production in Los Angeles, and will always show solidarity for stay-at-home defenseman.