Here we are in the first half of August with mixed emotions; the summer is coming to a close, causing us to lose those warm days spent on beaches or on vacation. But that also means one thing for all of us to be excited about: hockey season is just around the corner.
It has been relatively quiet in Islanders country this summer. Mark Eaton, Milan Jurcina, P.A. Parenteau and Zenon Konopka were signed within the early stages of free agency. Up until last week, that was all that was done until James Wisniewski was traded to the Islanders from the Anaheim Ducks and Jon Sim was re-signed to a two-way contract for next year.
Garth Snow's recent moves helped get the gears in motion. Before we know it the leaves will start to change color and the temperatures will drop drastically as a prelude to puck drop on October 9th when the Islanders will square off against the Dallas Stars for the first game of the season. With all of that in mind, I decided that it would be a good time to talk hockey over the phone on this quiet Sunday afternoon with New York Islanders forward, Josh Bailey.
What have you been doing with your free time this summer?
A lot of training. Just started back on the ice this past week.  Just been training a lot. I've been spending a lot of time with family and doing things like that and seeing friends, just catching back up with everyone after being out all year. I just bought a cottage so I've been doing a lot of work with that and getting stuff ready for there so I should get a couple more weekends in with it before I head on back up.
How has training gone? Have you worked on improving anything specifically?
Pretty much the same as last year. My main focus for me last year, or last summer anyway, was to get stronger and faster and that's been the same focus this summer. Still being twenty years old obviously I'm playing against a lot of older guys and I think that's the key to having hopefully a more successful season.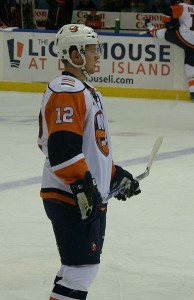 Who do you train with during the off-season?
I train with my trainer, Mark Fitzgerald. I've been with him the past two summers and love the way he trains with me. He's really helped transform my game and make me a better player.
You were used at wing a lot last season and it led to a few scoring streaks for you. The Isles have five other centers signed in Schremp, Nielsen, Weight, Konopka and Tavares. Has Head Coach Scott Gordon talked with you about where you will be playing, whether its center or wing, for the upcoming year?
No we really haven't talked about it yet but obviously I've realized there's a lot of good center-man on our team. I think that's a positive. You can never really have too much depth up the middle, on forward or at any position. I think up the middle it's always good to have lots of guys that are good at face-offs and such but as far as where I stand, whatever fits in and works for the team is going to work for me. I think that's the attitude you got to have. I think I played some of my best hockey on the wing and I would be up to play back at wing, or center I've played all my life so either way works good for me.
General Manager Garth Snow has made the Isles tougher by re-signing Trevor Gillies and adding Zenon Konopka and Jeremy Yablonski, who's also an MMA fighter, to the Islanders line-up. What do you think of the GM's new toughness movement and how do you think that will affect the way the team plays?
I think it's good. I think you can never have too much toughness. It's good to have that, what's the right word to say, it's good to have a lot of grit and the toughness factor going in. Especially I think it helps when you're playing a team like Phili. Teams like that, that have big guys that like to mix it up, I think it helps create more room for skilled players and at the same time it keeps the other team in check. I think the key to the whole thing is that they're all great guys. And the guys I haven't met, all I've heard is good things about them. And the guys that have been on the team that I know, they're all awesome guys, so I think they bring a lot to the table and I think it's definitely encouraging.
In addition to Konopka and Yablonski, what do you think of the team's newest signings of Parenteau, Eaton and Jurcina, the acquistion of Wisniewski, as well as Jon Sim and Doug Weight being brought back for another year?
I think it's great. Obviously with Dougie, he brings so much leadership. He's someone that really I've been able to look up to and a lot of guys look up too, as a hockey player and as a person. He's been so good to me since day one. I still remember in my first year living in the hotel and he would have me over for dinner with his family. I became pretty tight with him and his family so I'm really excited that he's back. With the other guys obviously you know what they can do. We got to play Parenteau a couple of times when he was playing with the Rangers and I've heard nothing but good things. Obviously Jurcina has a big body; a good sized defenseman which I think will definitely help us. Wisniewski obviously had a really good year with Anaheim; another young guy to add to our core. Eaton obviously has a lot of experience with a Stanley Cup and I've always actually thought he was a pretty underrated player. I think he doesn't get the credit he deserves. It was almost like they kind of in a way had him in a bit of a shadow behind some of the other big guys in Pittsburgh but I think people are really going to see how good he is once he steps into our lineup for sure.
Have you had a chance to speak with Nino Niederrieter or any of the other recently drafted prospects?
Yeah I actually was at the rookie camp. I was on the ice and doing all the off-ice stuff, getting to meet all the guys and trying to be a bit of leader at the camp. I got to talk to him and a lot of the prospects and the guys I know from the past. Obviously I think Nino's a great kid. That's one thing I can never say enough of about our group of guys on our team and what Snowy's done to bring in all of these guys, and our scouts and coaching staff. It's such a close locker room and obviously you can see that with the guys that they drafted this year, and getting to meet them, they're still going with the same mindset of not only bringing in good players but bringing in good people.
When I spoke to Kyle Okposo back in June, he and I talked about the possibility of this team making the playoffs. What do you think this team needs to do in order to make the jump?
I think we need to keep improving. Obviously we're still a young team but I think the whole rebuilding stage has got to end at some point. This is the year that this can't be an excuse anymore. I think everyone doesn't want another excuse. Everyone feels that way, we all have full intentions to be a winning team. Like I said, there's no excuses. We got to go in and do everything we can to make the playoffs this year, and I think that's been everyone's focus during the summer with working hard and getting ready for next season.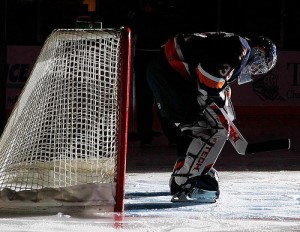 This season the Islanders are starting with only two goalies in Dwayne Roloson and Rick DiPietro as opposed to three like last year. Is there a better sense of confidence in Rick's ability to play a full season?
Yeah. I mean I haven't actually talked to Rick lately, but you know with him, with the type of guy he is, obviously you feel bad because it's tough, it be tough on a guy, I know I'd have a heck of a time with what he's done. But the way you see him work and how bad he wants it, it's just so huge. I think that's why you know he's never just going to be satisfied and give up. He works so hard all the time. Even last year, or the last two years, I really got to see and try and use his work ethic in a way for me to look up to how I need to work and how I need to train and how he is with eating and working out and everything like that. He really wants to win and really wants to help the team win and is so focused on being there so I think obviously you know that he's going to be doing everything he can to have a great full season with us. He'll have to see what he can do in a few games and it really makes a difference having a goalie like him. At the same time, Roly had a great year. Goaltending was never an issue for us last year, but I think obviously having a goalie like Ricky between the pipes would help us huge.
As you mentioned before, you were living out of a hotel during your first season with the Isles. Where have you been living now?
I got a condo in Westbury. I really like it there a lot. It's a close area to both rinks. There's a lot going on and a lot of the guys lived in those condos. I think there was seven of us there last year. We've got a pretty tight team, a pretty tight group that all live in there. It makes things a lot easier and a lot more fun.
Who else lived with you in the condo?
Last year there was…we all had our own places but I don't know who's all going back this year, but it was myself, Blake Comeau, Jeff Tambellini, Kyle Okposo, Bruno Gervais, Tim Jackman, Nate Thompson was there for the time he was in New York and Rob Schremp.
Back on December 26th, I ran into you at Penn Station in New York City after a game against the Rangers in which the Islanders won 3-2 in Overtime. Do the guys often tend to try to enjoy a night out in NYC before hopping on the train home when they get the chance?
It's tough. Sometimes we'll do like a team thing. A bunch of the guys will come with their girlfriends and do something like that. We'll do a dinner, but we don't get to do it too often. We spend most of the time on the Island. If we get the opportunity maybe we'll head in but we usually got to practice the next day and usually got something going on or we're busy. So we try to rest up and be prepared for those.
What NHL player did you look up to the most growing up?
I think Steve Yzerman probably. I think him being a Canadian boy and such a good player and a leader of his team, he was someone that I could really look up too and try to follow my game after, him being a center-man. Such a dominant player and winning all those championships. I think he was someone for me that I really looked up too.
Were there any other sports you played growing up that you may have considered professionally or helped you in your development as a hockey player?
Yeah I played a lot of baseball when I was younger. I really enjoyed that. I played softball. I was a pitcher for a few years. There was a point where hockey was always my number one favorite sport and it worked out for me the most so it kind of got to a point where you just shut down baseball and focus more on what you love to do the most in your life.
Are there any players on other NHL teams that you are close with?
I know a lot of younger guys that are my age, guys that played in the OHL that I've played with, guys that got drafted the same year. There's a lot of other guys I've become friends with. Not too many live in my area but whenever we get to play each other it's always nice to see them.
Your 21st birthday is coming up just one week before the start of the season. Any major plans?
Nope. Not really worrying too much about that. It will be nice to be legal (laughs) but other than that I think that's right in the midst of coming down to the end of training camp and the season coming up in a week there so I think my birthday kind of gets on the backburner that time of year.
This is the third and final year of your entry-level deal. Has Garth Snow had any talks with you about your future contract status?
Nope. No we're just playing it by year and see what happens. Obviously it's going to be a big year. Obviously I really want to have a good year, but obviously the team's success comes first and with it success as well. I think the key is just to worry about what we can do as a team.
Is there any one player in this league that you simply can't stand playing against?
Not really. Obviously there are role players that are trying to get under your skin. They're just trying to do their job and you know why they're doing it. It doesn't necessarily bother me at all. If you're letting it bother you, they're just succeeding at what they're trying to do so I just don't really think about it.
Many bloggers and writers talk about the Islanders rebuild; that the team is heading in the right direction. I am one of those bloggers, but whenever I get the chance to talk to a player such as Josh Bailey or Kyle Okposo, and not only see the way they play on the ice but hear the desire in their voices when they talk about taking the next step, you get a better sense of how passionate they are in making the Islanders a winning team again.
I think it's time for October to get here.
-Rob McGowan
Follow me on Twitter!
http://twitter.com/IslesRM