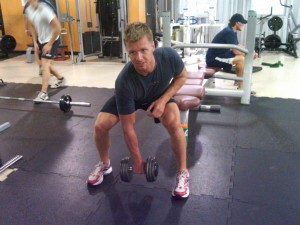 By Rick Gethin
Ah, summer. A time for vacations and grilling out with family and friends, day trips to a magical place and relaxation abounds. It's a time to enjoy a slower pace of life.
Hockey players are no different in that they want to enjoy these same things. Contrary to what many people think,  that doesn't mean that they take the summer off. They don't take three month long vacations nor do they play golf every single day. As professional athletes, they know that in this day and age they can't afford to take the summer off from conditioning.
Gone are the days when a player could show-up to training camp and use that time to get in-shape for the upcoming season. They must be ready to go from the first day of camp. Many players are fighting for a roster spot and by not showing up in-shape, it could mean the difference between being on the ice and watching from the press box.
Marc Methot, of the Columbus Blue Jackets, was kind enough to take the time to walk me through his off-season conditioning regimen. His program is specifically geared to have him in playing shape by the time the first day of training camp rolls around in September.
How much time do you take "off" at the end of the season to rest and recover from the grind of that many games?
Obviously, you want to take enough time off to rest and recover. It's not just physical, it's also mental. A good month is usually how I approach it. Some players might take a week or so longer to recover from any minor injuries. In my case, I really just try to relax and not do a whole lot. Once that month is over, I try to get it going again.
How involved in the off-season were you with former Blue Jackets Strength and Conditioning Coach Barry Brennan?
I started working out with Barry since the age of sixteen. He's from Ottawa and I remember my agent referring me to him. I've known Barry for a long time and have been doing his (strength/conditioning) programs.
Is there any difference between Barry Brennan's program and new CBJ Strength and Conditioning Coach Kevin Collins program?
Both programs are very similar. Every strength coach has their own ideas, but the differences aren't drastic. I've always said that what it comes down to is the individual. If a guy puts enough into it, he'll get results. In today's world, the conditioning programs are fairly similar between all the coaches. I know that Kevin (Collins) will have his own approach and unique ways of running his program. I've only heard good things and I'm excited to work with him.
How does your conditioning program progress as you work through the summer?
You obviously have to "break your way" into the workouts. I start off with a lot of strength stuff. It's tough. The first week or two are really hard. Your body's always really sore. It's not used to the weight lifting and all of the stress on your muscles. After that two week period or so, you slowly start to incorporate cardio and all of the sprinting. But you're still not doing a whole lot until the beginning of July. You don't want to peak too early when it comes to that. Being that it's a long season, you have to gauge it and pace yourself. We do have a lot of time on our hands over the summer and it's easy to over-train. That's something you have to be careful of.
As July progresses, we do a lot of sprints and a lot of heavy lifts. You're doing a lot of matched-effort stuff on your lifts. A lot of explosive, Olympic lifting is incorporated in my work-outs. Pretty much a lot of Olympic-type weight lifting.
Once I get into August, I start skating. When you're skating, you have to dial-down your workouts on certain days. At least in my case, the skating is almost the first priority. The workout is obviously very important as well, but at the same time you have to once again, gauge it and pace yourself. I do a lot of skating, a lot of running and a lot of plyometrics stuff (a type of exercise training designed to produce fast, powerful movements, and improve the functions of the nervous system, generally for the purpose of improving performance in sports – Ed.). We try to maintain the lifting habits with the weights. It gets pretty busy in August for me with the workout program I do. It's not a very "easy" workout.
In August, what's the breakdown between skating and off-ice workouts?
For the first two weeks of August, I like to get on the ice two to three times a week. The on-ice sessions are pretty long and last an hour and half to two hours. I have a guy I work with (in Ottawa) by the name of Shawn Allard. He's got a lot of experience skating and training NHL guys. He adds structure to my off-season skating workouts. A lot of local (Ottawa) NHL guys all meet up and skate together. There's a lot of structure to (Shaun) Allard skates and it makes it tougher on us.
Then I like to get on the ice three to four times a week. Three times a week consistently for the last two weeks of August. And then, once September comes around, you're on the ice more frequently. You kind of slowly build-up to training camp. You want to peak right around that time. That's what the goal is.
Where in Ottawa do you train?
I actually workout at two training centers. I train at The Peak Centre, right down the street from ScotiaBank Place (home of the Ottawa Senators). I also train at a place called OSPC (Ottawa Sports Performance Centre), where they train a lot of hockey players. I kind of flip-flop between the two places. I'm really loyal to OSPC because I've trained there for the past four years. It's essentially two places where just hockey players and athletes train. You don't see a whole lot of the "general public" in those places. It's a good system and it works for me.
What kind of nutritional plan do you follow during your workouts?
I kind of go by the way I feel. The biggest thing is eating the right amount of calories and making sure that they're good calories. That's kind of the key right there. You want to have a full breakfast; eggs, fruits, greens and your toast. You want to make sure that you're snacking all the time, so when you're hungry you have hummus and bread as opposed to doughnuts, you know? It's not a drastic meal plan. You're allowed to have the odd "cheat" meal or let yourself loose a little bit. Just knowing the benefits of eating properly should be enough incentive to maintain those good habits. It's become second nature for me to maintain proper eating habits as I've gotten older. You get used to it, you get into a routine and it's a piece of cake.
How have your workouts changed from your time in Juniors to now playing in the NHL?
I think when you're younger, especially a Junior hockey player as a teenager, the mentality is to put on weight. Everyone's concerned with weight. I was one of those guys. I put on a lot of weight right after I was drafted (2003 by the Columbus Blue Jackets). I wanted to be big and I wanted to be strong. Sometimes, there was a little too much emphasis on that. That's the way it is though. When the scouts are interested in a player, they'll look at the stat sheet and say you want to be heavier.
I think as you progress and get older, you actually realize how you're supposed to train. A lot of it is just explosiveness. If you look at a lot of the top players in the league, no one's a "monster". The guys are very strong in the legs. They don't get too bulky up top because they want to be fluid with the puck. It requires a pretty good balance to your workouts. A lot of the game today is all about speed and quickness.
In my case, my workouts have changed from the time in Juniors. And in my opinion, only the better.
Last season, many people outside of the club were making a big deal about the conditioning of the players. How has that changed for you from last season to this one?
It's kind of aggravating to hear people talk about conditioning issues, because everyone's a professional athlete. I think when it comes down to it, it's the individual and how he takes care of himself. You can't have someone from the organization completely police that, it's got to be the individual and he has to take responsibility for that. That's why we have fitness testing and people like Kevin (Collins) who are going to be able to see who's in shape and who's kept up with their programs. A lot of us work very hard in the summer and we're very committed to this. If I want to have a good season, the only way I can contribute or help that is make sure that during the summer that I'm in shape.
This should alleviate some of the concerns that were running rampant last year about the conditioning level of the players in Columbus. The workout regimen that these guys follow is a year-long commitment. They know and understand this. If a player wants to be successful in the NHL, he has to be fully committed to keeping his body in shape year-round.
My grateful thanks to Marc Methot for taking the time to explain to me what is involved in the summer of a professional hockey player.
Rick Gethin was an Associate Editor of TheHockeyWriters.com.