Caps newcomer John Carlson can't legally drink alcohol in the US. His AHL defensive partner, Karl Alzner, was 3 years old when teammate Mike Knuble was drafted. Being this young, if their accomplishments to this point are any indication of what they can achieve at the NHL level, critics of the Washington Capitals defense should sit back and prepare to eat their words. Just a few words about the guys who may be just what this team needs right now.
---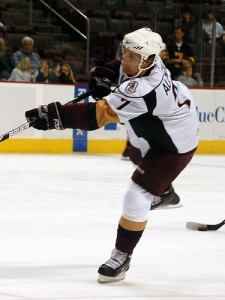 Karl Alzner
6'2″ / 198 lbs
Born September 24, 1988
Washington Capitals 1st round draft pick (5th overall) 2007 draft. Notable members of the 2007 draft class: Patrick Kane, James van Riemsdyk, Brandon Sutter.
Won two World Junior Hockey Championship gold medals with team Canada, captaining the team to victory in 2008.
Named the WHL Player of the Year and Defenceman of the Year for the 2007–08 WHL season.
Named the top defenceman in the Canadian Hockey League.
Alternate captain in the 2007 Super Series against the Russian junior team
Karl Alzner has been waiting a while to find that elusive permanent spot in the Capitals' defensive plans. After some mid- and off-season shake ups, Washington finds themselves without defensemen Brian Pothier, Milan Jurcina, Shaone Morrisonn and Joe Corvo. In June, General Manager George McPhee told Capitals Insider:
"[Alzner has] shown us enough. He could have been in the NHL last year. But the way our team was playing last year, we didn't want to tinker with the chemistry too much and we thought he would be better off if we kept him playing. He's a guy we expect to be in Washington."
He's also become a local favorite due to his ability to grow an enormous beard in a relatively short amount of time. (Full disclosure: He's a favorite of mine because of this hat.)
---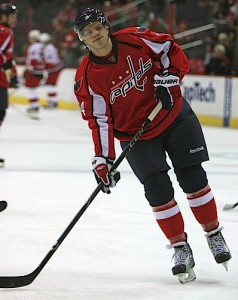 John Carlson, aka "American Hero"
6'3″ / 208 lbs
Born Jan 10, 1990
Washington Capitals 1st round draft pick (26 overall) 2008 draft. Notable members of the 2008 draft class: Steven Stamkos, Drew Doughy, Tyler Myers.
His final year in junior hockey (2008-09 with the London Knights), he won MVP, Player of the Year, Best Defenseman, Rookie of the Year, and Playoff Performer of the Year.
Alternate Captain on the 2010 World Junior Championship All-Star Team
Named to the 2010 AHL All-Star Team
He has his own bobblehead
Scored the game-winning, overtime goal for the US to beat Canada in the 2010 World Junior Championship
This year, Carlson finished his AHL season with a plus/minus of +34 and the most goals of all Hershey defenseman (17th of all AHL defensemen). Washington Capitals fans have embraced Carlson from the beginning, in part because of his calm demeanor on the ice and the maturity and clarity of a much older player. It's apparent to those who have been watching Carlson evolve over the past year that he improves game by game, something he acknowledged as well following Game 3 of the Caps/Canadiens first round series in last year's playoffs:
"I feel better and better and that's what the whole goal is…I didn't score last night but I think I played probably my best game. I played the most minutes in three periods, not overtime, so I felt good and every game I'm getting better and better. That really helps as a young guy."
---
Perhaps the most important thing about Alzner and Carlson is that they've come up through the Capitals AHL affiliate, the Hershey Bears, often playing as a defensive pair. The Caps rely heavily on their farm team to produce and prepare future NHL stars. Two-time Norris Trophy candidate Mike Green and NHL plus/minus leader Jeff Schultz both spent time in Hershey before becoming one of the Capitals most dominating defensive pairs. A Carlson/Alzner blue line provides the similar dynamic of an aggressive, two-way defenseman and a solid, stay-at-home player. As many of the Capitals younger players are maturing into veteran NHL stars, this new infusion of youth and talent will hopefully add depth to a blue line which seemed to stagnate toward the end of the past two seasons.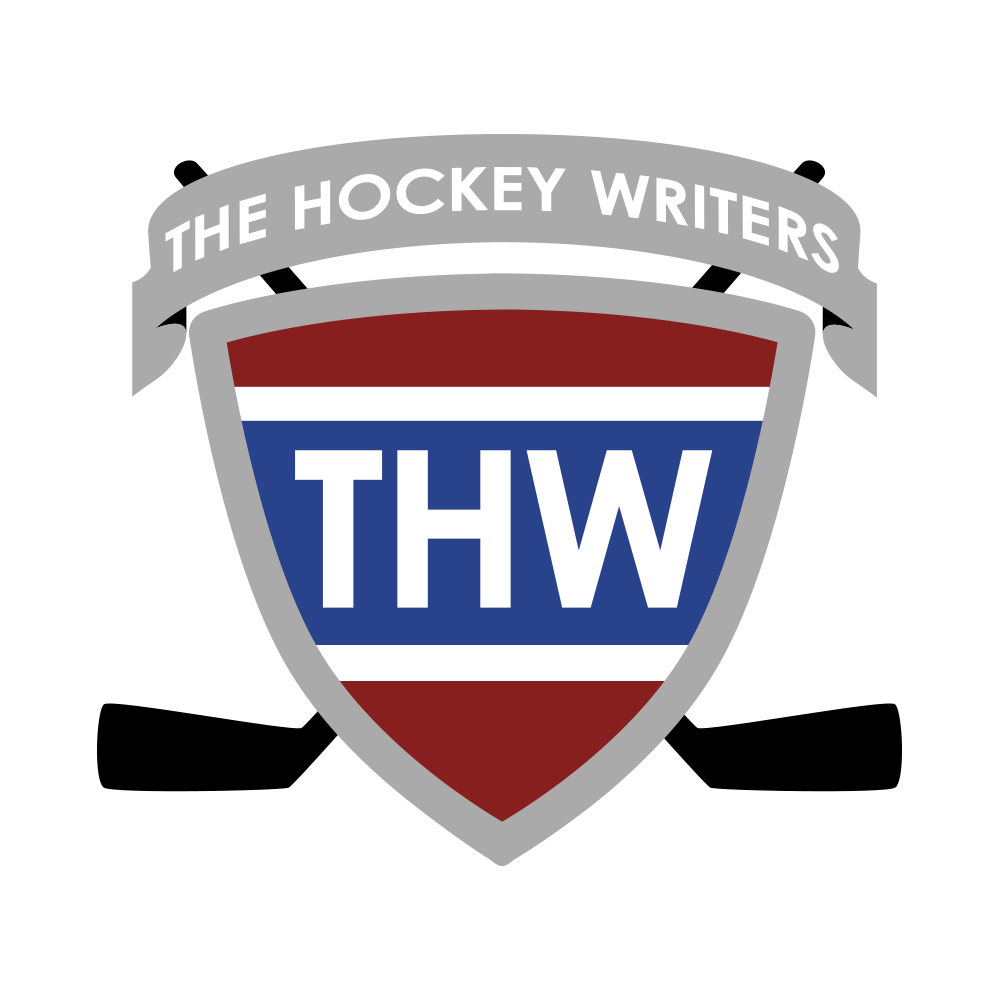 The Hockey Writers is:
1) A top-tier hockey media company delivering a top-notch, in-depth look at the NHL
2) A collective of some of the best hockey writers anywhere
3) A multimedia provider with daily podcasts and YouTube shows
4) Well-respected and widely-cited NHL prospect and draft resource