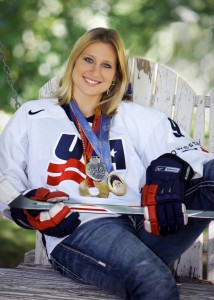 By Rick Gethin
     Four-time Olympic hockey medalist. Four-time NCAA All-American. Named Top Defenseman too many times to mention. Author of Breaking the Ice: My Journey to Olympic Hockey, the Ivy League & Beyond. And she holds the record as All-Time leader in games played for Team USA.
     Angela Ruggiero is one of the best hockey players to lace up the skates that many of you have never heard of.
     I recently had the privilege of speaking with her from the West Coast. She has an immediately apparent zest for life that infects her conversations from the word"go". It's no wonder why she was selected to represent the United States for the International Olympic Committee Athlete's Commission, a term that runs for the next eight years. She's done more through hockey than most people can ever hope to do.
     She's a 5'9″, right shooting defenseman that first hit the ice at the age of seven. For a skater that could check me through the boards in any rink, she admits she cried the first time she stepped on the ice. "Yes, I cried", she said while laughing. "It was my first time on skates and I was hugging the boards around the rink. And with all of the (protective) gear I had on, I knew I wouldn't get hurt." She added emphatically that she's proud that she never put on figure skates. That's not a dig at figure skaters, just a proud hockey player making a statement of fact.
     As she entered her teen years, she experience what every kid goes through; a growth spurt. Where before she was finding her way on the ice, now she was able to check with the best of the boys in her youth division. It was at this time she was given the nickname The Terminator. "My dad gave me that nickname and I didn't really like it", she said. "I hit my growth spurt as I was going into peewee/bantam hockey where checking was allowed. It was fun."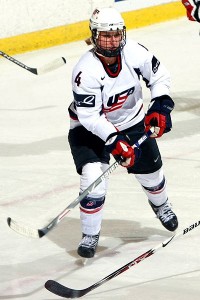 At 15 years old, she became the youngest member of the 1996 U.S. Women's National Team. As a senior in high school, she won Olympic Gold in Nagano, Japan (1998). She went on to win three more Olympic medals; two Silver (Salt Lake City, 2002 and Vancouver, 2010) and one Bronze (Turin, 2006). In 2004, she graduated Cum Laude from Harvard University with a degree in Government. The list of her accomplishments goes on and on.
     In the summer of 2009, she started training for the 2010 Olympic Games with a few NHL players. The group trained at Athletes' Performance in Carson, California and included NHLers Chris Drury (NYR), Richard Park (NYI) and George Parros (ANA). Said Angela, "The guys were fantastic. They didn't treat me any different than anyone else." I had to ask her about George Parros' moustache at this point. Was it the best hockey moustache she had ever seen? "He has the All-Time best hockey moustache and is a really nice guy", she said.
     While some might think that the age of twenty-five is a rather young age at which to write a memoir, Angela saw it differently. Breaking the Ice: My Journey to Olympic Hockey, the Ivy League & Beyond is a book that she felt almost destined to write. It chronicles her experiences with the misconceptions surrounding women's hockey. She also addresses what it's like to be a female player in a sport that's dominated by males. "This book is not only geared towards girls, but to boys, also", Angels said. "It's about having dreams and pursuing them. We all need dreams."
     In March 2010 after the Olympics were over, Angela was in the broadcast booth for the NCAA Women's Frozen Four Tournament. She said she almost ran out of things to say during the triple OT Finals game between Minnesota-Duluth and Cornell. Does she plan on getting into the broadcast booth on a regular basis? "When I hang up my skates, I might look at pursuing that", she said. "It was fun. I might even want to get into the booth and call men's games." After listening to her during the Frozen Four, I think she'd be a great fit in any television booth calling hockey games. She did add that women's hockey needs more exposure to bring in more fans. They also need to make the rule change regarding checking. "It would be more fun to watch and speed up the game", she said. I have to agree with her wholeheartedly.
     She founded the Angela Ruggiero Girls' Hockey School in 2003, and it's still going strong today. She loves being able to show the girls who attend her school that they can do anything they set their minds to. She also participates in Canadian Hockey Enterprises (CHE) Just For Girls Hockey Camps.
     The question finally arrived where I asked her if she would try to make a fifth Olympic Games. She said, "I'm not sure. I want to make sure the will and desire is there. I just had shoulder surgery a few weeks ago and want to take the summer to contemplate what I will do." I asked if not beating Canada would have anything to do with her decision to play in another Olympics. "If we had won Gold, I almost definitely would have called it the end. But now, who knows?" If anyone knows, it's Angela. But she's not saying at the present time. "Is it time to get out? I don't know."
     I finally asked her what it felt like to be one of the most decorated U.S. women's hockey players in history. "It's been great to be able to play the game of hockey and to do what I love to do. Many women paved the road ahead of me. I love playing for the "right" reasons; because I love hockey. I love being able to represent my country in this way."
     She truly is an American sports hero and a role-model extraordinaire. A person who we should all be proud of.
     Here are some of the awards that Angela has earned:
American Women's College Hockey Alliance All-Americans, First Team (1999)
Beanpot MVP (2004)
Best Female Hockey Player in the World by The Hockey News (2003)
Directorate Award as the Top Defenseman at the Winter Olympics, Salt Lake City (2002)
ECAC Player of the Year(2004)
ECAC All-Academic Team (2003–2004)
Four-time NCAA All-American
Four-time NCAA All-ECAC
Harvard Crimson Female Athlete of the Year (2004)
Harvard MVP (2004, 2003, 2001)
Ivy League Player of the Year(2004)
NCAA First Team Academic All-American (2004)
NCAA Top VIII award as one of the top 8 student-athletes in the entire NCAA (2004)
NCAA National Strength and Conditioning Association Athlete of the Year(2004)
New England Sports Writer's Player of the Year (2004)
Patty Kazmaier Memorial Trophy winner (2004)
Patty Kazmaier Memorial Trophy, Top 3 Finalist (2003)
Ranked one of Top 16 Female Athletes in the World by ESPN.com (2004)
Top Defenseman Award at the Winter Olympics (2006, 2002)
Top Defenseman Award at the ESSO Canadian Provincials (2005)
Top Defenseman in the World by Globe and Mail (2003)
USA Hockey Chevy Women's Player of the Year (2003, 2004)
United States Olympic Committee (USOC) Hockey Player of the Year (2003)
Vancouver 2010 Olympics, Media All-Star Team
World Championships- Voted Top Defenseman (2008, 2005, 2004, 2001)
My many thanks to Angela Ruggiero for taking the time out of her busy schedule to talk with me. Check out her website.
Many thanks also go to Jesse Lichtenburg, Marketing Coordinator at Shade Global, Inc. for arranging this interview.
Rick Gethin was an Associate Editor of TheHockeyWriters.com.