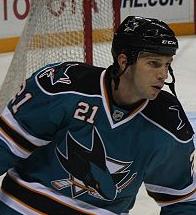 A little less than a year ago, Scotty Nichol was asked about his decision to  move from Nashville to San Jose.  His response was something to the effect that he wanted to be part of a team that, oh, I don't know, actually focused on winning.  My response to that was something to the effect of, "Oh bite me, Scooter."
It wasn't easy knowing that one of Nashville's best skaters and grindingest forwards had headed west.  It was even colder comfort knowing he was going to a team that I happen to like.  How could I root against him?  But still, saying the Sharks are better than the Predators?  Benedict Arnold!  Brutus!  Marian Hossa!   At the Faulkner household, we even blamed him (unreasonably, but hockey devotion requires no logic) for the departure of the oh so appropriately named Jed Ortmeyer from Middle Tennessee to Northern California.
As time went on, we grudgingly accepted him in a teal sweater and figured if Joe Thornton could forgive him for trying to take on His Jumboness during the previous season, we could follow suit.  We cheered for him and his team mates during the second round Stanley Cup Playoffs and were disappointed for them when Chelsea Dagger's Boyfriends prevailed and took the Western Conference Championship.
It would be easy to imagine someone in Nichol's situation being all about the here and now. The excitement of living in San Jose, being a Shark, and going all the way to the conference finals would constitute a full plate for most people.  When things got bad in Nashville during the first week in May, Nichol showed that he wasn't most people.  He caught that his former home town was in trouble and agreed to help the Sharks Foundation lend a hand to the recovery effort.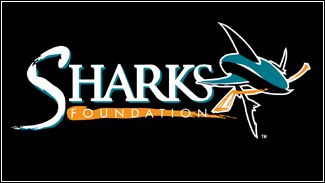 Nichol, ever the gentleman athlete (which is the truth in spite of all the twitting here) encouraged his newer fans and friends in San Jose to pitch in:
"The damage to the city has been horrible and any help from our Sharks fans will mean a lot to the Nashville community. It's a great city with great people. My family really enjoyed our time there and wish everyone there the best in their recovery efforts."
On May 18th, the Sharks Foundation held an auction at The Tank that raised over four thousand dollars for the Community Foundation of Middle Tennessee.
Meanwhile, halfway across the country, the Columbus Blue Jackets Foundation made a five thousand dollar emergency grant  to the Metro Nashville Disaster Response Fund.  Worthington Industries, a manufacturing company in Columbus,  pledged a matching $5,000 donation as well.

Wendy Bradshaw,  executive director of the Columbus Bluejackets Foundation, had this to say on the CBJF home page:
"Although we are rivals on the ice, we are fellow members of the NHL family and the Blue Jackets Foundation is proud to support one of its own.  With this emergency grant, we are hoping to remind others that although the restoration efforts no longer top the daily news headlines, the need for monetary support of the extensive rebuilding and clean-up projects is urgent and ongoing."
This sentiment illustrates why, while the generosity of the Sharks, the Blue Jackets and their fans has been outstanding, it doesn't come as a surprise.  We are all to-the-marrow loyal to our teams, but we share an almost tribal recognition of each other as part of the larger family of people who love this sport.  The volunteer efforts and contributions made by these organizations and the Predators Foundation show over and over that hockey fans are good, no, great people and the men they support for eighty-plus games a year (and a few more after the regular season if they're lucky) are  extraordinary.
On behalf of all of us here in Middle Tennessee,  I want to offer a sincere thank you to the kind people who have taken the time and resources to help us out.  The caring and support you have offered during this low point in our history has meant a lot to us and will not be forgotten.
Signing off from the middle of the Volunteer State,
Jas Faulkner
smilidon mansurus
(The tiger abides.)
PS.  Wanna help? Click on the Predators Foundation Logo below for more information about the Predators Foundation and the Community Foundation of Middle Tennessee.  Once again from all of us here, thanks!:

Jas Faulkner is a minimally socialised writer and artist who lives and works in Nashville, Tennessee. She hearts her attitude problem.