Amateur hockey players have a ton of decisions to make when it comes to where they're going to play next. At the end of the day, every player has a whole slew of factors weighing in on what's going to be the best option for them. Choosing between the CHL and the NCAA, close to home or abroad and sometimes to stay with the CHL team who drafted them or to leave the USHL for a more attractive team in the CHL, can be daunting.
Well, the Windsor Spitfires may be the best CHL team to play for and here's why.
After taking a deeper look at the London Knights' contributions to the Leafs' rebuild plan by first examining Central Scouting's 2016 NHL Draft prospect final rankings, it became evident that the Knights' focus is attracting players using prestigious features and added benefits. The strategy entails scouting top-tier American talent and luring them in with a good hook, the hook being:
Play for London now
and increase your odds of playing for the Leafs later
It's a delicate decision to make and by no means do I intend to throw anyone under the bus. The numbers speak for themselves and I'm simply here to connect the dots, but it looks like there's another OHL team even closer to the American border with an even bigger hook than the Knights.
The Windsor Spitfires produced four players in Central Scouting's 2016 final rankings and three to their midterm rankings. All four improved since the midterm and three of them are defensemen. They've also produced the most amount of improved players (players who've increased in CSS rankings) out of all OHL teams ranked.

The Western Hockey League (WHL) also popped up on my radar for developing top talent too. Central Scouting ranked a total of 71 centres, but only six ranked #50 and higher in the final term AND had improvement since the midterm. The Moose Jaw Warriors produced two of them: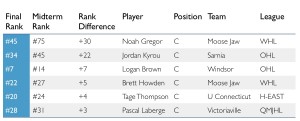 The Calgary Hitmen produced three of the top five most improved left wingers out of all 47 left wingers ranked by Central Scouting in the final term:

Amateur Hockey in the States
We all know that College hockey is starting to produce more top-tier talent and that the amount of skilled players coming from the States is increasing – that's probably why the London Knights are so keen on attracting them.
So when it comes to amateur hockey players and the debate about the "right route" to the NHL, there are actually specific teams worth taking into serious consideration, who specialize in developing specific positions. Even though playing for the London Knights increases a player's chance to play for the Toronto Maple Leafs statistically speaking, going to a different CHL team will likely increase their chances to play for any NHL team.
This data tells us that the coaches of these teams are above average. At the very least, if you're an American player debating whether or not to stay in the NCAA or to switch to a CHL team, you may want to rethink which CHL team you're agreeing to play for. Based on the number of players London had ranked by Central Scouting (seven players) versus the number of players they had improved in the final rankings (one player improved since midterm), playing for the London Knights may not be a good option for anyone, no matter what position you play.
Considerations of the 2017 Draft Prospects
http://gty.im/478661092
American defensemen like David Farranwe, Max Gildon, Joshua Maniscalco and Luke Martin play for the U.S. National U17 Team and are all top prospects for the 2017 Draft. It's inevitable that someone will approach them with a good hook and decent reeling skills. Statistically speaking, though, they all have a better shot at improving with the Windsor Spitfires, especially because they're defensemen and defence is Windsor's position of expertise.
Shane Bowers, a Canadian centre born in Halifax, Nova Scotia was drafted No. 4 overall at the QMJHL Draft by the Cape Breton Screaming Eagles and he recently made the decision to play for the Waterloo Black Hawks of the USHL in Iowa. Depending on what line he's on and how many minutes he's getting with Waterloo, he may be better off with the WHL's Moose Jaw Warriors (statistically speaking of course). After all, he'll be 17 by the time the 2016-17 season kicks off and he still has growing to do. Right now, he's already six feet tall and weighs 170 pounds. Boys usually don't stop growing in height until they're 18 and that's exactly what happened with Mackenzie Blackwood of the OHL's Barrie Colts who went on to sign an NHL contract six months after getting drafted by the New Jersey Devils. He grew three more inches between the ages of 16 and 18.
As you can see, there are indeed many things for young players to take into consideration when they're planning which route to the NHL is best for them. Like so many things in life, there is no one size fits all and planning ahead is the best way for any amateur hockey player to learn which route to the NHL is best for him.