It's that time of year again. Fantasy hockey is just starting up and fans want to know what players could be good grabs in their respective drafts. Though the Ottawa Senators have many defensive issues, the team is looking very rich on the offensive side of things.
Everyone has heard it multiple times. With the departure of Jason Spezza and Ales Hemsky, this forward group is going to have to step up, and in a big way. There will be numerous players in new roles and even new positions. Ottawa has the potential to be a respectable team this year, but for that to happen, the young players need to develop quickly and fill in the holes.
So far, the 23-man roster is shaping up to be something like this:
Clarke MacArthur – Kyle Turris – Bobby Ryan
Milan Michalek – Mika Zibanejad – Alex Chiasson
Mike Hoffman – David Legwand – Mark Stone
Colin Greening – Zack Smith – Chris Neil
Eric Condra – Curtis Lazar
***
Marc Methot – Erik Karlsson
Chris Phillips – Cody Ceci
Jared Cowen – Patrick Wiercioch
Eric Gryba
***
Craig Anderson
Robin Lehner
So without any further adieu, here are my player projections for the 2014-15 season.
Forwards
*Player: goals – assists – points (difference from year before)
Clarke MacArthur: 25 G – 29 A – 54 P (-1)
Last season, Clarke MacArthur had a career year offensively. He set new highs for goals, plus-minus and power play goals, showing that he was still an offensive talent. Last time MacArthur had a career year, he followed it up with a less than stellar season, carting 19 fewer points than he did the previous year. Hopefully, MacArthur can kick the habit and produce another solid season with the Senators.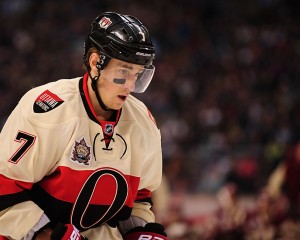 Kyle Turris: 26 G – 36 A – 62 P (+4)
The only place Kyle Turris is going is up. The 24-year old is now the outright No.1 centre on this team and he showed that he's been ready for the job since last season. Expect big things from the young B.C. native.
Bobby Ryan: 33 G – 25 A – 58 P (+10)
I'll just let the 4-time 30-goal scorer convince everyone himself.
"When they tell you six-to-eight weeks, I think that was kind of rushing it a little bit. It was more like (14) weeks when I started to feel no pain. The past little while it's been 100%. I'm beyond ready to go. I can't wait." – Bobby Ryan. Ottawa Sun. Published: Sept. 3, 2014.
Milan Michalek: 18 G – 20 A – 38 P (-1)
Milan Michalek got the money the Senators should have offered to Ales Hemsky. Instead, Hemsky left town with Jason Spezza and Michalek stuck around. There's a lot of skepticism surrounding Michalek's ability to return to the player he once was when he scored 35 goals in the 2011-12 season. Ever since that year, Michalek's play has diminished and he is no longer the prolific scoring talent he used to be.
Mika Zibanejad: 25 G – 23 A – 48 P (+15)
Mika Zibanejad, like lots of other young Senators, is heading into his first full season; start to finish, with the big club. With his offseason being dedicted to getting bigger and stronger, Zibanejad is gearing up to have another career year.
"I put on some weight… That's what they asked me to do in the summer, and I feel bigger and stronger this year. I think I had one of the better summers for me, training wise. I got to be healthy and really focus on the things I want to improve. It feels good." – Mika Zibanejad. Ottawa Sun. Published: Aug. 20, 2014.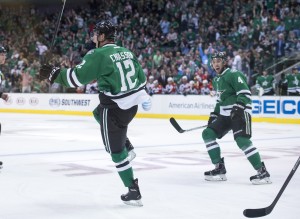 Alex Chiasson: 16 G – 24 A – 40 P (+5)
Alex Chiasson had a coming out party with Dallas last year. In his full NHL season, the 23-year old had 35 points in 79 games. There's no doubt that he can produce, the only problem is playing a 200-foot game. Though Chiasson had an impressive year on the score sheet, he was last on the team for plus/minus coming in at minus-21.
Mike Hoffman: 11 G – 16 A – 27 P (+21)
Playing only 25 games last season, Mike Hoffman made do with what he was given. The speedy 24-year old definitely showed he was capable of playing full-time in the NHL as he has most likely grabbed a roster spot for the upcoming season.
David Legwand: 15 G – 26 A – 41 P (-10)
Last season, David Legwand had his third best year for production at the age of 33. Also, the veteran centre is still quite durable, seeing as he lead the league last season with 83 games played for Nashville and Detroit. Though with Ottawa he will be asked to play a lesser role than usual, Legwand is a great player to have on the third line.
Mark Stone: 20 G – 20 A – 40 P (+32)
Projected to be playing alongside David Legwand, Mark Stone will be with good company for his first full NHL season. Stone had obvious chemistry with Turris and MacArthur last season when Bobby Ryan was injured, but that's just because Stone is an easy guy to play with. With Legwand being a hard working grinder, and Stone being a sniper with the ability to see the ice, the two should compliment each other nicely.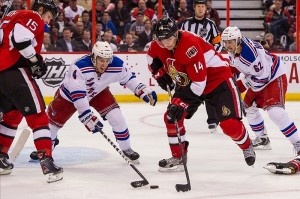 Colin Greening: 6 G – 10 A – 16 P (-1)
Last season was a disaster for Colin Greening. The 28-year old was a minus-15 in 76 games, also having his worst season for production in three years. Greening still has 3 years left on his contract with the Senators, but if he doesn't improve drastically on last year, Bryan Murray could very likely trade him in a hurry.
Zack Smith: 14 G – 11 A – 25 P (+3)
The shining star of the fourth line, Zack Smith isn't utilized nearly enough. He's a big centre at 6'2″ and has a great shot. Currently anchored by Greening and Neil, Smith could play a much bigger role if he is used as a winger on the third line at times during this season.
Chris Neil: 7 G – 7 A – 14 P (even)
The Chris Neil we groaned about last year is likely to be the Chris Neil we will groan about this year. There's not much to say. He's the same player in the same role, and that won't change anytime soon. The 34-year old racks up the penalty minutes, not so much the points.
Eric Condra: 4 G – 10 A – 14 P (-2)
Eric Condra knows who he is. He's a guy that specializes in killing penalties and driving up possession numbers. He is no goal-scorer, nor is he a playmaker of any sort. Condra will be valuable to this team, but only in certain areas.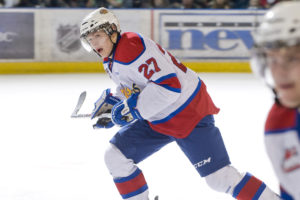 Curtis Lazar: 1 G – 4 A – 5 P (N/A)
Lazar's point total is solely based on the assumption that he will make the opening roster, but be sent down after less than ten games. He may be ready to play in the NHL, but with a crowded Senators' roster, the team may see no point in possibly hindering his development.
Call-ups: Jean-Gabriel Pageau, Derek Grant and Alex Guptill are most likely to be in and out of the roster when the big club suffers injuries or sends various players down.
Defense
Marc Methot: 10 G – 15 A – 25 P (+2)
As Erik Karlsson's rock, Marc Methot benefits offensively from playing with the young superstar, but also has a defensive responsibility to be the more cautious of the two. Methot understands his role and he plays it well. He also knows that at the end of the year, his contract will be up. But he's not worried about signing before the season starts. Just a couple weeks ago, Methot said he is "comfortable playing" without a new deal.
Erik Karlsson: 20 G – 60 A – 80 P (+6)
"I've only been on the ice 6 or 7 times and I can tell it (achilles injury) feels much better" – Erik Karlsson.

— Jack L (@jleipse) September 3, 2014
Well, that's good enough for me.
Chris Phillips: 2 G – 11 A – 13 P (-2)
As a possible candidate for captaincy, Phillips is the veteran leader everybody expects him to be. He is getting older, and in recent years his play has seen an obvious decline, but Phillips understands his job and is comfortable playing within it.
Cody Ceci: 9 G – 17 A – 26 P (+17)
It's looking like we might see Cody Ceci have somewhat of a coming out party this season. The 20-year old defenseman will likely get more of an opportunity to let his offensive talents shine. Last year was a test run for Ceci, but he ultimately passed as he stayed with the Senators after being called up in early December.
Jared Cowen: 7 G – 9 A – 16P (+1)
It just can't get much worse for Jared Cowen, so the simple answer is that it will hopefully get better – not too much better, but an improvement on last season. The big 6'5″ defenseman might see his playing time decrease from last season, but management has enough confidence in Cowen that they will likely give him a genuine second chance.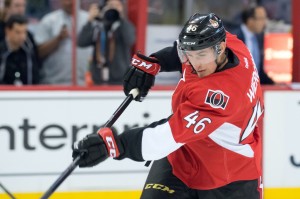 Patrick Wiercioch: 10 G – 13 A – 23 P (even)
The coaching staff doesn't seem to see what others do in Patrick Wiercioch. But what's not to like? He's offensively talented, has respectable plus/minus each year and his possession stats speak for themselves. Wiercioch has a career CF% of 54.5. Very impressive. When played, Wiercioch demonstrates all aspects of a strong defenseman. Look for him to emerge as a solidified top-5 blueliner this year ahead of Jared Cowen and Eric Gryba.
Eric Gryba: 3 G – 9 A – 12 P (+1)
We could see Eric Gryba drop down to Binghamton later in the year to make room for Mark Borowiecki, but for the time being Gryba should stay put in Ottawa. He provides a much needed physical presence and though he is not known for his offensive abilities, he can chip in once in a while.
Goalies
Craig Anderon: 21-20-6 – .915 SV% – 3.05 GAA
Much to everyone's surprise, Anderson signed with the Senators for another 3 years this summer. But contracts don't make a player. Anderson should also be aware of his partner, Robin Lehner. Without a bounce back year, Anderson could be on the hot seat for a possible trade or demotion to backup status.
Robin Lehner: 19-16-3 – .923 SV% – 2.93 GAA
We are slowly, but surely, entering into the Robin Lehner era. Equal play this year between Anderson and Lehner could very well happen and if it does, Lehner has a chance to become the No.1 goaltender. The upcoming season is full of opportunities for the young Swedish netminder.