The Ottawa Senators miracle run to the playoffs is nothing more than a thing of the past now. The illustrious appeal of McDonald's replaced by the anticipation for a new season; one marked with questions of youth, of management, and of coaching. The 2014-2015 season for the Ottawa Senators was, as a whole, another in a long line of mediocrity dating back to the 2008 season. After making it to the Stanley Cup final the Sens have missed the playoffs 3 times, and made it only as far as the Eastern Conference Semi-Finals once; something Dave Cameron looks to remedy. The new bench-boss seems to be just what the Senators need, after a tumultuous end to the roller-coaster ride that was the Paul MacLean era.
By all appearances, Cameron is well liked by both the media, and the players. His meticulous style and demand for discipline contributed to the Sens mid-season possession jump, and were undoubtedly a factor in Ottawa's post-season run. While his decisions weren't without fault, he provided Sens fans with the lineup many thought the team should be icing night in and night out. Now given a full season, and a team that is (almost) completely healthy, the biggest question will be if Cameron can continue to optimize his lineup.
The on ice options won't dramatically differ from what he had to work with last year. Although the Sens elected not to re-sign Eric Condra, the only other move that happened this summer came in the form of a goalie trade most were expecting. With Robin Lehner off to Buffalo and Andrew Hammond taking a full time role in the NHL, there won't be many new faces for Sens fans to discover.
---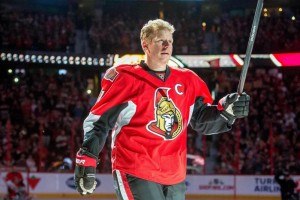 2014-2015 Record (Finish)
Record: 23-51-8 (54 points)
NHL: 13
Conference: 7
Division: 4
GF: 9 (232)
GA: 13 (208)
PP: 22 (16.8%)
PK: 11 (82.9%)
---
Key Addition
D Thomas Chabot
---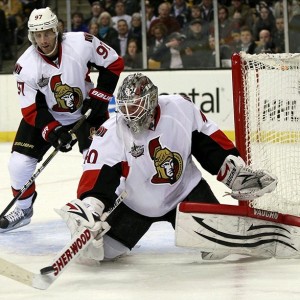 Key Losses
G Robin Lehner
F Eric Condra
---
Forwards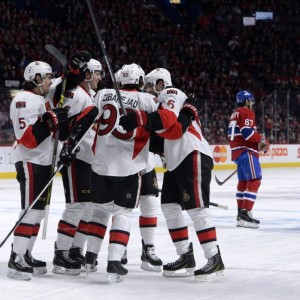 Bobby Ryan
Now entering his third season with the Senators, the right winger has left Sens fans divided on whether or not he was a good addition to the team. With 108 points in 160 games as a Senator, amidst seasons marred by injuries and dismal shooting percentages, Bobby Ryan has still found a way to be productive. While he may not be hitting 25, or even 30, goals Ryan was one off of his career high in assists last year and has helped turned Ottawa's second line into a deadly threat. With 7 years left on his contract, Ryan will be a familiar face in the capital for a long time to come, and if he can maintain his health through this season, we should expect to see a clearer picture of what he can provide this team.
Mike Hoffman
After a stellar first year the question for Mike Hoffman is can he repeat. While the speedy winger has had a history of scoring at every level, his shooting percentage was abnormally high last season. As that regresses, I suspect the Senators will still find themselves with a more than capable winger whose scoring touch will finally give the team the left side threat they've been missing for the past few seasons. One thing that will be interesting to watch is how Hoffman is deployed. Although he has earned a spot in the top six, Hoffman was frequently found on the third and fourth lines in the latter half of the season. Silver Seven Sens had a great opportunity to ask Pierre Dorion about this, the Senators Assistant General Manager dodged the question stating that Hoffman found ways to generate points whether he played "17 minutes a night, or 10 minutes a night." Although we can't know for sure how the Sens will use the young forward, the fact that Dorion didn't confirm that Hoffman was a fixture in the top six is concerning.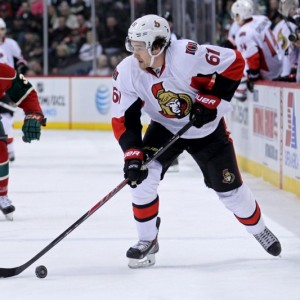 Mark Stone
Another player coming off a strong rookie season, Mark Stone will be the player to watch for many Sens fans. A Calder trophy finalist, and the league leader in takeaways, Stone is the power-forward Bryan Murray has been searching for. After scoring at nearly a point-per-game clip in the final half of the season it will be interesting to see how Stone develops in his sophomore year. My guess is that this will be a player the Sens look to for a very long time.
Mika Zibanejad
Youth seems to be a trend with this team, and that's exactly the way it should be. Zibanejad is just 22 years old and is finally making the developmental progress the Sens expected to see from Swedish center. He set a career high in points, goals, assists, and penalty minutes last year, and another year with Hoffman and Ryan should see those numbers matched or broken.
Potential Forward Line-up
| | | |
| --- | --- | --- |
| #16 Clarke MacArthur | #7 Kyle Turris | #61 Mark Stone |
| #68 Mike Hoffman | #93 Mika Zibanejad | #6 Bobby Ryan |
| #9 Milan Michalek | #44 Jean-Gabriel Pageau | #10 Shane Prince |
| #15 Zack Smith | #27 Curtis Lazar | #90 Alex Chiasson |
*bolded names indicate a rookie. 
One note about this potential forward core for the Senators — if the team is open to sending Zack Smith and Colin Greening to the AHL, it would allow Michalek to move to the fourth line and have Matt Peumple slot in alongside Pageau and Prince. These three all played together in Binghamton and it would be interesting to see if any chemistry translates over. Both Peumple and Prince looked strong in their short stints in the NHL last season.
---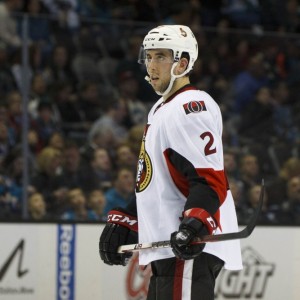 Defense
Erik Karlsson
The Senators cornerstone was given some interesting instructions this off-season; the two-time Norris winner was asked to put on weight, and as a result Karlsson is coming into camp 10 pounds heavier than when he left. While players have often talked about how much weight they lose during the course of the season, I wonder how much of the weight Karlsson put on is muscle and how much it will actually help him. On the first day of training camp he lost a speed test to Bobby Ryan, and while Ryan is no slouch (sorry Brian Burke), it's alarming to see one of the team's fastest skaters losing a race he shouldn't. I'm very cynical of this move, especially when you consider how well Karlsson has performed over the past few years.
Jared Cowen
After being drafted 9th overall in 2009, the big defensive defenceman has yet to meet expectations. His three years with the team have been plagued by injuries, not to mention the side-effects of an injury he sustained in his junior days. That said, it has been six years since his season ending surgery and Jaren Cowen needs to show the Senators exactly what he is. For their part, the Senators need to accept that Cowen is most likely a 3rd pairing defenceman at best and make a decision as to the Saskatchewan native's future.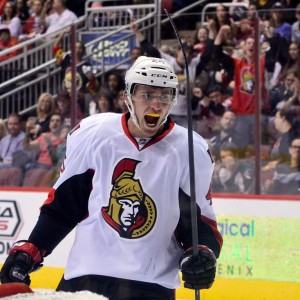 Patrick Wiercioch
Another divisive member of the Senators roster, Wiercioch boasts some of the best possession numbers on the team, combined with a first pass that rival's that of Karlsson. Although he has spent a lot of his time in Ottawa in the press box he seems to have done enough in the latter half of last season to solidify his place in the lineup; something he has deserved for a very long time. When you combine that with a coach who seems to appreciate his talents, and a strong showing at the World Championship, Wiercioch is perfectly set-up to lead the Sens second pairing.
Chris Wideman
Chris Wideman may not be a name that's common to all Sens fans. The 25-year-old defenceman out of St. Louis has been trapped in the AHL for the past three years, but his time there has been well spent. Playing first pairing minutes, Wideman took home the Eddie Shore award as the AHL's most outstanding defenceman last season. He put up a commendable 19 goals, 42 assists and was the B-Sens second leading scorer. His offensive talents, and two-way play brings something that the Sens bottom pairing is sorely lacking, and with Phillips out for the first few months of the season it appears a spot may have opened for the talented blue-liner.
Potential Defensive Pairings
| | | |
| --- | --- | --- |
| #3 Marc Methot | #65 Erik Karlsson | |
| #46 Patrick Weircioch | #5 Cody Ceci | |
| #74 Marc Boroweicki | #2 Jared Cowen | |
| #45 Chris Wideman | | |
---
Goaltending
Craig Anderson
Craig Anderson has been the Sens' number one since he joined the team and now, without Robin Lehner, there is no reason why that should change. The 34-year-old net-minder is entering his sixth season with the Sens and over that period of time he has posted a .925 adjusted even-strength save percentage, good for 14th in the league. While goaltending may not be the first strength people think of when they talk about the Senators, it's certainly not a point of weakness.
Andrew Hammond
Waiting in the wings is a goaltender who has made NHL history, achieved legendary status, and has done it all while only starting 25 NHL games. Andrew "Hamburglar" Hammond is the NHL equivalent of a fairy tale, and a mystery. After walking away from professional hockey all together, Hammond masterminded the Sens impossible run to the post-season and has left many wondering just what the Sens really have as their backup goaltender. Though Hammond never posted great numbers in junior or the AHL he looked technically solid in his brief stint in the NHL and his numbers were nothing short of spectacular. Should he prove to be a diamond in the rough the Sens will have hit goalie gold; if not, they're left with a solid backup.
---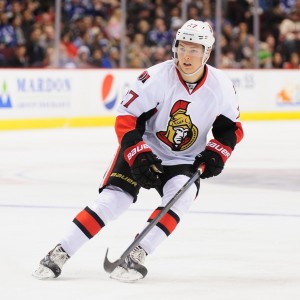 Breakout Player
While the Sens have quite a few candidates for breakout players, the player I expect to see take the biggest leap is Curtis Lazar. After having played 67 games last season, and totaling just 15 points, Lazar is poised to improve and he already knows what he needs to do. At the end of last season Lazar was matched with Condra and Pageau and the trio were one of the best depth lines in the NHL. They dominated possession numbers and coach Cameron had no fear using them as a shutdown line against other teams' top pairings.
Part of the key to their success was not just Condra and Pageau's ability to drive the play; it was also the fact that Lazar was no longer playing scared. He was starting to experiment and be creative. Now heading into the new season Lazar can't afford to be the safe player he was for most of last season. He'll need to show his offensive flair, as well as his defensive talents, if he hopes to maintain a spot on the Sens third line.
---
Player With the Most to Prove
While there are a few candidates for this title, among them Colin Greening, and Alex Chiasson, the honours have to go to Jared Cowen. As a player that management, and Brian Murray in particular, would like to see in the lineup on a daily occurrence, Cowen needs to prove that he was worthy of the 9th overall pick. If Cowen can't show that he is capable of being an NHL caliber defenceman this season, his future in the big leagues may very well be at stake.
---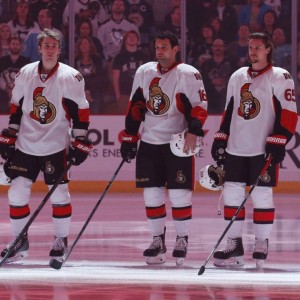 Season Outlook
Going into the season the Sens are going to have a very familiar roster, and while that isn't necessarily a bad thing, they are still nowhere near being Cup contenders. On the other hand this isn't a team that is close to the basement and as a result they're stuck in purgatory of sorts. They aren't able to draft elite talents like McDavid, or Eichel, but they'll also struggle against top end Eastern Conference teams like the Lightning.  That said, this is a team that isn't too far off from competing for a cup. With Erik Karlsson on the back-end, and progress from younger players like Stone and Hoffman, this is a team that is just a few additions away from competing. As they stand, they're a bubble team, and a finish anywhere from 6-9 in the Eastern Conference shouldn't surprise anyone.