It's at this point of the preseason that rosters begin to take near-regular season shape. For Guy Boucher and the Ottawa Senators, the hope was to ice lineups in their final two games against the Winnipeg Jets and Montreal Canadiens that would resemble, in the closest possible terms, their opening night lineup.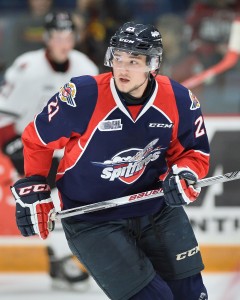 That their roster Wednesday night against the Jets featured rookies Logan Brown, Alex Formenton and Thomas Chabot was part surprise, part expectation. Injuries have played a hand in keeping each around, sure, but with a number of veterans in camp the Senators could have easily sent the aforementioned trio to Belleville or back to junior for some more seasoning.
And yet here they are, still contending down to the final exhibition game with Chabot's spot on the NHL roster the only real certainty. For Brown and Formenton the situation is a bit murkier, as Derick Brassard continues to recover from offseason shoulder surgery but could be ready in time for opening night (or, at the other end of the spectrum, miss the first week of the season).
Formenton's Rise
Without a doubt, the most surprising performance of this preseason for the Senators has been that of the 18-year-old Formenton. A second-round pick in the 2017 Entry Draft coming off a far-from-attention-grabbing 34-point campaign with the London Knights, Formenton wasn't expected to compete with the likes of Brown, Filip Chlapik and others for a lineup spot.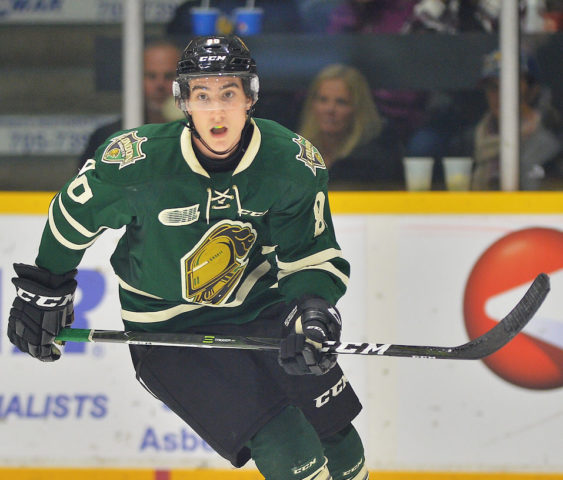 But he has impressed both in scrimmage work and in gameplay, thanks in large part to his blazing speed that has earned him a reputation among his teammates and the Senators' opponents. That he turned 18 just over two weeks ago and has yet to be sent back to London only adds more intrigue and awe to his story.
He may yet be returned to the Knights – a prospect that seems all the more likely, even if Brassard is injured, given the way Brown has performed thus far – but that should in no way diminish what he has accomplished. And for his part, Formenton isn't making the decision easy for Boucher in the waning days of the preseason.
He scored a goal – a tremendous one at that – in what could have been his final appearance of the preseason Wednesday night. Whether he sticks with the Sens or plays out the season with the Knights, expectations for Formenton will be no doubt be exponentially higher – the product of becoming a household name in just over a month.
Brown's Turnaround
As mentioned, perhaps the only player who can stand in the way of Formenton's making the lineup is the hulking Brown. At six-foot-six, Brown easily towers over the competition and would add some much-needed size to a position in which the Senators are lacking – but it hasn't always been all sunshine and rainbows for Brown in 2017.
After a sluggish performance at Senators rookie camp that left many people wanting more, Brown has bounced back with a vengeance in the team's first five exhibition games. He has four points, including a two-goal, three-point game against the Canadiens, but more important than the points is how comfortable he has looked on the ice.
Though he has shown marked improvement, Boucher has been careful to offset any praise with a healthy degree of skepticism. "We'll see if he can keep it up" (or some variation of that phrase) has been a common add-on to Boucher's comments when referring to Brown – especially when addressing his speed.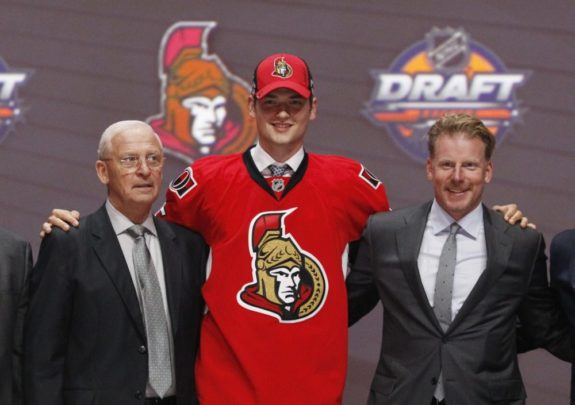 Despite Boucher's reluctance to heap unconditional praise on Brown, there's no denying he's made more than a strong case to take Brassard's roster spot if the latter isn't able to go by opening night. Sure, speed may be an issue – what player Brown's size wouldn't struggle with that aspect of the game? – but the Sens wanted him to prove he can at least keep up with NHL competition and he has done exactly that.
With just one more game to play before the real thing gets started Oct. 5, Formenton and Brown need to save their best for last if they want to make Boucher sweat.
Andrew is a sports nerd extraordinaire. He holds an undergraduate degree in journalism, as well as a journalism diploma, and has been in the sports writing biz for the past four years (previously with Hooked on Hockey Magazine and SportsEh). He has experience covering junior hockey and the Women's World Hockey Championships in Ottawa. Feel free to reach him on Twitter @littelitaly93.