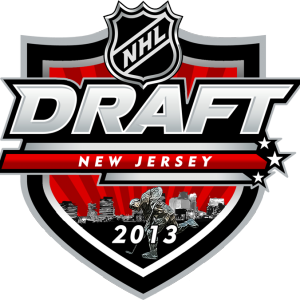 At the beginning of the season, nobody would've expected the Ottawa Senators to be tied for 6th in points in the National Hockey League. What the Senators have done this season is truly remarkable when you think about the injuries some of the players have had for them. If you told Senators fans that they would be in a playoff position in late March without Erik Karlsson, Jason Spezza, Jared Cowen, Craig Anderson, and Milan Michalek; the majority would laugh in your face.
As it stands now the Ottawa Senators hold the 23rd selection in the NHL draft coming up in late June. Bryan Murray has done a tremendous job stockpiling prospects and giving them solid depth for years to come. Despite not having a 2nd or 7th round pick this year, Bryan Murray and his scouts will look to add several more intriguing prospects that fit Ottawa's needs moving forward. A couple tendencies that Bryan Murray has been known for when drafting, is that he loves to draft Swedes, local kids, and at least one or two overagers. So with those tendencies in mind, let's take a look at who I think the Ottawa Senators will take come June 30th.
23rd Overall: Bo Horvat (London Knights, OHL)
Bo Horvat is an interesting case because it's hard to predict where a player with his skill set is going to fit-in in the NHL. Whether it's in the top-6 or the bottom-6, this LW on the LondonKnights is going to have a successful career in the NHL. On the powerplay you can usually find him parked in the middle of the net screening the goalie or banging home rebounds. He's also a great penalty killer with fantastic hockey sense and always seems to be in the right area. He's strong on his skates, can win battles along the boards, and score goals. It's hard to find a hole in his game; however he doesn't excel in one area. The Senators have been looking for a big top-6 winger of his stature for years; the only question that remains is if his offense will translate to the next level.
Honorable Mentions:  Ryan Hartman (Plymouth Whalers, OHL), Alexander Wennberg (Djurgarden Jr, SWE-JR)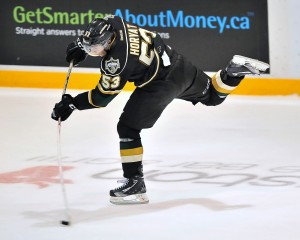 83rd Overall: Nicholas Baptiste (Sudbury Wolves, OHL)
Nicholas Baptiste has not progressed as expected in the OHL, but the former member of the Ottawa Senators Minor Midget AAA still has NHL potential with his rare blend of skill and size. While Baptiste could improve on his skating, he still gets where he needs to go and never shy's away from the rough stuff. A major concern for the Senators this season was toughness, and although he is a long ways away from making the NHL, his toughness and in-your-face mentality could be exactly what the Senators are looking for down the road. His 21 goals are also impressive when you consider the leader on the Wolves only had 26.
Honorable Mentions: Remi Elie (London Knights, OHL), Jackson Houck (Vancouver Giants, WHL)
113th Overall:  Eric Roy (Brandon Wheat Kings, WHL)
It's been a tough season for Eric and the Brandon Wheat Kings altogether. Eric Roy's point totals significantly decreased from last season, however that is to be expected being on such a weak team. He was a highly regarded prospect at the start of the year but I still believe he has a successful NHL future ahead of him. He's got a booming shot from the point, great at carrying the puck through the neutral zone, and is an amazing skater. Not to mention he fights. While defending in his own zone is a major concern, he will be taught to become more responsible in his own zone as he matures.  He's a former teammate of Senators prospect Mark Stone and would look great on the Ottawa blueline as a bottom pairing defensemen who can also play on the powerplay.
Honorable Mentions: Martin Reway (Gatineau Olympiques, QMJHL), Greg Chase (Calgary Hitmen, WHL), Nathan Pancel (Sudbury Wolves, OHL)
143rd Overall: Blaine Byron (Smith Falls Bears, CCHL)
Blaine Byron is a forward for the Smith Falls Bears who has a massive amount of potential and could be a very good player in a few years. While his stats are rather unimpressive, he is a fantastic skater, controls the play, and always seems to have the puck on his stick. Starting next season he will be playing for the University of Maine and is the brother of current Calgary Flames prospect, Paul Byron. The reason I could see the Ottawa Senators being interested in him is because he has top-6 potential and the Senators would be in no rush for him to finish his NCAA career. Smith Falls Bears is also the team that current Senators prospect Mark Borowiecki played for.
Honorable Mentions:  Charlie Graham (Belleville Bulls, OHL), Josh Burnside (Mississauga Steelheads, OHL), Emil Djuse (Södertälje, Allsvenskan, Sweden)
173rd Overall: JC Lipon (Kamloops Blazers, WHL)
While I was not overly impressed with Lipon at the World Juniors in January, it's hard to ignore the impressive stats he put up this season. While not always putting up points, you can find him finishing his hits, driving hard to the net, or trying to pick a fight. He is incredibly tenacious and feisty for a player his size and will have to continue to play that style for a chance to play in the NHL. A very hard worker, he would be a player that every team loves to have in their dressing room. I could see the Ottawa Senators being interested in him because he has potential to be a perfect third or fourth line player and his desire to play at the next level is really encouraging from a management standpoint.
Honorable Mentions: Jérémy Grégoire  (Baie-Comeau Drakkar, QMJHL),  Stephen Harper (Erie Otters, OHL), Jonatan Tanus (Peterborough Petes, OHL)
The Senators don't need to draft in one specific area thanks to Bryan Murray's great drafting throughout the years. This year, look for some off the board picks as the Senators go for boom/bust players with massive potential. They don't need to play it safe; Murray and his scouting staff have done a great job stockpiling players.