As the Ottawa Senators continue their first year in a rebuild, many eyes turn to the next wave of players coming up through the system. One of the new faces in the prospect group is that of Josh Norris, acquired in the trade that sent Erik Karlsson to the San Jose Sharks. While Senators fans might not know much about the 19-year-old, they will soon.
Related: 2017 NHL Draft: Sharks Pick Josh Norris #19 Overall
The Senators have numerous pieces that look to be fixtures for the team for years to come, headlined by Thomas Chabot and Brady Tkachuk. Norris looks to become one of those fixtures. He has already had success at the World Junior Championships, the US National U18 Team and is currently tearing up the NCAA with the University of Michigan. Norris is one of the team's top prospects and could be the team's next top centreman.
Norris's Impressive Hockey Resume
Norris already has an impressive resume to his name. He is currently playing in the NCAA for the University of Michigan and is exploding offensively. Through his first seven games of his sophomore season, he has six goals and 12 points. His freshman year saw him collect eight goals and 23 points in 37 games.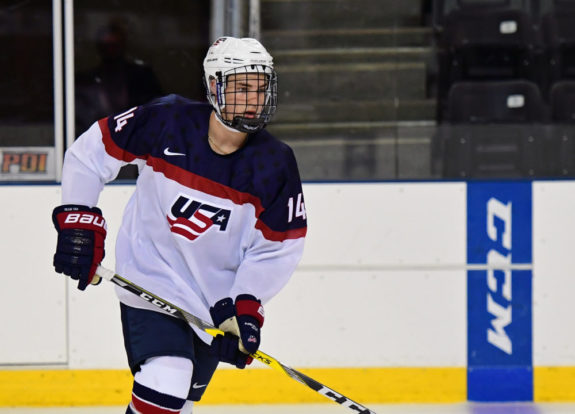 The 6-foot-1, 190-pound player has much more than NCAA hockey to his name. He has played with the World Junior team three times now over the last three years. In 2015-16, he played in the World Under-17 Hockey Challenge, scoring two goals and five points in five games. 2016-17 saw him play in the U18 World Junior Championships as an assistant captain, again going a point per game with three goals and seven points in seven games en route to a gold medal. Then, last year, Norris participated in the U20 World Junior Championships and added three more assists to his International career in helping the team to a bronze medal.
Norris is also a part of the U.S. National Team Development Program. He has two years on the USNTDP Juniors. While he only collected seven points through 24 games in his first year there, he put up 12 goals and 26 points through 24 games in his second. His growth is visible on the National Team as well. With the U17s, he scored 27 points in 44 games. Just one year later with the U18s, he went a point per game with 27 goals and 61 points in as many games.
His play got him drafted 19th overall in the first round of the 2017 NHL Entry Draft by the Sharks. Many questioned this pick, as, for example, NHL Central Scouting had him ranked 34th. Norris's play so far should silence that, as the reach would have been justified for San Jose. Now, Ottawa should consider him one of the best pieces to come back in the Karlsson trade.
Norris Comes From a Hockey Family
Josh Norris is the son of Dwayne Norris, a right winger who was drafted by the Quebec Nordiques in 1990. He was chosen 127th overall in the seventh round and played just 20 games in the NHL between the Nordiques and the Anaheim Mighty Ducks, collecting two goals and six points. He then went overseas to play in the Deutsche Eishockey Liga (DEL) for the Cologne Sharks and Frankfurt Lions. In the DEL he played in 533 games collecting 454 points. He was a three-time All-Star in the DEL.
The elder Norris may be better known, at least by Canadians, for his efforts with Team Canada. He participated in the 1994 Olympic Games in Lillehammer, Norway, collecting two goals and four points in eight games, helping Canada win a silver medal.  He also played in the 1990 World Junior Championship, winning a gold medal and scoring six points in seven games including the gold medal-winning goal to defeat the Czech Republic 2-1.
With his father playing professional hockey, the younger Norris was able to get a taste of the life early and took away a lot from it.
"Obviously I spent a lot of time around him and his teammates in the locker room and things like that when I was little, just kind of getting that feel of the pro lifestyle and what it's all about," said Josh. "But for me, I think he just taught me how to work and how to be a leader and how to be respectful, listening to older guys, kind of what they have to say because they've been there before you have."
Currently, Norris is the Director of Hockey for the Oakland Jr. Grizzlies, a role he has held for the past five years, coaching the U16, U15 and U14 levels.
Projecting Norris in the NHL
With Norris's size and talent, it's not hard to see him one day taking over the top-line centre position for the Senators. In fact, he could push for a spot in 2019. If centreman Matt Duchene walks away in free agency or gets traded before the deadline, that becomes even more likely.
Josh Norris 🚨🚨🍎

3 point night! Norris is on a TEAR to start his second NCAA season. A point in every game so far, good for 12 points (6G, 6A) in 7GP 🔥 pic.twitter.com/AE10ZDb3yj

— Sens Prospects (@SensProspects) November 4, 2018
What makes Norris's jump to the NHL more likely is his relationship with Brady Tkachuk. The 2018 fourth overall pick broke into the league in his first training camp and looks to stick with the club for the season. Norris and Tkachuk are best friends outside of the rink and even played together in the 2018 World Junior Championship. Norris centring a line with Tkachuk on his wing is something Senators fans should be very excited about.
When wondering how Norris will be as an NHL player, look to San Jose's Logan Couture. The Senators' prospect has been compared to the Sharks' star based on his physical and mental skill sets. Norris himself prides himself on being similar to Couture in his two-way style. "I play with a lot of speed, a lot of skill. I think I can give you a little bit of everything, in a power play, penalty kill, faceoffs, and I chip in offensively," says Norris.
He doesn't lack confidence either.
Whether it's in 2019 or 2020, Josh Norris is coming for the Senators' lineup, and he has a good shot at stealing the top-line centre position. He has solid defensive ability, has made it known that he can put the puck in the net and has been exposed to the professional lifestyle through his father. Norris will be a star for the Senators. The biggest question now is when.
Statistics from ElitePropects.com.