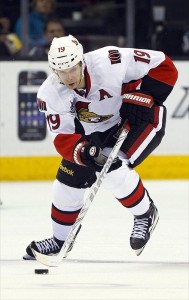 For teams, players and fans alike, the release of the National Hockey League schedule for the upcoming season is always highly anticipated.  This season the Sens and their fans got a bit of surprise when the 2013-2014 schedule was announced and with it a season opening six game road trip that includes a four game swing through the Pacific Division.  Now the optimist would look at that schedule and say it's a chance to get the West coast travel done quickly and it means there will be more home games later in the year.  The pessimist would say it's a very tough opening set for a young team and a poor start could put them behind the eight ball.  While the realist is somewhere in the middle acknowledging that getting the trip done quickly is a plus but also knowing a good start, while certainly not easy, will be paramount to the team making a run towards a third consecutive postseason.
 Important Divisional Games:
The trip opens with a back to back against two Atlantic Division rivals beginning Friday night in Buffalo.  The Sens will face a youthful and rebuilding Sabres team that may not scare you with a ton of stars but will challenge you with a tough and determined effort each night.  Ottawa was 3-1 against Buffalo last season but each game was close and these are the games the Sens must win again this season to continue their climb towards being an elite level team.  Saturday night sees the Sens in Toronto to take on their biggest rivals in the Maple Leafs.  The Leafs were 4-1 against Ottawa last season and you know the Sens want to get back to at least even terms in this rivalry.  As everyone knows two points are always important but with 16 teams now in the Eastern Conference and still only 8 playoff spots up for grabs, points in the conference and especially points in the division are of the utmost importance.
 Sens Head West:
The Sens then have a couple days off following the opening set of games where they will either head home and practice or potentially go straight out to Los Angeles, the site of the first of four games against Pacific Division opponents including three playoff teams from a season ago, on Wednesday night.  A trip to California hasn't been an easy or relaxing trip for opponents in some time and with the LA Kings, Anaheim Ducks and San Jose Sharks all finishing in the top 6 of the Western Conference last season it is like running a mini gauntlet facing those three big, physical and talented teams.  The trip wraps up in Phoenix on October 15th against a Coyotes squad who is hungry to get back to being the postseason contenders they've been known to be recently before missing the playoffs last season.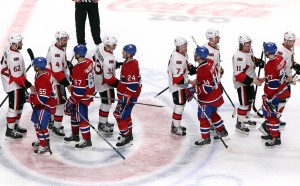 Growing With Experience:
Whether you are an optimist, pessimist or a realist there is no denying this is a very challenging schedule and will be a stiff test for the growing Sens.  However there is also no denying that if you are to be considered a true Stanley Cup contender and elite NHL team there is no easy route.  You will have to face quality opponents all season long and certainly in the playoffs and the best way to prove yourself is to show up and play well each and every game and against every opponent.
This is a young and improving Sens team, and while some fans and even players may be tired of that label, there really is no substitute for experience.  The Sens have gained it in bunches these last two seasons, having made the playoffs in back to back seasons and advancing to the second round for the first time in a long time last year.  The next step is to have a strong and consistent regular season in pursuit of an Atlantic Division Title and that begins with a good start.  Simply put, the men from the Nation's Capital will need to be road warriors right out of the gate and play well in the face of a road gauntlet early on.