The Ottawa Senators have received a major boost moving forward into the playoffs as their Norris Trophy winning defenceman, Erik Karlsson, has officially returned to the line-up and returned in top notch form it appears.  You do remember Erik Karlsson don't you?  Of course you do, after all he's only been out ten weeks, far less time than most predicted he would be after he went down in Mid-February.  Though for Sens fans who watched their team struggle down the stretch in their battle to secure a postseason bid, it probably seemed like he was out forever.  Ottawa has been an incredible story this season with many different sub-plots, the most notable among them being the injuries they've overcome, especially the lacerated Achilles tendon of Erik Karlsson.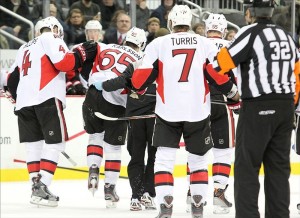 It was February 13th in Ottawa's game at Pittsburgh when the Sens star defenceman was cut by the skate blade of Matt Cooke.  Though the extent of the injury was not known immediately, what was known or thought to be known at the time, was that the Sens could not survive another major loss.  Certainly not the loss of their top defenceman and primary source of offense with their All-Star Center Jason Spezza already out.  When the details were released and Sens fans heard "sliced Achilles tendon" for the first time, it was a tough blow and no doubt one that many thought may have ended the team's run at a second straight playoff appearance.  After Senators General Manager Bryan Murray officially announced that Erik Karlsson's season was for all intents and purposes done, putting the count at two superstar players out for the year that was that and you could hear a pin drop throughout the entire city.
However the Sens rallied big-time and by now we all know the story, they overcame the injuries with outstanding performances from many different players along with tremendous work from Head Coach Paul MacLean and his staff and have parlayed that into a great regular season and another postseason bid.  We also know that while Erik Karlsson's injury was certainly unfortunate for himself and the team, he was somewhat fortunate, in that his Achilles tendon was only 70 percent severed instead of completely sliced through.  That cut his recovery time down significantly and simplified the procedure however with the predicted recovery time still being 4-6 months, not even the most optimistic of fans could have hoped to see Karlsson return to the line-up before the regular season was done.  For that very reason Sens fans and hockey fans in general for that matter, were shocked when they found out last week that the young Swede was back at practice skating and was expected to play in the team's final couple regular season games.  It was almost as if people had to see it to believe it.
Erik Karlsson will play tonight against the Washington Capitals. #TheReturn

— Ottawa Senators (@Senators) April 25, 2013
Well Karlsson did play last Thursday against the surging Washington Capitals and played quite well to say the least.  He logged an incredible 27:11 worth of ice time, had 8 shots on goal and oh yeah, assisted on both Sens goals including the overtime winner that officially put the team in the playoffs.  It was truly an incredible performance, not only because of the nature of the injury Karlsson had overcome so quickly, but because he had still missed major time and was right back to his minute eating, point scoring, puck dominating ways.  He followed that up in the Sens final two games against the Philadelphia Flyers and Boston Bruins, playing well over 27 minutes in each contest and adding two more assists in the finale to help the Senators clinch the 7th seed in the Eastern Conference.
Karlsson's return to the line-up means so much more to this scrappy Sens team than simply a boost in their on-ice performance.  It's a breath of fresh air and another piece of good news at exactly the right time for this young group.  A group that has fought so hard all season to get this team where it is but appeared to be running on fumes down the stretch and was in need of some serious reinforcements.  With the majority of their injured players having now returned, this team is looking more and more like the one that people expected big things from to start the season.  Number one goaltender Craig Anderson appears to have regained his Vezina-worthy form and now with Erik Karlsson back in the fold and seemingly on his game, the Sens appear poised to improve on last season's first round exit.  Who knows, if they make it far enough, maybe the Sens will shock everyone yet again with a Jason Spezza sighting this postseason.  Wishful thinking perhaps for Sens fans but they are excited in the Nation's Capital right now and for good reason, Erik Karlsson and the Ottawa Senators are back in the playoffs.