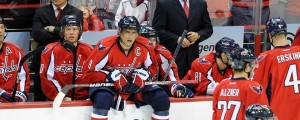 In what appeared to be a Public Relations move by the National Hockey League last week, the so-called 50-50 split of revenue offered to the NHLPA, was counter proposed in three different offers to the NHL, only to be rejected in ten minutes.
An end to this labor dispute appears to be once again on the back burner.
Furthermore, if an agreement on a new Collective Bargaining Agreement is reached by tomorrow, 82 games they shall play. If not, it will become the same old story and start to take on a familiar look from the turmoil in 2005. A season cut short and in jeopardy of vanishing completely. And on and on and on.
NHL players are doing their fair share of voicing their opinions as of late, in between ice cuts at rinks across North America and overseas. Washington Capitals captain and superstar Alexander Ovechkin is one of many to do so, and as of late, has had harsh words for the league when he isn't breaking glass during action, suiting up for Dynamo Moscow of the KHL.
"The NHL gave fans and media hope. But in reality it is a deception," Ovechkin told reporters on Saturday after a game in Moscow. "The league is trying to show that it is working to try and save the season, but they are not offering anything new."
Speaking of Ovechkin, wearing number 32 while playing overseas, he has six goals and 14 helpers in 13 games played for Dynamo.
The latest game against Lokomotiv, Alex Ovechkin posted a goal and a assist in a 3-0 Dynamo victory. During the game, the Moscow Russian native challenged Lokomotiv defensemen Alexander Gusgov to a fight, but Guskov respectfully declined before getting knocked to the ice by DC's finest.
"I got elbowed in the head, so I told him let's fight," Ovechkin explained to reporters. "I was refused. I think the game turned ugly. At least there were no injuries."
A spirited and solid start offensively in the 2012-13 campaign, but if Ovechkin holds true to his word on his latest outburst, he may have an entire season to put up points on the board for his KHL club.
"I said it before, before I sign a contract, if the league decides to cut our salaries and cut our contracts for what they want, I don't know how many guys will be coming back," Ovechkin said.
Postering at it's finest is most likely the case, but you can't rule out a handful of Russian players that may be pondering that very thought.
We will find out soon enough, what the NHL and NHLPA have in store for the 2012-13 season currently in limbo. Until then, check back for more updates on Washington Capitals players temporarily employed elsewhere.
Follow me on Twitter @ DarrenCoslov