We are down to the last four in the OHL playoffs.
The conference finals start on Wednesday with bitter rivals squaring off in the west, as the London Knights travel to the other side of Lake Erie to meet the Erie Otters. On Thursday, the east gets their party started as the Niagara IceDogs travel to Barrie to take on the Colts.
These are the four best teams remaining in the playoffs. It took them just 17 games to finish four series. This included three sweeps and another finishing 4-1. Everyone comes in playing their best hockey of the season.
While the stars of each team get recognition and deservedly so, four overagers have had the season of their lives helping their teams get to this point. Our group includes a Los Angeles Kings prospect, two Columbus Blue Jackets prospects, and another who could sign an NHL contract soon. Let's meet these unsung heroes as we approach the conference finals.
Aaron Berisha – London Knights
When you first think of the London Knights, you think of their potent top line of Matthew Tkachuk. Mitch Marner, and Christian Dvorak. But what if I told you that the Knights carried a second-line player who contributed 45 goals for them this season. Unbelievable depth, right? Well, Aaron Berisha has given the Knights an extra level of depth this season that's hard to match.
Berisha started his OHL career with the now-extinct Belleville Bulls. After just four games with Belleville to start the 2014-15 season, the Bulls sent Berisha to London for overage forward Brett Welychka. The Knights also got Mississauga's second-round pick in 2015 (Robert Thomas) and Erie's third-round pick in 2016 (Ryan Bangs). Talk about highway robbery!
Aaron Berisha had 8 goals and 3 assists in 6 games against Rangers in regular season.

— Josh Brown (@BrownRecord) April 15, 2016
Since Berisha joined London, he's been spectacular. He finished last season with 24 goals for London while adding one more in the playoffs. This season, he almost doubled his goals total, while contributing more in the playoffs. He finished with 45 goals in the regular season and has four goals in the playoffs. He also almost doubled his assist total, going from 15 to 27. Berisha gives the Knights a potent second line that few teams can match.
Some reports suggest that NHL teams have scouted him of late to see about getting him an entry-level contract. He certainly deserves a shot at the next level, given his breakout season. In the meantime, his Knights prepare for an epic conference finals matchup with Erie.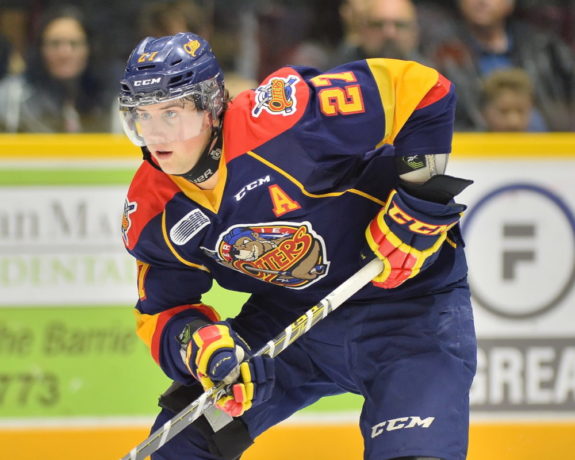 Jake Marchment – Erie Otters (Kings Prospect)
Talk about an incredible change of fortunes. Marchment was the captain of the Belleville Bulls. However late in 2014, Marchment received a 15-game league suspension for violating the social media conduct policy. Upon his return to the Bulls lineup, the team took the "C" away from Marchment. He then demanded a trade.
In January 2015, Marchment along with Dallas Stars prospect Remi Elie went to Erie in exchange for two players (Trent Fox and Jesse Saban) and six draft picks, including three second-round picks. Erie paid a heavy price in the deal but got two proven players who would help their depth in the playoffs.
To his credit, Marchment is a changed man for the better.
Ever since his arrival to Erie, Marchment has been wonderful to deal with. His changed attitude has carried over to the ice, where he's provided Erie with incredible center depth. This season especially, Marchment has been a God-send for his head coach Kris Knoblauch. Knoblauch recently told me that Marchment was the reason he stayed sane while dealing with many injuries early on.
"He's the type of player that as a coach, you really appreciate", Knoblauch said of Marchment. "He gives us incredible center depth that allows us to do many other things."
Marchment's game has flourished in Erie. He had 11 points in 29 games last season. He has 25 goals and 45 points this season while maintaining a faceoff-win percentage of over 60%. The Erie Otters do not win the regular season without the heroics of Marchment. If Erie advances past London in the conference finals, it is because Marchment's defensive play stood out.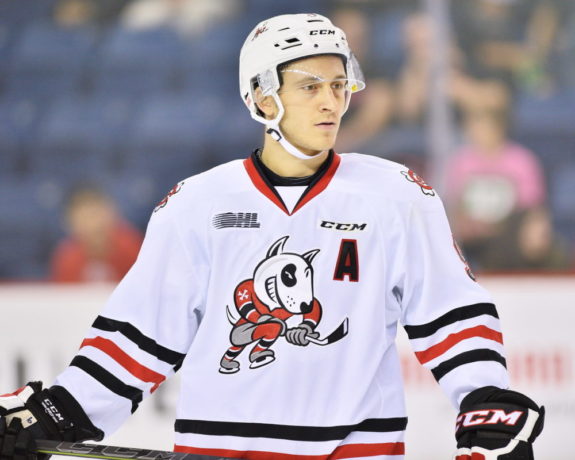 Jordan Maletta – Niagara IceDogs (Blue Jackets Prospect)
Here's another example of a player flourishing in the OHL after a slow start. Maletta entered the league with the Windsor Spitfires. He scored nine goals in his 93 games with the Spitfires before Windsor traded him to Niagara. His goal totals since the trade are as follows: 3, 12, 24, 34. His overall game has shot up just as much.
Niagara has had an interesting season. The talent is there, but until these playoffs, they couldn't find any consistency. Maletta has shined no matter what has happened to others this season. In a recent vote, the league named Maletta the second-most underrated player and third-best penalty killer. At 6-foot-3, it's easy to see why he's had success in his last OHL season.
Alex Nedeljkovic is up for Goaltender of the Year Award in the #OHL while #IceDogs teammate Jordan Maletta is Niagara's rep for league MVP.

— Sports Niagara-AG (@SportsNiagara) April 15, 2016
He does the little things that will help your team win. On top of leading the IceDogs in goals, he's good at winning faceoffs while playing big minutes for his team. There's definitely a place for him at the next level given his penalty killing and faceoff abilities. Niagara is not here without the consistency of Maletta this season.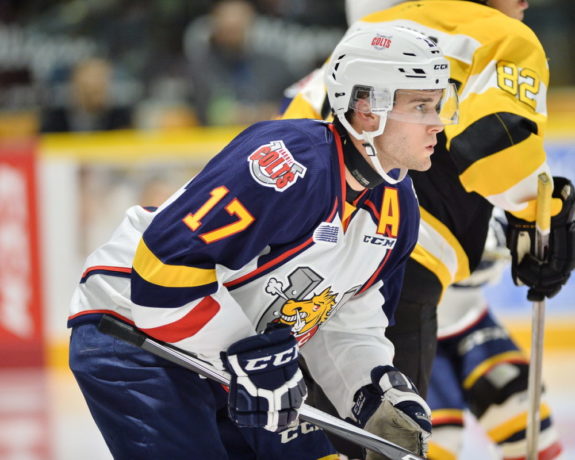 Justin Scott – Barrie Colts (Blue Jackets Prospect)
Some things in hockey come unexpectedly. There's nobody that could have ever seen this coming. When you can score two or three goals in the playoffs, you're doing good things. All Scott has done in the first two series is score 14 goals. FOURTEEN!
Talk about coming through at the perfect time. Scott's heroics have propelled the Colts to the conference finals. Can he keep this up? Well, maybe not another 7 goals in the series. But at this point, who knows? We never saw 14 coming. He finished last season's playoffs with seven points. He doubled his point total in goals alone.
Scott is like Maletta in a couple of aspects. Scott can win key faceoffs and play well at both ends of the ice. His offense caught major fire. It caught the Blue Jackets' attention, who signed Scott to a three-year entry-level deal.
I really like Justin Scott. Helps in many ways. Can play with skill or power. Competes, smart. Improved+ last 2 yrs https://t.co/M1OAQRMz9D

— Craig Button (@CraigJButton) April 15, 2016
What stands out about Scott is his playing style. At 6-foot-1, he plays bigger than his size. He plays a very aggressive style of hockey, never hesitating to attack. What makes him good in that aspect is that he takes the fewest penalty minutes of any Colts top-six forward, while playing aggressively. He's a smart player who won't put his team in bad spots. He might not continue scoring goals like this, but his contributions to the team go way beyond goals.
Which one of these overagers will continue toward a championship? Two of them will get their chance at the end of these series. Don't be surprised if they are the reason their teams made it through. They've done it all year. They might not get the attention, but they are just as important as anyone to their team's success.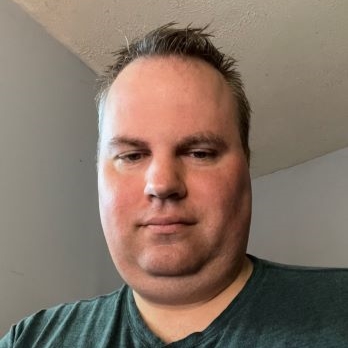 I am a fully credentialed writer who covers the Columbus Blue Jackets, Cleveland Monsters and Erie Otters as well as the Ontario Hockey League and NHL Draft. The 2022-23 season will mark nine seasons with the Hockey Writers. I am also the site's Credentials Manager. Please take note of the updated Twitter handle: @mark_scheig.