Lately I've been crying doing a lot of thinking about what's gone wrong with the Minnesota Wild. This team has so much talent on their roster – Zach Parise, Ryan Suter, Thomas Vanek – that this poor play is simply inexcusable. The problem in Minnesota is clearly not a lack of talent, especially considering the Wild just locked up four young, core players in 2014: Charlie Coyle, Nino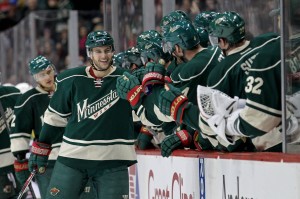 Niederreiter, Marco Scandella, and Jonas Brodin all signed big contracts this season. I also haven't been able to stop wondering what has changed since October, when the team played so well.
And then it hit me: When the Minnesota Wild started inking these boys to long-term contracts, they also began their decline. Both of these things happened around the same time in the season. Could it be that signing lengthy deals is causing these guys to lose motivation to play up to their full potential?
Big Money, Little Effort
Sometimes big contracts are a good thing. They allow teams to lock talented players into their organizations for an extended period and this works out for the best because the player with the long-term contract plays his butt off to prove he's worth this big money. Take the Montreal Canadiens' goaltender Carry Price, for example. Two years ago, Price signed a six-year, $39 million extension with Montreal, but this security hasn't stopped the Canadiens star from playing like his job is on the line.
Sometimes, however, these big deals end up going in the other direction. The security makes these players feel like they don't have to worry anymore and in turn, they don't play as hard. After all, they have millions of dollars and a job guaranteed for the next couple of years. Would you be motivated to put your body on the line night after night if you knew nothing was at stake? Probably not. Zach Parise and Ryan Suter are good examples of this. Don't get me wrong, they're the best players on this team right now, but for being two of the highest paid athletes in the NHL, they should be contributing a bit more.
No Motivation in Minnesota
With this new information in mind, I went back and looked at when Coyle, Niederreiter, Scandella, and Brodin signed their contracts. The following chart from ESPN.com lists the Wild's transactions from 2014 and if you study it closely, there's an interesting correlation.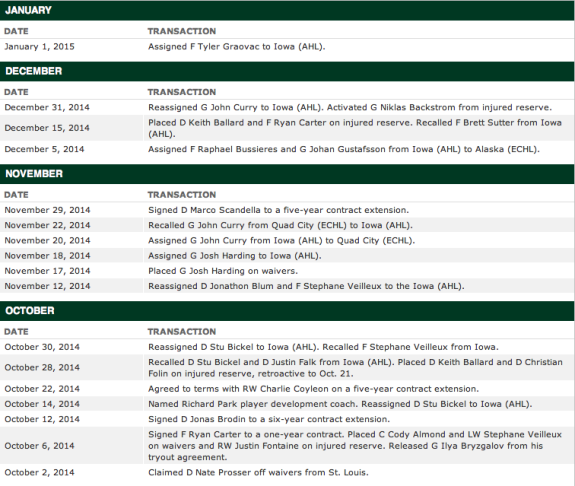 Niederreiter signed in September and then Brodin and Coyle in October. The Wild were still doing relatively well at this point, but then they signed Marco Scandella in November to a five-year extension. After all four of these core players were locked up, Minnesota started to tank. I'm not at all suggesting this is the only problem facing the Minnesota Wild, but it does seem strange that these boys just suddenly stopped giving 100% effort after they were all awarded big contracts.
It's possible that these players realized they were safe and didn't have to work as hard anymore and just stopped putting it all on the line. Obviously there are other issues with this team, but a lack of heart is definitely a big one. I suspect this is a reason for that loss of passion on the ice. Maybe it is, maybe it isn't. Maybe I'm just searching for reasons the Minnesota Wild fell off the tracks midway through the season. Whatever the problem, I'm just hoping they can address it quickly.