Montreal Canadiens forward Max Pacioretty is known to be a streaky scorer, but never quite like this.
Oddly enough, Montreal's leading point and goal scorer for the past three seasons had never scored in more than three straight games before now. He now has markers in double that amount—six straight—with seven goals (one assist) in that span to put him on pace for a fraction over 40 for the first time in his career (21 goals, 15 assists in 43 games so far).
https://www.youtube.com/watch?v=qQwdmrmnMH8
Goin' Old School
For the record, the team record is 14 consecutive games with a goal set by Joe Malone back in 1917-18 (35 total) and Pacioretty's personal-high points streak is at seven (Guy Lafleur, 28 games and 61 points in 1976-77). From March 1 – March 14, 2012, Pacioretty notched five goals and seven assists in that span.
So, he does have a way to go bests either mark. He'll at least have a chance to match that seven-game total tonight against the New York Islanders at the Bell Centre (7 PM Eastern), when the Habs will undoubtedly look to him to set the tone and rebound following a largely listless 4-1 loss to the Ottawa Senators on Thursday.
Pacioretty a Cut Above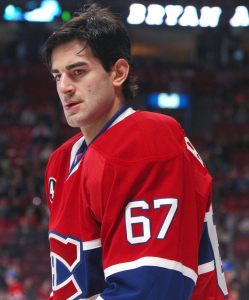 Prior to this streak, Pacioretty had been on pace for just 32. While that's nothing to scoff at, 40 is a plateau reached by only truly elite scorers in this day and age.
Last season, Pacioretty notched 39, just failing to join the 40-goal club consisting of just three players (Alex Ovechkin, Corey Perry, and Joe Pavelski). Skipping over the lockout-shortened 2012-13 season, only four hit the mark in 2011-12 (Steven Stamkos, Evgeni Malkin, Marian Gaborik, and James Neal), with the total decreasing pretty much each year.
In fact, the last time there were more 40 goal scorers than the previous season, you'd have to go back to after the cancelled 2004-05 season. In 2005-06, there were 11. In 2003-04, the last before the lockout, there were also only three.
While that is downright frightening considering 2003-04 coincided with the end of the clutch-and-grab, dead-puck era, it's also impressive in regard to Pacioretty's scoring prowess. There's every reason to believe he will be able to keep up the pace this season, seeing as, excluding the 48-game 2012-13 season, he's scored the same or more goals every year relative to the last. So, at a time when elite goal-scorers are becoming more and more rare, the 26-year-old is scoring more and more.
Call it a positive sign: Should he stay healthy and Pacioretty likely will), he will hit 40 for the first time this season. Whatever it actually is, it's far from a mere streak of luck.