The Chicago Blackhawks have locked up Jonathan Toews and Patrick Kane to identical eight-year contracts worth $84 million. After it was reported several weeks ago that the two were looking to make $12 million annually, significant anxiety began to set in among Blackhawks fans; after all, how dare two multiple-time Stanley Cup champions and Conn Smythe winners seek out the financial reward that their play has earned? While the $12M starting asking price was clearly a standard negotiation ploy, Blackhawks fans still became nervous that Toews and Kane were going to break the team's proverbial bank and handcuff its future with their doomsday-summoning uber-expensive mega deals.
With this narrative already in place, the reaction to Toews and Kane signing earlier Wednesday was predictable. The duo was called selfish, with fans citing Sidney Crosby's contract as a means of comparative disparagement; how could Toews and Kane, they opine, each carry cap hits exceeding 10 million when the best player in the game only costs his team $8.7M?
It's not as if Toews or Kane have won anything.
…Oh.
Jonathan Toews and Patrick Kane Deals Illustrate A Changing NHL
Toews and Kane's expensive contracts are unique, but they won't be for very long. The salary cap ceiling will be somewhere in the neighborhood of $75 million by the time their extensions kick in. The general hockey fan populace apparently hasn't adjusted the criteria it uses to evaluate contracts and player value. Crosby's monstrous extension began last season, where his $8.7 million took up about 13.5% of all available cap space (the ceiling was at $64.3M). Chicago's two franchise cornerstones will each eat up 14% of all space in a $75M cap world. James Mirtle expanded on this idea.
Extensions kick in starting in 2015-16, when cap should be $75-million. $10.5-million on that cap is like $7-million on a $50-million cap.

— James Mirtle (@mirtle) July 9, 2014
The cap was last $50-million in 2007-08, a year when seven players had a cap hit of more than $7-million.

— James Mirtle (@mirtle) July 9, 2014
That year, Brad Richards's contract was 16% of the cap. These Toews/Kane ones will be roughly 14% when they begin.

— James Mirtle (@mirtle) July 9, 2014
Contracts inflate; this is the nature of business in a league that has been consistently growing in popularity and generating increased revenue since 2004. Comparing the raw numbers of deals signed at different times is thus a silly and pointless exercise; the different cap hits don't reflect overpayment or overvaluing so much as they indicate a dynamic business landscape.
The NHL is changing. While getting lost in all of the tiring talk of the growth of soccer in the U.S. after the World Cup — a discussion which happens every four years, incidentally (how odd!) — many have ignored the sport that's actually growing the fastest.
Stop the Panicking, Blackhawks Fans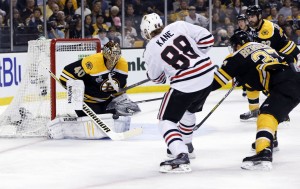 No, Chicago's window of championship contention is not shut. The Blackhawks will almost surely trade Bryan Bickell next offseason if they don't do it this summer, and Patrick Sharp or Marian Hossa might be shown the door as well. This is where prospects become so important, and Chicago is sitting pretty in that respect with a top-five system. Toews, Kane, Brandon Saad, Teuvo Teravainen, one of Hossa or Sharp, Duncan Keith, Brent Seabrook and Corey Crawford will be the team's core, and they will be surrounded by a fluid (and talented) supporting cast. We have already seen that — to use a rather infamous quote from a current coach of another Chicago team — this is more than enough to win with.
Stanley Cups cost money. They also make players money. Since 2010, Toews and Kane have provided more playoff magic than any other NHL duo. There is plenty of reason to be impressed with all of Crosby's points and Alex Ovechkin's gaudy goal totals, but their teams have repeatedly failed to get the job done in the postseason even when both individuals have played well. Conversely, Toews and Kane have enjoyed nearly unmatched postseason success and are now getting compensated for it. Fair or not, this is a simple reality of the results-oriented sports world. A proven winning combo is a proven winning combo — yes, even if it's expensive.
Toews and Kane got paid. And Toews and Kane will continue to win.