Los Angeles Kings general manager Dean Lombardi surely enjoyed winning the Stanley Cup for the second time in three years, but that didn't take his focus away from immediately addressing the Kings' important, albeit few, off-season needs.
Lombardi Bolsters the Defense Corps
The GM-of-the-year finalist locked up veteran defenseman Matt Greene to a 4-year contract worth a cap-friendly $2.5 million per season. Greene provides a steady defensive presence and strong leadership qualities, serving as one of the Kings' alternate captains. While that all but confirmed the departure of Willie Mitchell (who signed with Florida as a UFA), Los Angeles still has a strong top six of Drew Doughty, Jake Muzzin, Slava Voynov, Alec Martinez, Robyn Regehr, and Greene.
Of course, Regehr and Greene are not getting any younger, so Lombardi also re-signed depth defenseman Jeff Schultz to a two-year deal worth less than $1 million per year. Defenseman Brayden McNabb (currently an RFA) also provides depth for now and a lot of promise for the future.
The Kings also added to their defensive depth and pipeline in this year's NHL Entry Draft, but had to give up a quality piece to do so. After opting to NOT buy out Mike Richards' contract — thus retaining the Kings' arguably unparalleled depth down the middle — Lombardi had to do something about Linden Vey, one of the team's top prospects who also showed a lot of potential in limited NHL action last year. A certain hockey writer recently speculated that Vey would have difficulty cracking the Kings' lineup as a center, but that the team might have to try to make room for him at a wing position.
Lombardi had a better idea — rather than altering the championship-winning forward corps (including RFA Dwight King, who the Kings will likely re-sign), he decided to obtain value for Vey in an area that needed it a bit more (defense). The bind Lombardi was in was that Vey would have had to clear waivers (which he almost certainly would not have, as some team would have picked him up) to go back to the minors if he did not make the team's final roster out of training camp. Vey thus could have been lost for nothing, but Lombardi flipped him to Vancouver for the 50th overall pick. The Kings used that pick to select defenseman Roland McKeown, a highly-regarded all-round defenseman (see more on McKeown and the Kings' other draft picks here). McKeown should be ready to contribute solidly at the NHL level within the next few years.
Locking Up Gaborik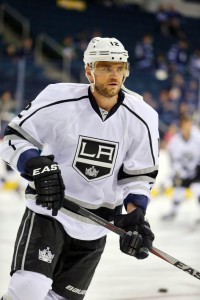 Then, of course, Lombardi was quick to lock up playoff hero Marian Gaborik before the high-scoring winger could hit unrestricted free agency on July 1. Considering that Gaborik was coming off a blistering postseason and a contract that paid him $7.5 million per season, his annual cap hit of under $5 million is an absolute steal. The 7-year term for the 32-year-old, injury-prone sniper might be less than ideal, but the immediate value he will provide is immense, making this a great deal for L.A. in the end. The cap hit also makes Gaborik more tradeable should his play deteriorate in the contract's later years and make the Kings want to attempt to move him. Gaborik, though, is excited to be part of a winning team for a long time, and the Kings should be equally excited to have him.
Very excited to be a part of great team and great organization #LAKings for the next 7years.

— Marian Gaborik (@MGaborik12) June 25, 2014
By bringing Gaborik back into the fold for 2014-15 and beyond, Lombardi ensured that the Kings will have all the forwards from their Stanley Cup-winning lineup back next season (barring further roster moves). The one exception to this regular lineup is the aforementioned Dwight King, a RFA who should be expected to re-sign with Los Angeles. Assuming King re-signs for around $2 million per year, Lombardi and the Kings will have utilized the salary cap optimally, as the team would likely end up with slightly less than $1 million in cap space (based on estimates using capgeek.com). The only other free agents are among non-roster players, which include McNabb (RFA who the Kings will be sure to re-sign) and Colin Fraser (UFA), a forward with plenty of experience with the big club, but who was not a regular in the lineup.
Anaheim's Bob Murray might have won the General Manager of the Year Award for this past season, but Lombardi was the architect of a Stanley Cup champion for the second time in three years, and his moves in this offseason have Los Angeles set up for success in the upcoming campaign and beyond. For all of the (deserved) discussion about head coach Daryl Sutter and the Kings' deep roster of players who step up in the biggest moments, people should remember that neither of those things would be in place without Lombardi.