The Florida Panthers finally got to play their first couple of games of the season after being postponed originally due to COVID-19. However, it was against the Chicago Blackhawks at home, rather than the Dallas Star. General manager Bill Zito finally got to see his team get some real NHL action and shape his vision for the future. Although the Cats are currently 2-0-0, they have some noticeable flaws that they may need to buff out to make a deep playoff run.
This New Top Line Can Do Some Damage
This newly constructed first line, consisting of forwards, Aleksander Barkov, Carter Verhaeghe, and Anthony Duclair, might be dangerous for a while. Through two games against Chicago, they have combined for a total of eight points (two goals and six assists). The chemistry may still need to develop, but it's a fantastic sign for things to come this season.
Aleksander Barkov is Still Very Talented
This may be obvious to some, but the Panther's captain is still one of the most talented centers in the NHL right now. In his first two games so far, he already has three points, all of them assists. Although it's disappointing he has yet to put one in the back of the net, he is always a little late to the scoring party. But once he gets going, it's very hard to stop him, so expect to see his point total go way up.
Additionally, his faceoff success is one of the best in the league as he's currently honing a 60.87% win percentage in the faceoff circle. This captain is going to be the main player to lead the charge for a potential playoff run.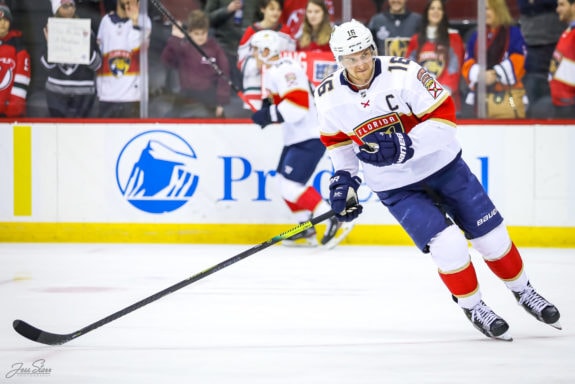 Carter Verhaeghe is Very Good
Signing the former Lightning forward during the offseason might be one of the best under the radar moves Zito made during the offseason. On Jan. 19, he lit the lamp twice that night and has continued to be a massive scoring threat so far. He has speed, and he's willing to park himself in the dirty areas to provide a proper screen on the goaltender.
It may have seemed he learned a few tips and tricks from his friends three and a half hours northwest in Steven Stamkos and Nikita Kucherov. Verhaeghe has the chance to make this team better for years to come if he continues his effort, as he could very easily earn himself a new deal.
Huberdeau Continues to Impress
Forward Jonathan Huberdeau picked up right where he left off last season. In two games, he's already scored a goal and tallied three assists. With that, he is tied for first on the team with points. He continues to be a deadly force as a point scorer and will continue to wreak havoc on opposing defenses if he continues his electrifying performances.
Patric Hornqvist Continues to Be a Pest for Opponents
Newly acquired forward Patric Hornqvist was given the "A" this season by the team, and his on-ice performance shows why they did so. Through his first two games, he has scored three goals and assisted on another, tying him with Huberdeau as the team's lead point scorer. But his aggressive style never really changed from his time in Pittsburgh, and it's something Florida has needed for a very long time.
Related: Newest Florida Panthers Make Their Mark in the Season Opener
His veteran presence is doing wonders for Florida, and the trade is looking to pay dividends for them. If he keeps his scoring ways, this team is going to go very far.
Sergei Bobrovsky Struggles
The $10 million man, goaltender Sergei Bobrovsky, struggled in his only appearance so far this season. While he made 30 saves in the first night, he allowed four goals and raised his goals against average to 3.81 on the season.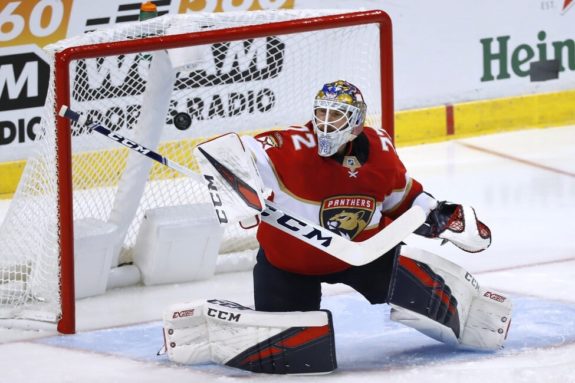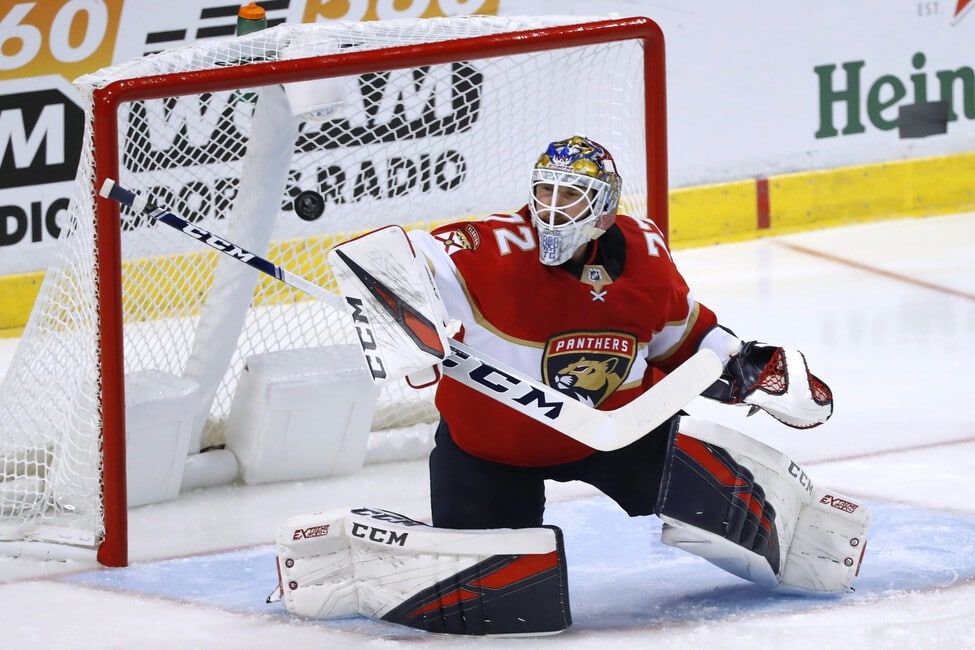 Historically, he is known for having a slow start to his seasons throughout his career. However, he struggled mightily last season, and seeing his performance is not a good sign for someone who has a contract that does not expire until 2026. He needs to play like the Vezina Trophy winner he is, or it could be all downhill from here on out.
Keith Yandle has Been Scoring – Does He Stay or Does He Go?
Over the past couple of weeks, Florida defenseman, Keith Yandle, was the talk of the town when it came to him being potentially forced out. Despite all of the claims and rumors being thrown his way, he still suited up the past two games.
Through those games, he scored a goal and piled on two assists. This continues to push the narrative that he can put up points on the backend for his squad. In addition, he had a plus-2 rating on Jan. 17 and an even rating on Jan. 19. However, those stats may still leave questions unanswered. In the season opener, Yandle took a holding penalty that led to a power play goal, he also had multiple instances in which his passes led to odd-man rushes, and lastly, he nearly coughed up the puck once in front of his own net.
Related: Panthers' Jonathan Huberdeau and Keith Yandle Impress in Season Opener
If he can fix his defensive mistakes, he still may have his spot on the roster. If he doesn't, he might be packing his bags as the drama suggests.
The Penalty Kill is Killing This Team
Through two games, Florida's penalty kill has been atrocious. The penalty kill has given up three power play goals through five shorthanded segments. The PK has a 40% kill rate, which currently ranks as the worst in the league.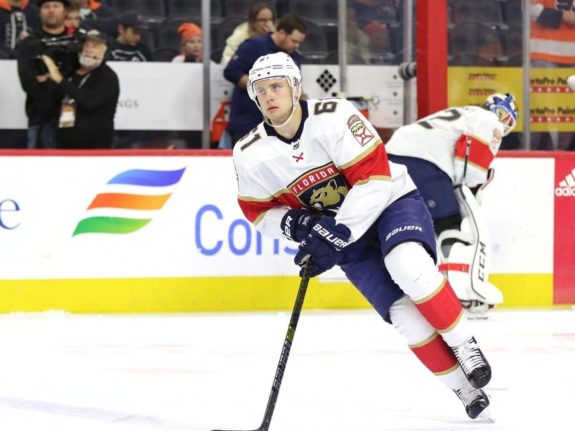 Although it's only been two games, it is not a good look for a team that is known for its defensive woes. If this team wants to be better, they need to fix this massive issue as fast at they can. Especially with the power play performing much better.
While it Needs Work, the Power Play Looks Good
Over these last two nights, Florida received seven power play opportunities. They scored on three of those chances, giving them a 37.5% conversion rate. That makes for seventh in the league.
However, it still needs some work. There have been costly turnovers in the offensive zone that led to shorthanded opportunities and a lack of shots on net. If these can get fixed, the power play will be deadly this season.
The Defense Looks Better, But Not Perfect
During the offseason, it seemed like the only work that was on Zito's mind was defense. While it may just be a sample size, the defense looks like it improved slightly. Newly acquired defenseman Radko Gudas had a couple of decent nights, going plus-2 through two games. He was on the ice for one power play goal, but he can easily shake that off.
Furthermore, defenseman Riley Stillman showed he can lay out some hits, but he struggled a little bit in preventing goal scoring. In his only appearance, he redirected a shot into the net and got walked on by Blackhawks' forward Patrick Kane. However, he's still young and has a great chance to improve.
Additionally, there are defensive pieces on the taxi squad that have yet to hit the ice, such as Marcus Nutivaara and Brady Keeper. So if this current setup has some shortcomings, they can be easily replaced.
Conclusion: It Feels Like Preseason
Overall, this small data sample is pretty much the warmup period. The league entered its shortened season with only a training camp and no preseason, so it's understandable to notice some rust here and there.
The only direction to go right now is up, and Florida will have some games in hand due to Carolina and Dallas postponing their games because of COVID outbreaks. With that, the Cats need to show they can hang in the Central Division.
---
---