With multiple storylines going into Sunday night's season opener for the Florida Panthers, including the trade rumblings and the newcomers, it was two veterans who showed up for the team as they took down the Chicago Blackhawks last night.
Jonathan Huberdeau
What a performance for Huberdeau. The Panthers all-time leading scorer had one goal and two assists in 14:14 TOI. The winger was easily the team's best player tonight, as was creating a number of high-quality shots, while also playing a solid defensive game, and not allowing much in his own zone.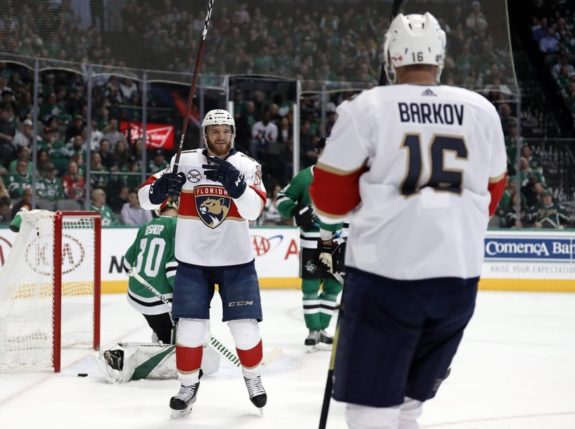 Huberdeau's goal came at 16:55 in the third period to put the team up 5-2. It came off of a pass from Aleksander Barkov and allowed him to bury it into the half-empty net. The shot had a 37.4% chance of going in, and was 10 feet away from the net, using Money Puck's shot tracker. This is an example of a high percentage expected goal and was one of the factors that went into his high xGF.
Speaking of Huberdeau's xG, let's get into it. He had a 0.95 xGF, which outweighs his 0.12 xGA by a large margin, good for an 88.12 xG% and 68.18 CF%. He was the top play driver for the team, and easily the most valuable. He was also elite defensively, rarely allowing quality chances.
Keith Yandle
After all the chatter surrounding Yandle in the last few weeks, he shut everybody up. Just a few days ago, it was believed that he would be a healthy scratch, and his 866-game iron man streak, which dates back to 2009 and places him at fourth all-time, would end. However, Joel Quenneville told the media that he would play in the season opener, and he proved everybody wrong.
Yandle had an even-strength goal, on three shots and 16:15 TOI. His goal had a 13.7% chance of going in, from 6.7 feet out.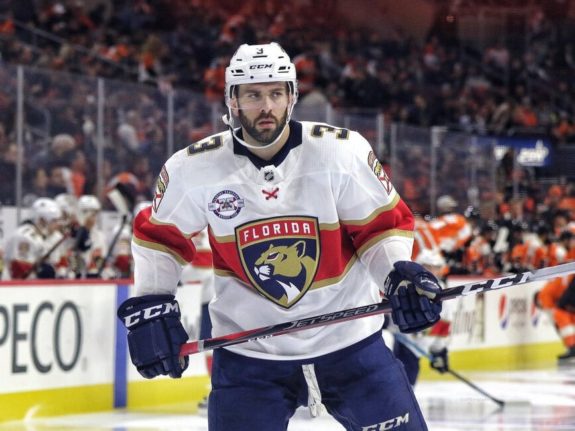 Yandle led the team in xGF with 1.16 and had a solid defensive outing with 0.35 xGA, which totals to 78.84 xG% and 61.29 CF%. This is not an average occurrence, as he usually struggles at even strength and defensively, however it was a huge game for him to prove his worth to this franchise, and could leave general manager Bill Zito with a compelling question as to if he should still trade the defender or not.
"Anytime I score I'm pretty excited. It was definitely a special one. Seeing how excited the guys were for me definitely meant a lot," Yandle told David Dwork.
Things to Note
While tonight was just another reason to call Huberdeau a top-ten winger in the NHL, it was also an outlier for his defensive counterpart. Yandle should not be expected to have an elite game like this again.
Yandle had a total xG% of 45.72 in 2019-20, which in comparison to his 78.84 tonight, is not great. While there is a chance that he can keep this up, as he is known for his offensive prowess, it shouldn't be expected of him to keep this elite production up.
Huberdeau on the other hand has produced these elite numbers for a substantial amount of time, with a 3.77 GF/60 in 2019-20, scoring has never been an issue for him, however, the elite defense from tonight could decline as the year proceeds.
Onto the Next Game
One thing to watch out for is to see if Huberdeau can get his centreman Alexander Wennberg going in the next game. His fellow winger Patric Hornqvist had a good night, however, Alexander Wennberg was quiet, I'd think that changes soon as he gets into a top-six role.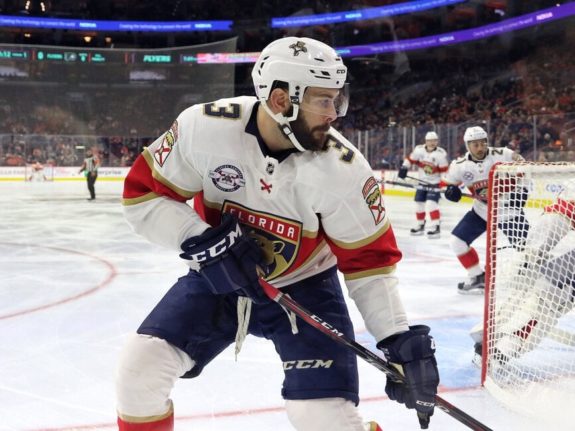 It'll be interesting to watch out for Yandle and his partner in Radko Gudas. The pairing had a good night, and we shall see if they can continue playing at this high level.
The team will take on the same Blackhawks on Tuesday night, and look to continue their offensive production on their weak opposition.
---
---