The Buffalo Sabres' Dylan Cozens is one of 43 rookies to have played his first NHL game this season. In two games, he's averaging 12:30 of ice time on a line with Tobias Rieder and Cody Eakin, and in that small sample size, he has one assist (his first NHL point) and a 52% Corsi rating. But, most importantly, he doesn't look out of place as a teenager.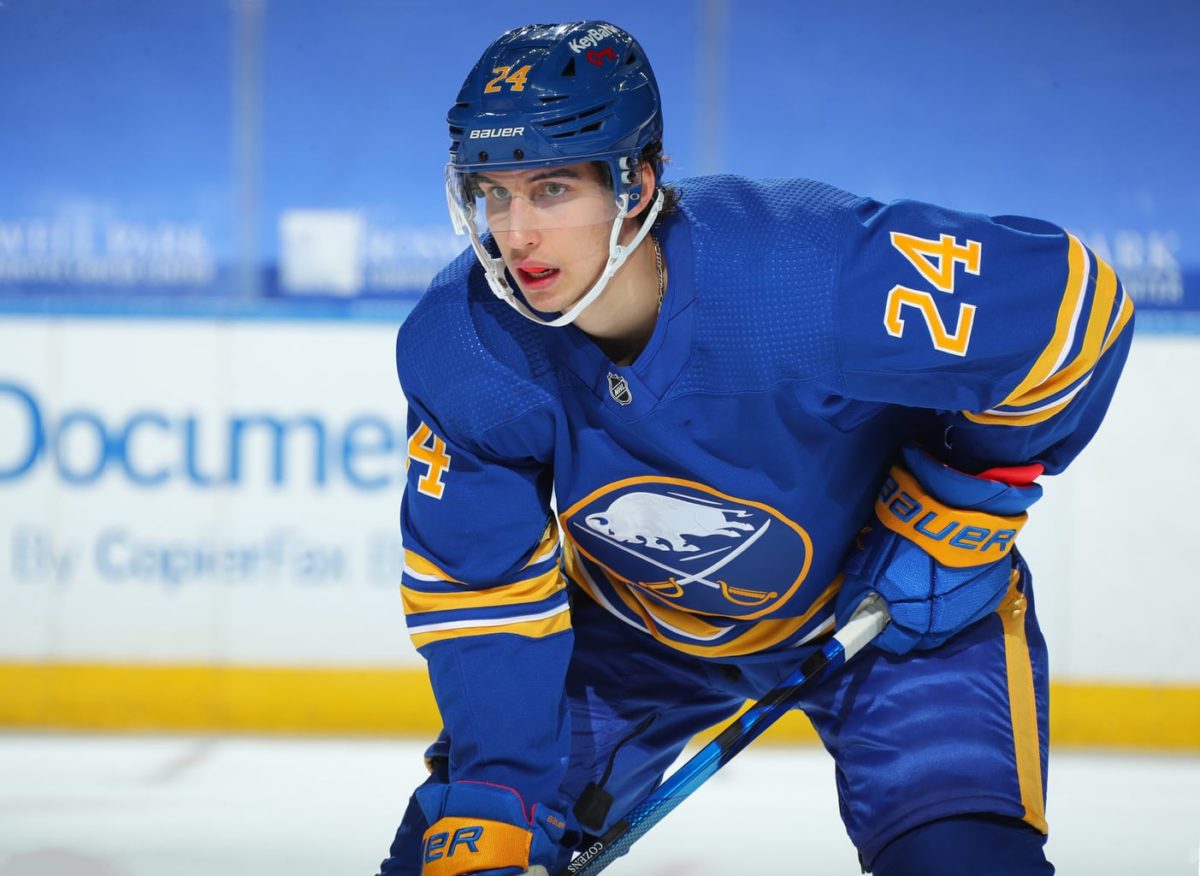 As a result, after two losses to start the season, head coach Ralph Krueger already has bigger plans for him. The bench boss has like what he's seen from the baby-faced youngster, especially his two-way game, and Krueger has penciled him in for promotion against the team's next opponent, the Philadelphia Flyers.
Promoting Cozens
Sunday at practice, Cozens was on first-year Sabre Eric Staal's right side, with Victor Olofsson on left-wing, which will offer the gifted prospect, loaded with talent, speed, great hands, and a sound transition game, a chance to play an even bigger role.
"What stands out truly is his ability to take care of the gritty work that needs to be done to play in the National Hockey League and to not be a risk," said Krueger. "He enjoys the coverage role, he enjoys getting back, his tracking is very strong, he finds his inside position naturally. And we were actually positively surprised at how he dealt with one-on-one battles. Even against [Zdeno] Chara, he had a couple of situations where he was able to make something out of it."
The 6-foot-3, 188-pound center from Whitehorse plays an elite two-way game, and though he's only 19 years old, with room to add to his frame, he held his own physically in the pair of games against the Washington Capitals.
The Learning Curve of the NHL
Cozens may be tenacious on the puck, but the jump to the NHL is huge. "[Players are] a lot stronger than what I'm used to, so that's a big adjustment there," he said. "But I think the biggest thing I've picked up on is just how much guys take care of their bodies. Especially in a year like this, where there's so many games in such a short period of time, I think the biggest thing is just ensure I take care of my body."
In the locker room, Cozens is flanked by Jack Eichel and Staal. When asked about how the teenager is adjusting to his new team and the NHL, Staal was quick to throw him a compliment. "I think it's his mind and his brain for the game. You can just see it at work daily," said Staal. "Whether it be practice or even in games, if something didn't go right, the next time he does it, he does it differently and gives himself a better result. As a young player, it's a whirlwind. There's a ton of things going on … but he's handled it all really well. And he looks comfortable."
Cozens said he's not asking too many questions or "bugging" his teammates too much, instead he prefers to keep a low profile.
Making His Way to the NHL
Cozens ripped through the WHL, registering 85 points in 51 games. He then tore things up at the 2021 IIHF World Junior Championships with Team Canada, serving as an assistant captain.
Related: Sabres Go to the Yukon to Improve
"It was definitely a big for me to go skate in a competitive environment for two months, and then play those games and get myself back in game shape," said Cozens. "Being able to come into camp here at the top of my game, top of my conditioning. I think it was really big for me. I'm happy that I got to get that tournament in."
To Shelter or Not
Cozens, a cornerstone player who was drafted seventh overall by the Sabres in 2019, is a sight for sore eyes on a franchise that's lacked top-six talent and a bona fide second-line center. Some think he should be brought along slowly and sheltered from the opposition. Shifting him to the wing instead of playing his natural position at center is another way to ease him into the rigors of the NHL game. But, as we've seen again and again, players like New York Islanders center Mathew Barzal have stepped into the league and made an immediate impact.
So far, Krueger likes what he sees. "His ability to read the game and then also his calm and confidence. You can feel it on the bench, during practice now, he's very quickly part of the group and part of the team."
---
---