The Florida Panthers and defenseman Aaron Eklbad have come to terms on an eight-year contract extension. According to General Fanager, the deal is worth a total of $60 million and will carry a $7.5 million cap hit through the 2024-25 season. The new contract will go into effect at the start of the 2017-18 season.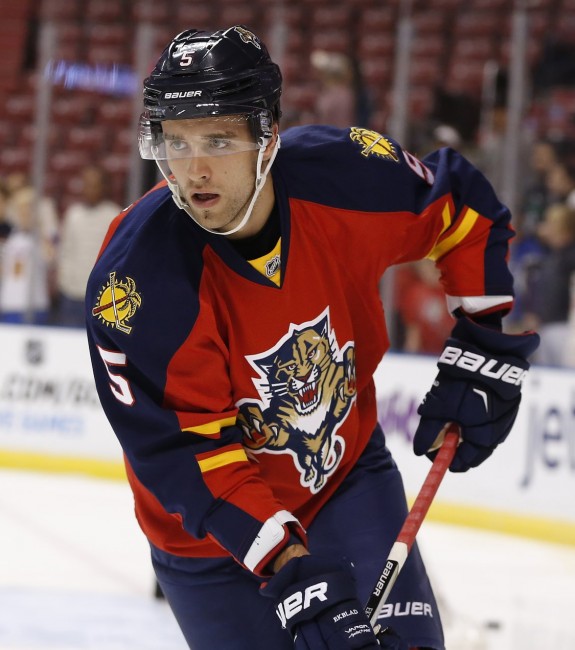 The contract would make Ekblad the highest paid player in franchise history and the fifth highest-paid defensemen in the NHL behind the likes of P.K. Subban, Shea Weber, Dustin Byfuglien and Ryan Suter.
The 20-year-old won the Calder Trophy as the NHL's top rookie in 2015 and has skyrocketed up both the ranks on the Panthers' roster and in the NHL as one of the top defensemen in the league.
Last season, Ekblad had 15 goals and 21 assists in 78 games regular season games. In total, Ekblad has lit the lamp 27 times and grabbed 75 points his short (159 regular season games) NHL career.
This is a big investment by the Panthers in what they hope is the future of their franchise.
On Aaron Ekblad's $60M, 8-year extension: Salary ranges from $6-9M per year, with signing bonuses from $3M-$5M.

Huge second NHL contract.

— Chris Johnston (@reporterchris) July 1, 2016
That is just what it is, Ekblad's second NHL contract. Ekblad isn't coming off a bridge deal that would connect his entry-level deal and his big money contract. No, the first overall pick from the 2014 draft will go from having an NHL salary of under $1 million to racking in over $7 million.
Sure there were plenty of bonuses tied to Eklbad's first contract that pushed the total value up to just over $11.3 million. But there was still a cap hit of just $925 thousand tied to his name. We're talking about a $6.575 million jump once the 2016-17 season comes to an end.
The Panthers are going all in on Ekblad and if the small sample size of Ekblad's first two seasons are any indication of what the defenseman can do, the blue line is in good hands in Florida.