The Florida Panthers are fighting for their lives to get into the 2023 Playoffs. With a record 37-31-7 and 81 points, they are one point behind the Pittsburgh Penguins for the second wild-card spot and six points behind the New York Islanders for the top wild-card spot in the Eastern Conference.
Related: Panthers' To-Do List to Reach the 2023 Playoffs
During this run, Aleksander Barkov set a new franchise points record with 620 (240 goals, 380 assists), overtaking Jonathan Huberdeau, who had the record just a season ago before joining the Calgary Flames. This achievement has set a new standard for the South Floridian club's future prospects and players.
Panthers Captain Earns His Place
Drafted second overall in 2013, analysts knew what he could become: one of the most important players on the Panthers roster today.
Aleksander Barkov possesses the rare combination of size and outstanding technical skills along with an ability to quickly analyze situations. He is very mature in terms of hockey sense at an early age and has had success playing against much older players in Finland's SM-Liiga.

– Hockey's Future
Hockey's Future hit the nail on the head in his pre-draft analysis.
Barkov in the History Books
Barkov has a lot more than just the franchise record for most points. He ranks first in goals with 238, second in assists with 379, second in games played with 655, first in power-play goals with 69, third in short-handed goals with 11, first in game-winning goals with 43, third in goals in a season with 39, second in points in a season with 96 and fourth in assists in a season with 61. He is also the only Panther to win the Frank J. Selke Trophy as the league's best two-way forward (2020-21). Additionally, he is the second Finnish captain and the 10th in franchise history, joining players such as Pavel Bure and Olli Jokinen.
Related: Panthers' Tkachuk Deserves to Be Hart Trophy Finalist
---
Latest News & Highlights
---
He is etched in the Panthers' history books, and at 27 years old, he's only just entering his prime.
Barkov Still Considered Underrated
According to the 2022-23 NHLPA players poll, 23% of players said that "Barky" was the most underrated player in the league. In that same poll, 17.1% of players said he was the most complete player.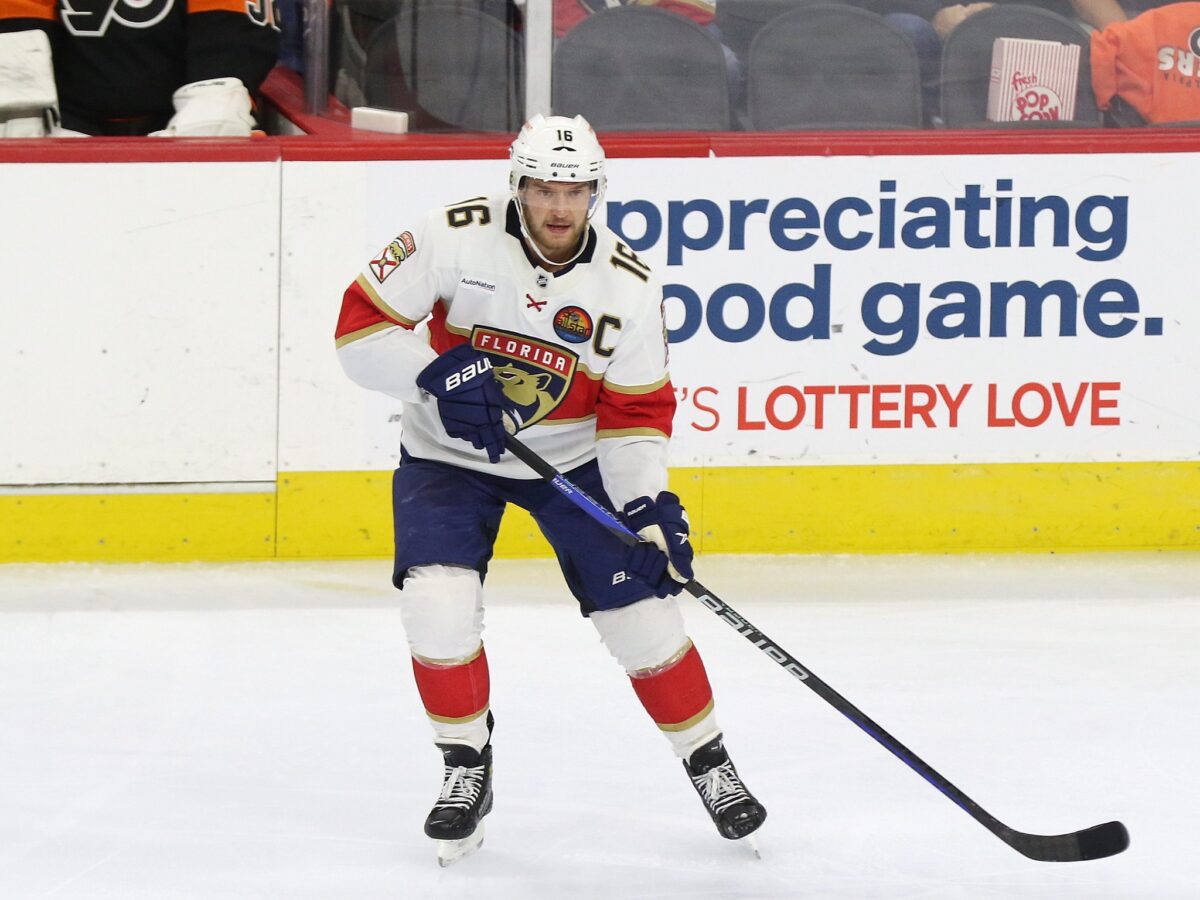 He's been making ripples for a few seasons, but he is still considered an under-the-radar NHLer. Unfortunately, it could be due to the area he plays for, as Florida is still known as a small-market franchise despite the success the team had the past couple of seasons.
What's Next for the Finnish Captain?
His career so far has been impressive, but it's clear that his goal is to win in South Florida.
"It's a huge honor," said Barkov, who was selected by the Panthers second-overall in the 2013 NHL Draft. "After my career, I'm going to realize even more what that means, but right now, everything happens so fast. We won the game. We're in a playoff race, so you don't think about that too much. But obviously, it's a huge honor to play for this organization. I'm really happy."

Aleksander Barkov on becoming the franchise leader in points on Mar. 20.
Who knows how this season will end, but after Barkov signed a big extension in 2021 for the next eight seasons, it was clear that general manager Bill Zito wanted him to be a part of the organization long-term. The future is as bright as the sun for the Cat's captain.
---
---