Despite their defensive issues, the Buffalo Sabres' offense has taken a giant step forward this season and has emerged as one of the best in the league. But one of the biggest figures behind that hasn't received anywhere near enough credit.
In his third professional season, Dylan Cozens has broken out in a big way and proven that he's worthy of the hype he's received. Some of his teammates' contributions have overshadowed his, but Cozens' play is a key piece of the Sabres' success this year, and his future appears to be very bright.
Despite Obstacles, Cozens Has Impressed From the Outset
When the Sabres selected Cozens with the seventh overall pick of the 2019 Draft, they made a small bit of NHL history, as never before had a native of the Yukon been taken in the first round. While never a flashy scorer with the Western Hockey Leagues' Lethbridge Hurricanes, the Whitehorse native's hockey IQ, two-way ability and 6-foot-3 stature made him stand out in a stacked 2019 Draft class.
Cozens may have received notoriety before stepping on the ice in the NHL, but he's also had to battle his fair share of adversity. After completing his junior career Cozens joined the Sabres and debuted on Jan. 14, 2021, but the timing was less than ideal.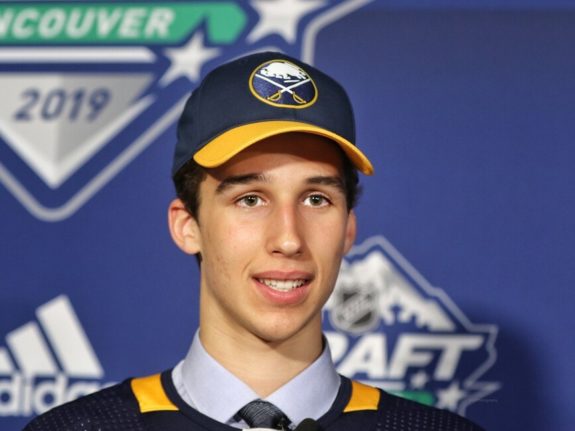 The COVID-shortened 2021 season was a tough time for any player to begin their career, especially for the handful of Sabres prospects that were called up. In addition to the unprecedented hardships and changes brought on by the pandemic, the campaign was particularly dreadful for the Sabres and perhaps their worst ever. The team won just 15 of 56 games and lost 18 in a row at one point, an NHL record.
But despite all that, Cozens turned heads upon arrival, and fans were drawn to him instantly. He finished his 41-game rookie season with just four goals and 13 points, but that stat line didn't reflect the impact he made. Though he was forced to split time between center and wing, his work ethic and poise drew rave reviews and led to him being dubbed "The Workhorse From Whitehorse." He also showed major gumption by engaging in multiple fights to stand up for himself or his teammates, an increasingly rare quality. It was evident in a hurry that this was not your average 20-year-old.
---
Latest News & Highlights
---
The ride wasn't always smooth. Countless players have fallen victim to the proverbial sophomore slump, and Cozens was no different. After starting his second season with a bang, the Workhorse went 17 games without a goal from Feb.25 to April 5, 2022. But rather than be discouraged, he took the opportunity to commit to improving his defensive play so that he wouldn't be a liability in big scenarios (from "The goals stopped coming but Dylan Cozens kept pushing and can be a breakout player", The Buffalo News, 5/29/22). Not only did it improve his image even further, but it paid major dividends later on.
Cozen's Contributions This Season Have Been Unheralded
Despite being one of the biggest reasons for the success and improvement the Sabres have seen this season, Cozens has largely flown under the radar. This is likely due to the stellar seasons that his more high-profile teammates have had, but it doesn't make what he's done any less remarkable.
Cozens' transformation from last season has been a sight to behold. Through 72 games, he sits at 28 goals and 35 assists for 61 points (all career-highs) and has firmly entrenched himself as the team's No. 2 center. He's had a number of highlights along the way, including scoring 12 seconds into overtime to beat the New York Islanders on Jan. 19 and scoring his first-career hattrick against the Washington Capitals on Feb. 26. He's also helped make the Sabres' power play all the more lethal and has 19 points on the man-advantage.
If he can reach the 30-goal plateau, he'll be the fourth Sabre to do so this year after Tage Thompson, Alex Tuch and Jeff Skinner. It would be the first time since the 2006-07 season that Buffalo had that many players reach the mark. The team's top line of Skinner, Tuch and Thompson has provided a vast majority of its scoring with 228 combined points, but Cozens has been a terrific supplement, something the team has lacked in recent seasons.
It hasn't been all scoring, however. Cozen's efforts last year to improve his two-way play have paid off in spades. Buffalo's biggest issue throughout this entire season has been defense from both blueliners and forwards. As electric as the Sabres' offensive onslaught is, a number of their forwards are defensively liable due to either lack of awareness, poor backchecking or both. The 22-year-old is one of the few who doesn't fit that description, and his minus-1 rating does no justice to that. Coach Don Granato has been able to trust him in all situations, and he's been a go-to on the penalty kill.
The most important of all, however, has been the leadership that Cozens has displayed, and calling him mature beyond his years would be an understatement. He was praised for appearing at the Sabres' Prospect Camp last summer and helped mentor rookie linemates Jack Quinn and JJ Peterka this year. The Sabres acknowledged his commitment and character when they signed him to a seven-year, $49 million contract extension in February.
Cozens has still managed to go largely unnoticed this season, which makes sense given that he's never been a flashy scorer or playmaker and instead focuses on playing his role to the best of his ability. It also doesn't help that Thompson has morphed into a seemingly never-ending highlight reel, and Rasmus Dahlin is a likely Norris Trophy candidate at the season's end. It doesn't take away from how valuable Cozens has been to the Sabres, and the team is far better off for the strides he's made in such a short time.
The Next Sabre Captain?
It will be interesting to see what the future of Buffalo's captaincy holds. Kyle Okposo was named the 20th captain in franchise history last fall despite entering the final season of his contract. Though the Sabres will likely re-sign him, it remains to be seen how long he'll continue to serve in that capacity.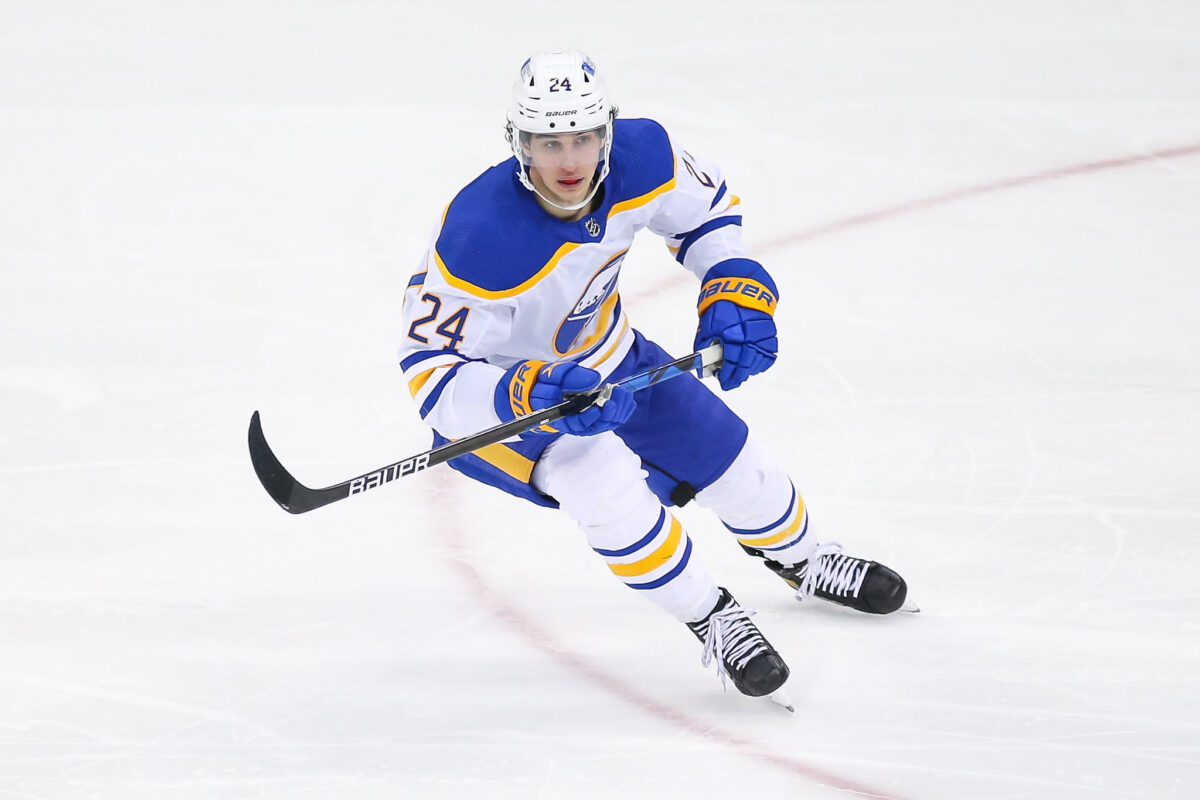 Whenever Okposo does move on, Granato will have a tall task on his hand when naming his successor as the Sabres have numerous players worthy of the honor. Though Cozens has had future captain written all over him since debuting, Tuch is probably the favorite choice due to experience. Cozens would make a terrific alternate beside him, as he's more than proven that he's the exact type of player the team wants. He'll almost certainly have a letter on the front of his jersey in the future.
Cozens & Co Must Lead Sabres Into the Future
On Wednesday night, the NBA's Sacramento Kings qualified for the postseason for the first time since 2006, finally bringing the longest active playoff drought in the four major North American sports to an end. Who owns the distinction now, one may ask? That's right, the Buffalo Sabres and the NFL's New York Jets are now tied for it at 11 years each.
Related: Sabres Learn New Lessons As They Progress Into Next Season
The Sabres had a prime chance to snap their own drought this season but failed to address their issues at the trade deadline and now appear destined for a 12th consecutive year watching from home. If the team ever wants to get back to the promised land, Cozens will have to lead the way, and he's just the man for the job.
---
---