Since the start of the 2021-22 Ontario Hockey League (OHL) season, the Windsor Spitfires have become a bit of an offensive powerhouse. For two seasons, they've been the highest-scoring club in the league and it creates exciting hockey. However, it makes one wonder where these teams stand compared to great offensive clubs of the past.
When Spitfires' head coach Marc Savard took over to start 2021-22, he implemented systems designed to create offence while still playing solid in their own zone. It's worked as the team won back-to-back Western Conference regular season titles. However, are they as good as some of the great offensive teams we've seen before? Let's look back at their top five offences in the modern (since 1992) era.
Top 5 Spitfires Offences in the Modern Era
T-5. 303 Goals in 66 games – 1994-95
Coming in tied for fifth was a club led by current Spitfires' general manager Bill Bowler. The 1994-95 team had an entertaining mix of scoring and grit. From Bowler to Dave Roche, Ed Jovanovski to Tim Findlay and D.J. Smith, plus a lot more, they were a team that could beat you in multiple ways.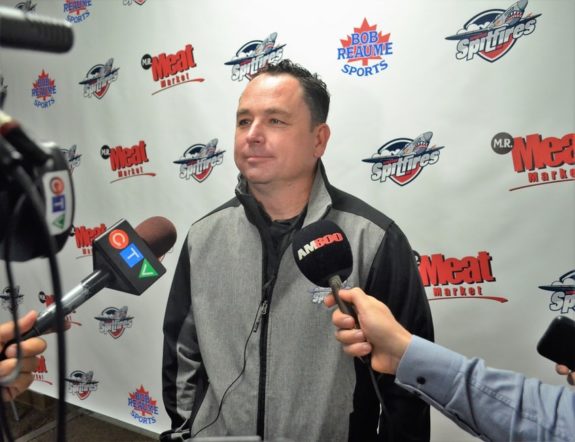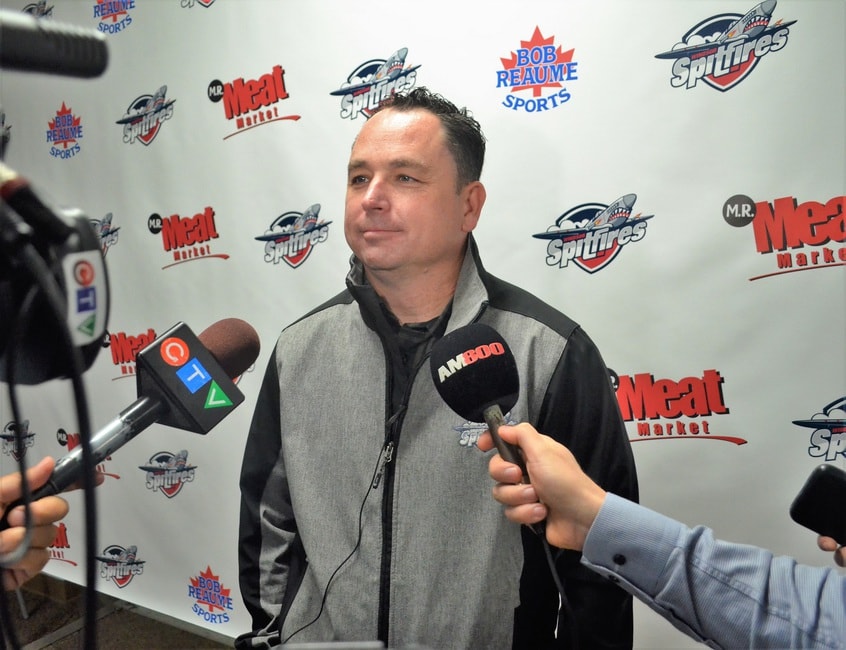 Back in the old Windsor Arena days, clubs were known more for their toughness than success, and the fans loved it. In this season, though, they had plenty of talent, too. You came to the rink expecting a high-scoring, slug-em-out game, and they delivered on most nights. Their 303 goals in 66 games tie them for the fifth-highest-scoring Spitfires' club in the modern era.
T-5. 303 Goals in 66 games – 1996-97
After a bit of a down season in 1995-96, where they scored 256 goals, the club returned to their offensive ways with another big 303-goal season. Led by Smith as captain, they had size, toughness, and plenty of offence from veterans like Findlay and Ryan Pawluk, plus stud rookies Peter Sarno and Matt Cooke.
---
Latest News & Highlights
---
Unfortunately, stopping goals was tough as they allowed 285, finishing third in the West Division. They eventually lost to the Sarnia Sting in five games in the first round. That said, this was another fun team to watch, and they join this list tied for fifth.
4. 305 Goals in 68 games- 2021-22
As we mentioned at the top, when Savard took over as the Spitfires' head coach in August 2021, he brought his offensive mindset to the WFCU Centre. The former Oshawa Generals' star (413 points from 1993-97) is a players coach who knows how to develop talent. The result has been an offensive juggernaut and a winning franchise.
This club had multiple breakout seasons, including 124 points from Wyatt Johnston (Dallas Stars), 43 goals from Will Cuylle (New York Rangers), and current captain Matthew Maggio's 85 points. That's on top of Daniel D'Amico's 32 goals and Louka Henault's 65 points. They could throw any line or pairing at you and find a way to turn on the red light. It was a thing of beauty.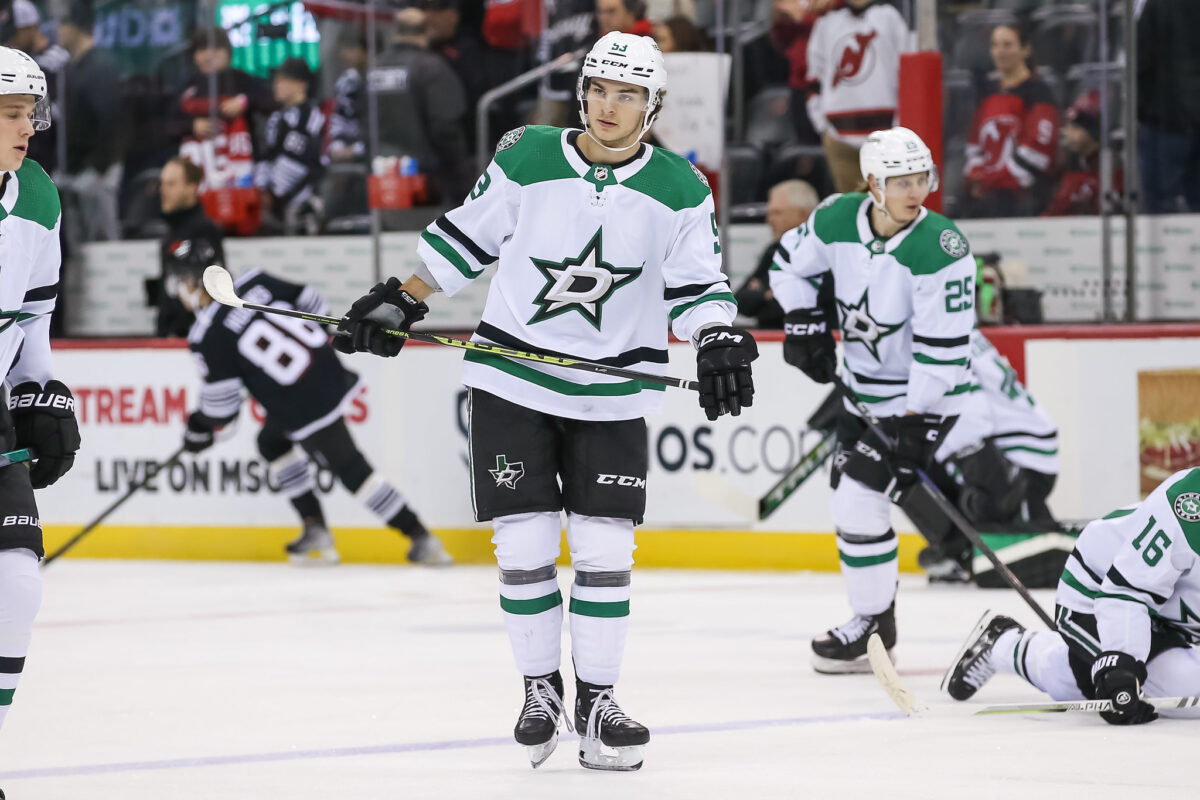 While they weren't as scrappy as Windsor Arena clubs, their talent and teamwork got them to Game 7 of the OHL Championship (losing to the Hamilton Bulldogs). They were entertaining and brought life to a city that really needed it after the COVID-19 pandemic. With 305 goals in 68 games, they come in at number four on this list.
3. 311 Goals in 68 games – 2008-09
When former GM/Owner Warren Rychel bought the Spitfires in 2006 along with Bob Boughner and Peter Dobrich, the trio developed a dominant team that was nearly unstoppable. It took a few seasons for their vision to come together, but their Dec. 2008 move from the Windsor Arena to the WFCU Centre propelled them to new heights. Fans were in for a treat.
Related – Saying Goodbye to an OHL Original – The Windsor Arena
Led by stars Taylor Hall (90 points), Ryan Ellis (89 points), Greg Nemisz (77 points), and Dale Mitchell (68 points), to name a few, this was a team that simply refused to lose. No matter who they put on the ice, they had a chance to score, and the fans appreciated it.
Their persistence and offence led them through a tough playoff, including a five-overtime Western Conference Championship series against the London Knights (won the series 4-1), and eventually into the Memorial Cup in Rimouski, PQ. That's where they took their first Canadian championship in club history. They come in at number three on the list.
2. 320 Goals in 68 games – 2022-23
After a dominating offensive season in 2021-22, Savard was ready to show that the Spitfires were the real deal. Not only did they prove that, but they exceeded just about everyone's expectations.
While Johnston, Cuylle, Henault, and D'Amico all graduated, Maggio has cranked it up to lead the OHL with 111 points. He's joined by forwards Brett Harrison (Boston Bruins), Shane Wright (Seattle Kraken), Alex Christopoulos, and Jacob Maillet, plus defencemen Rodwin Dioinico and Anthony Cristoforo, who all made significant contributions. In fact, Christopoulos almost made history, finishing the season with 49 goals! While health has been an issue all season, they've still managed to put out a seriously impressive 320 goals.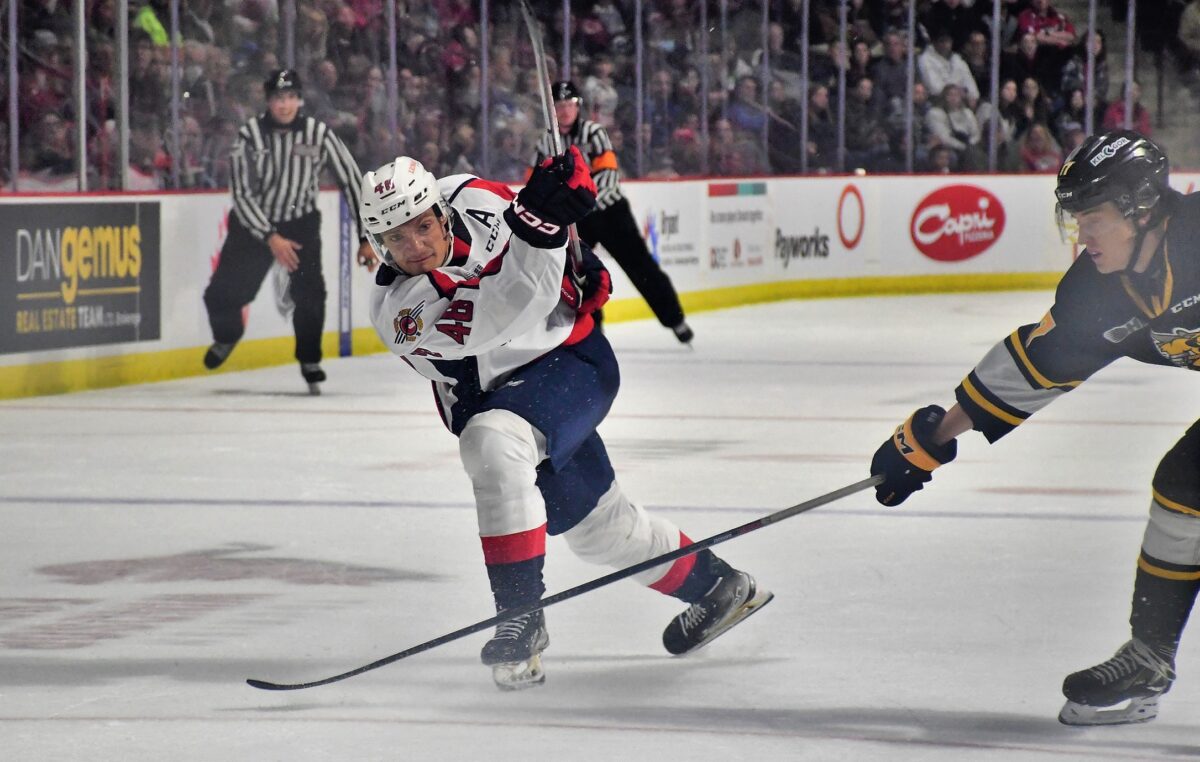 No matter who is out of the lineup, someone steps up and finds a way to get the job done. They were at (or near) the top of the Western Conference all season, and it's a testament to their depth, Savard's systems, and Bowler's slick drafting and trades. While they have their hiccups, they come in at number two on this list. Who has the top spot?
1. 331 Goals in 68 games – 2009-10
After winning the 2009 Memorial Cup, the Spitfires were fortunate that most of the roster returned to attempt back-to-back titles. While they lost defenceman Rob Kwiet and forward Andrei Loktionov, they gained a breakout season from forward Eric Wellwood, plus the debut of 2008 first-round pick defenceman Cam Fowler. The result was pure domination.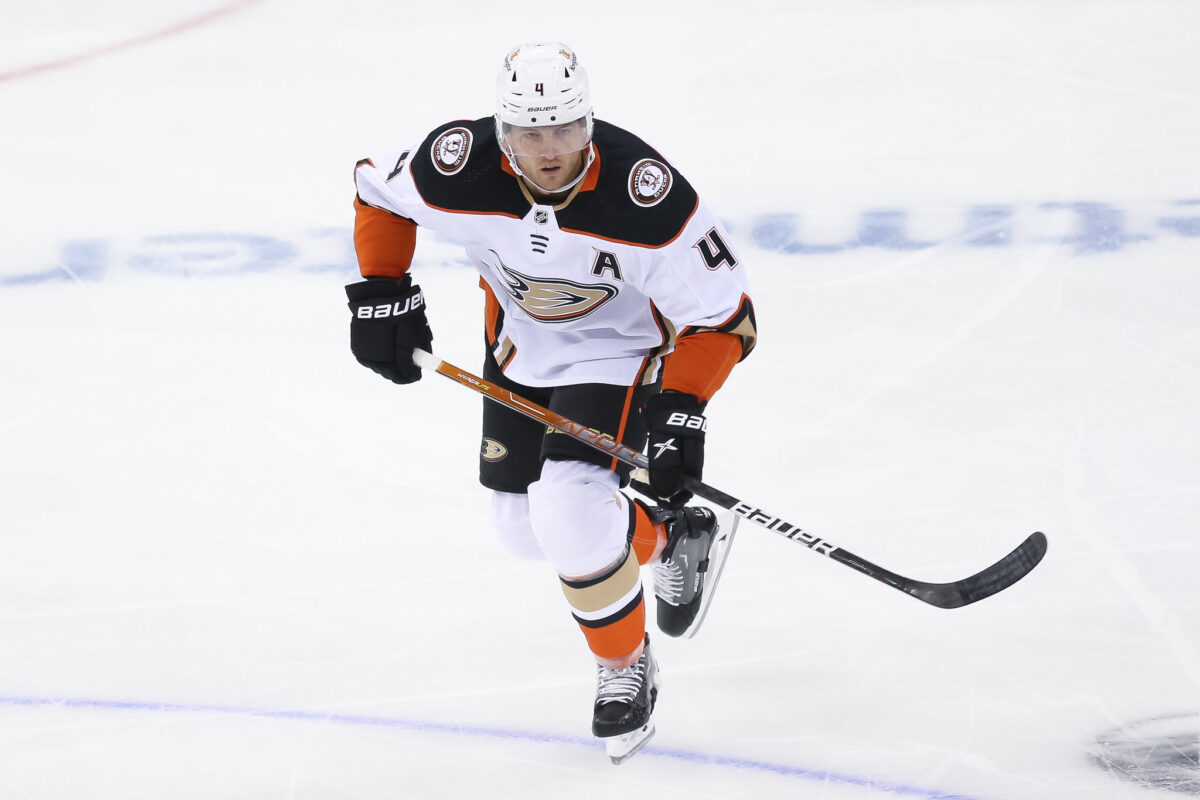 The club cruised to a 50-12-1-5 record with very few blemishes along the way. The only real speedbump came in the Western Conference Championship where they fell behind three games to none to the Kitchener Rangers. However, a win in Game 4 was all they needed; they went on to win the series, win the OHL Championship in four games over the Barrie Colts, and then sweep the 2010 Memorial Cup in Brandon, MB.
Rychel put together a team that could suffocate anyone, and they proved it on a nightly basis. Their offence was iconic with six 30-goal scorers, and Hall tied for the league lead with 106 points. Only two OHL teams have surpassed this team's offence since – the 2013-14 Guelph Storm (who, strangely, had Rychel's son Kerby) and the 2014-15 Soo Greyhounds. As a result, the 2009-10 Spitfires go down as their best offensive club in the modern era.
Since 1992, the Spitfires have had some outstanding offensive teams. They brought it nearly every night and gave their faithful something to get excited about. Isn't that what (junior) hockey is all about?
---
---