Whatever happens at the end of this magical run, we know that the Florida Panthers found their collective game and love playing with each other. There's only one thing that produces those results: winning.
The Panthers have won 10 of their last 11 games and have not let up more than two goals in their last eight contests. Florida accomplished all of that against three of the top five teams in the league this past regular season. At this point, there's no reason to think that the Panthers can't continue to produce playoff magic.
The Cats are set up nicely to make playoff runs for years to come. The team does not have a first-round draft pick until 2026, but if you look at the team's core, they are young, and general manager Bill Zito has most of them locked up on palatable contracts. Additionally, as of right now, Florida has a projected amount of 9.5 million in cap space for the upcoming season.
Related: Panthers Game 1 Win vs. Hurricanes Is an Instant Playoff Classic
What is unfolding in Sunrise might not happen again for a while, but this core should remain intact and be allowed to continue to grow together. There is no need for major trades this offseason. The Cats are young and now have valuable playoff experience together. Their average age is 27, and if they decide to move on from Eric Staal, who is the oldest of the group at 38, they will only get younger.
Panthers Have Few Pending UFAs
Heading into this summer, Florida only has five pending unrestricted free agents (UFA). Two of them play up front: Eric Staal and forward Patric Hornqvist. The Panthers may move on from Eric, or he could easily sign for the league minimum to stay in South Florida with his teammate and brother, defenseman Marc Staal.
There is also a chance that Eric Staal retires if the Panthers win the Stanley Cup a month from now. Either way, the Panthers could replace him with another proven veteran or bring in a younger player to absorb his ice time without losing much value. Hornqvist has not contributed much due to injuries, so his presence will not be missed. He will probably sign elsewhere.
Related: Panthers GM Bill Zito Should Win Top Executive Award
---
Latest News & Highlights
---
"I know the situation in the cap world and how it works day-by-day," Staal said to FLA Hockey Now before the end of the preseason. "For me, I am pretty narrowly focused on what I need to do on a daily basis. You have to prove yourself every day. That's the name of the game and it never changes. It has been a lot of fun working daily to get better, and I feel pretty good, feel I have done that. This is a good situation. We'll see what happens."
Forward Colin White is a restricted free agent and has proven himself valuable. The team should sign him to a two-or three-year contract at a reasonable cap hit of two-to-three million a year.
Settle Panthers' Goaltending
Goaltender Alex Lyon is also a pending UFA. He was valuable down the stretch and could be re-signed to a similar contract as White, but the Panthers also have goalie Spencer Knight on a long-term contract, and he could be ready to come off injured reserve before the start of 2023-24.
Alternatively, the Panthers could trade Knight to a team in need of a potential No. 1 for some draft capital and roll with the combination of Lyon and playoff beast Sergei Bobrovsky, who has backstopped the team to within one game of the Stanley Cup Final. That move would free up some additional money to spend on some of their own pending free agents, or Zito could use it to add depth with some free-agent signings as of July 1.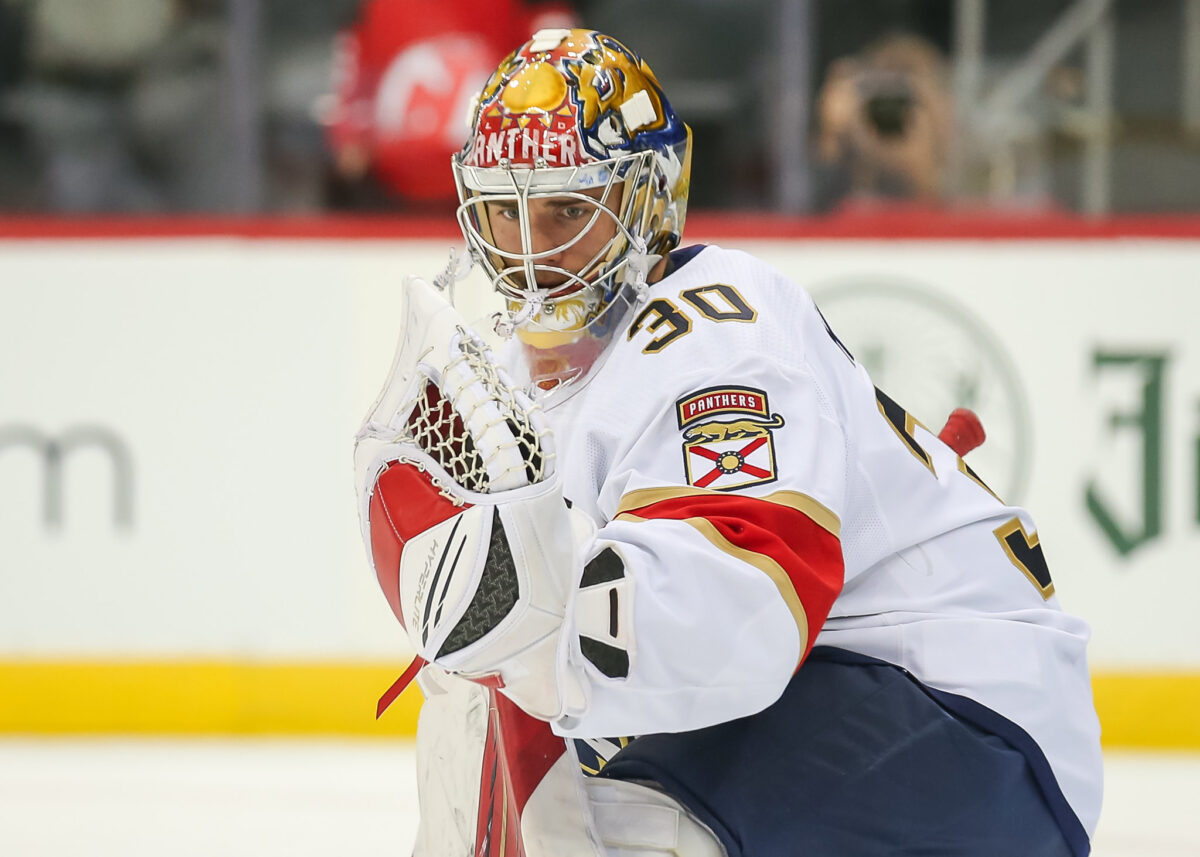 Even if Bobrovsky struggles to be consistent next season, as he did during stretches of 2022-23, the slightest chance that he could replicate his playoff performance is well worth the risk of placing him back in net as the alpha goalie.
Zito Has Decisions on Defense
Defense is where the Panthers' GM will need to make the most important decisions. Behemoth Radko Gudas, who eats shorthanded minutes and crushes opponents every chance he gets, is a must-re-sign. He brings a steely element to the blue line that will be hard to replace; it's as if he drinks paint thinner with his morning bagel.
"Everybody has got their role in the room, and Radko has a unique personality," Panthers head coach Paul Maurice told FLA Hockey Now. "When he is wired into the game, it just brings everyone else into the game. There aren't a lot of bumps in his game, there's not a lot of light contact. It's usually noticed by the bench, and it fires them up."
Gudas may want to test the open market, where he would probably get a higher average annual salary, but Zito should commit to the Czech rearguard for a minimum of three years, which might be attractive to Florida's most feared defenseman. He seems like the type of player who would want to run it back, regardless of the outcome of this season.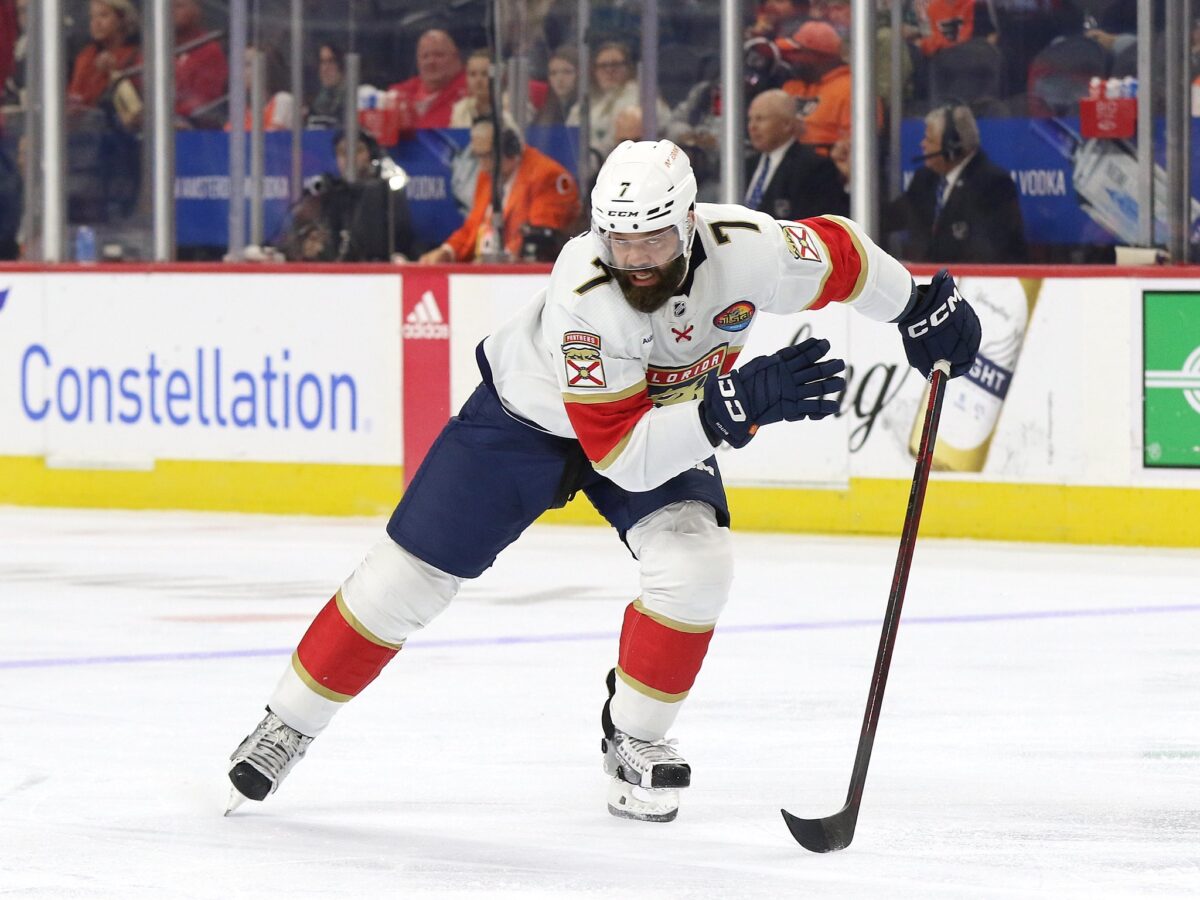 Marc Staal could also join another team this summer. He's been fantastic this postseason, but he's in a similar situation to his brother. The Panthers could sign Marc Staal to a league minimum on a one-year deal or find someone similar to replace him.
Patrick Kane Would Look Great in Panther Red
One name that continues to surface in connection with the Panthers is Patrick Kane, who will be free to sign with whatever team he chooses. Kane would be a phenomenal offensive addition to a team that could use some secondary scoring to take pressure off captain Aleksander Barkov and forward Matthew Tkachuk. He would greatly improve the team's puck movement on a power play that stalled many times throughout the season. Kane could also tie the room together.
Florida could also look at a player like Ryan O'Reilly, who brought some grit to the Toronto Maple Leafs after being traded from the St. Louis Blues. O'Reilly, a former Conn Smythe winner, is a little younger than Kane and would fit the physical style of play that the Panthers have exhibited this postseason.
Either way, the Cats have their core players under contract and also have options to add with some extra cap space available. Florida's key contributors in Barkov, Tkachuk, Sam Reinhart, Carter Verhaeghe, Sam Bennett, and Aaron Eklbad are all under contract for the next few seasons. This Panthers' core has come together at the right moment, and the organization has the pieces to go on multiple Stanley Cup runs over the next few seasons.
---
---