In this edition of the Montreal Canadiens News & Rumors, Lane Hutson keeps doing Lane Hutson things. General manager (GM) Kent Hughes will have significant work to do improving the goaltending. Will there be a prospect signed soon? Which goaltender has impressed, and which one is being looked at in the draft? Despite it being the offseason, there is always something brewing in Montreal.
Lane Hutson Impresses
Despite having detractors at every step of his development, saying he is too small, lacks strength, and can only pad his stats playing against weaker teams, Lane Hutson continues to impress. And after having a historic freshman season at Boston University, he was invited to join Team USA at the World Championships.
He has been nearly a point-per-game player against professionals, scoring two goals and five points in six games played, while providing his head coach, David Quinn, a weapon on the power play. Hutson's play has turned some heads, including that of his coach.
"He's as eclectic and dynamic as he was in college in this tournament. The thing I like about him is I think he learns quickly about how he has to adapt his game to another level. He's a coachable kid. He works hard. He's a great teammate."

– David Quinn
Hutson's play this past season has reduced any concern that his game wouldn't translate to the professional game. His hockey IQ and character should allow him to make the adjustments when he graduates, and every coach he has played for come to agree with that once they watch him play. He is committed to returning to Boston University for the 2023-24 season.
Prospect Signing on the Horizon
Jared Davidson and the Seattle Thunderbirds have won the Western Hockey League (WHL) Championship and are now preparing to compete for the Memorial Cup. And now, according to Marc-Oliver Beaudoin on French language BPM Sports, Hughes should be ready with pen and paper to sign the 20-year-old center.
Related: Canadiens Prospect Report: The Memorial Cup
---
Latest News & Highlights
---
He led the Thunderbirds in goals (38) and points (82) in the regular season on their way to becoming the top seed in the WHL Western Conference. He followed that up with 11 goals and 23 points in 19 playoff games. Davidson was the Canadiens' 2022 fifth-round pick.
He has consistently been one of the top centers in the WHL all season. As the top center for Seattle he not only had a responsibility to produce offensively, but he has also been their top shutdown center. His style fits with the Habs' new system, and his play this season has shown that he deserves a professional contract. If it isn't an Entry Level Contract (ELC) then it would at least be an American Hockey League (AHL) deal, especially with the need for centers on the Laval Rocket roster in 2023-24.
Samuel Montembeault Extension Talk
During a phone interview with Jean-Francois Chaumont of the Journal de Montreal, Samuel Montembeault wants to remain in Montreal.
"Yes, I do think about it. I don't know when they'll contact us to start negotiations. I would really love to sign an extension, Jake Allen got an extension before last season and Jordan Harris got one during the season. I still have one more season to work on it"

-Samuel Montembeault (JF Chaumont, Samuel Montembeault aimerait parapher une prolongation de contract avec le Canadien, Le journal de Montreal, 22 May, 2023)
Montembeault's play this past season has earned himself the starter's role with Team Canada at the 2023 World Championships, and in his first three games, he is 2-1-0 with a 1.31 goals against average (GAA) and a .945 save percentage (SV%).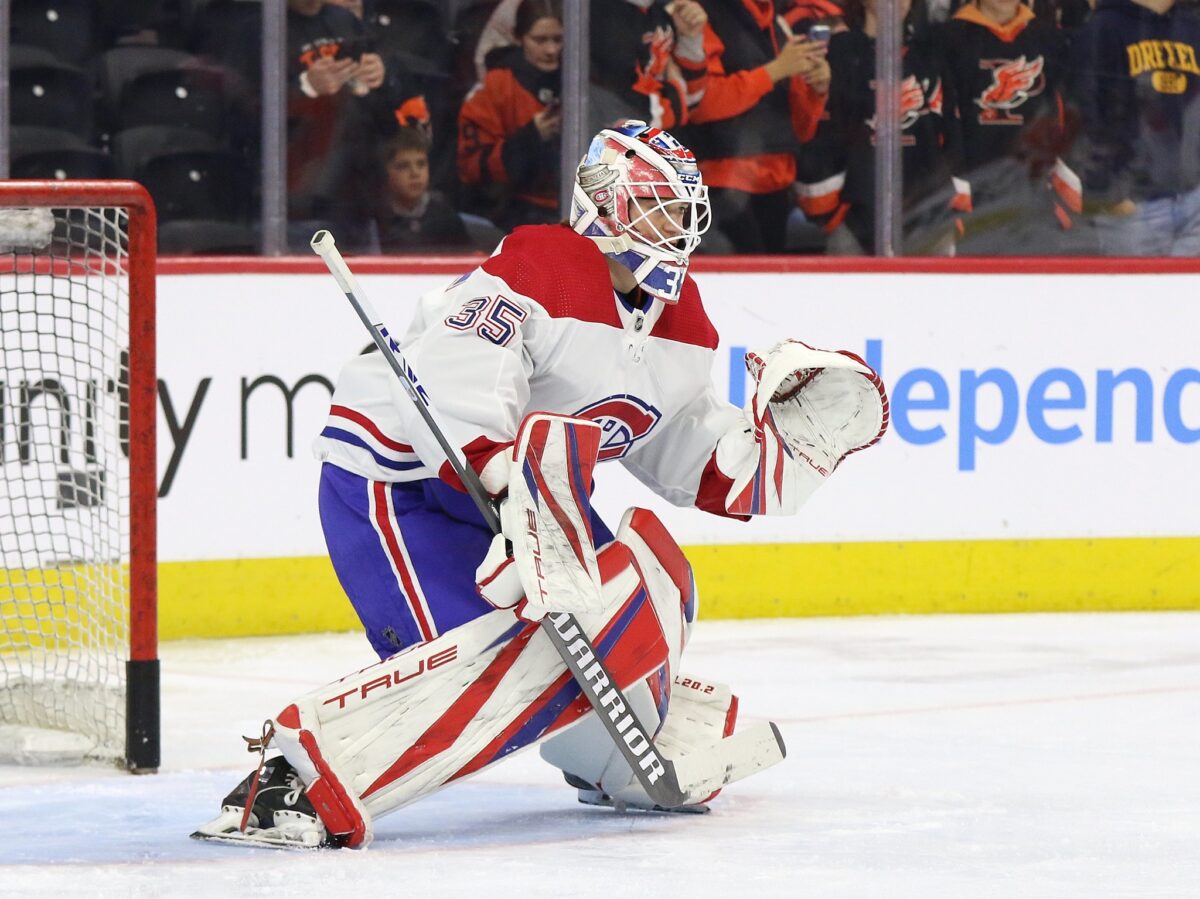 During the 2022-23 season, Montembeault had a career-high in games played (40) and SV% (.901) on his way to a 16-19-3 record. None of which seems impressive but playing for a rebuilding team doesn't help his personal statistics as many nights he was the difference between a win and a loss, and sometimes between losing a close game or being blown out. It is his advanced goaltending statistics that tell a more complete story, with his saves above expected, sitting 13th in the NHL at 11.8 and an impressive .948 SV% on unblocked shots. All pointing that show he has proven himself capable of being a reliable backup and could be on his way to being a 1B option in a goaltending tandem on a playoff-capable team.
Canadiens to Target a Goaltender at the Draft
Former Canadiens goaltending coach Stephane Waite spoke about the likelihood the Habs select a goaltender with the 2023 Florida Panthers' first-round pick they acquired in the Ben Chiarot trade.
There is good reason to believe his point of view. The Canadiens have only used fifth to seventh-round picks on goaltenders in the last 10 years, and with Cayden Primeau as the only one close to being NHL-ready, there is debate on if he is capable of playing at that level, even as a backup, there is a serious need to improve the goaltending pipeline.
There should be a handful of goaltenders available in the later rounds, such as Tomas Suchanek, they are all seen as long-term projects, and the Canadiens need ones that have starter potential. At the end of the first Carson Bjarnason, Michael Hrabal, and Trey Augustine should all be available, and the Canadiens would be well served to select one of them to improve their prospect pool.
With the NHL playoffs progressing and the NHL Draft fast approaching, the Canadiens' roster will be facing significant change over the offseason. Keep an eye on our THW Podcast Network for all your hockey needs, as well as, THW's affiliated podcast Habs Unfiltered for the latest Canadiens news, notes, and rumors.
---
---