The Florida Panthers' prospect pool provided talent for Teams Finland, the United States, Sweden and Canada players at the 2021 IIHF World Junior Championship this winter. Representing Finland was forward Anton Lundell and defenseman Kasper Puutio. Team USA selected goaltender Spencer Knight. The Swedes grabbed forward Emil Heineman while Team Canada claimed goaltender Devon Levi.
All of the Panthers' prospects had successful tournaments and gained valuable experience as each one made it out of the group round. They now know what to expect in the future and which other players they might meet in the NHL in the near future. Here is how they performed.
Emil Heineman
The Swedish native was selected by the Panthers in the second round, 43rd overall, in the 2020 NHL Draft. He made his SHL debut in the 2019-20 season, playing 11 games. Now 19 years old, he's played in 29 SHL games, notching 41 points with Leksands IF (26 goals, 15 assists).
Heineman and his countrymen made it to the quarterfinals at this year's WJC. Unfortunately, Team Sweden was eliminated after a furious comeback from the Finnish team, and they lost 3-2. Heineman finished the tournament with one goal in five games and a plus-1 rating. His stats may not jump off the page but expect him to continue to develop in the SHL.
Anton Lundell
I can't contain my excitement about this player. Lundell was selected 12th overall in the 2020 NHL Draft. In the Finnish Liiga this season, he's been lighting the lamp, with 12 goals, making him second in the league in that department. In addition, he earned the golden helmet for being the lead goal scorer for his team, HIFK Helsinki. He also has 18 points this season, which ranked fifth in the league.
Related: Panthers Finnish Prospects Thriving With Liiga Loans
Lundell was captain of Team Finland at the WJC and was among the best players at the tournament. He finished third in points with 10 through seven games, third in goals with six, and third in faceoff wins with a 70% success rate. He also finished with a plus-7 rating. His claimed the Bronze medal after beating Russia, 4-1.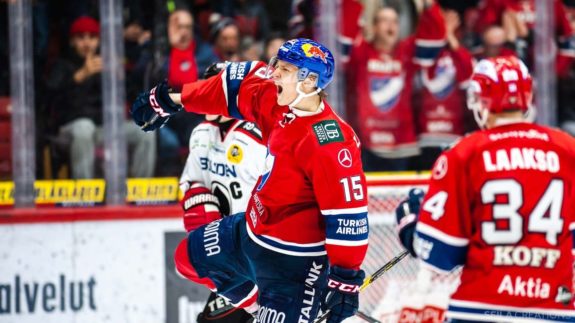 Lundell demonstrated his natural leadership when he was seen handing out medals to his teammates after their Bronze-medal victory. It was a classy move and a sign of his maturity even at 19 years old.
The future is bright for Florida's young forwards, and Lundell is at the forefront of this group.
Kasper Puutio
Finnish defenseman, Kasper Puutio was selected by the Cats in the Fifth Round, 153rd overall, at the 2020 Draft. He's played eight games with Kärpät in the Liiga in his professional career, scoring one goal with a minus-2 rating.
While he joined Lundell in the Bronze-medal game, Puutio did not have as much success. He finished the WJC with two assists in seven games and a minus-1 rating. Nonetheless, he'll have plenty of room to develop and learn from his experience as he is only 18 years of age.
Devon Levi
Canadian goalie, Levi, was selected in the seventh round, 212th overall, in the 2020 Draft. He will join Northeastern University for the upcoming season and after such a successful tournament they will be happy to have him.
Levi was incredible in this tournament putting up videogame-like stats and he was named the WJC's top goaltender. Through seven games, he earned six wins, a .964 save percentage, three shutouts, and a remarkable 0.74 goals-against average after allowing only seven goals.
Related: Panthers Future Goalie Tandem Faces Off in the World Juniors Gold Medal Game
With an MVP-worthy performance, he helped lead Team Canada reach the the gold-medal game before they suffered a heartbreaking loss to Team USA to earn the silver medal. However, the loss did not discredit Levi or his outstanding tournament.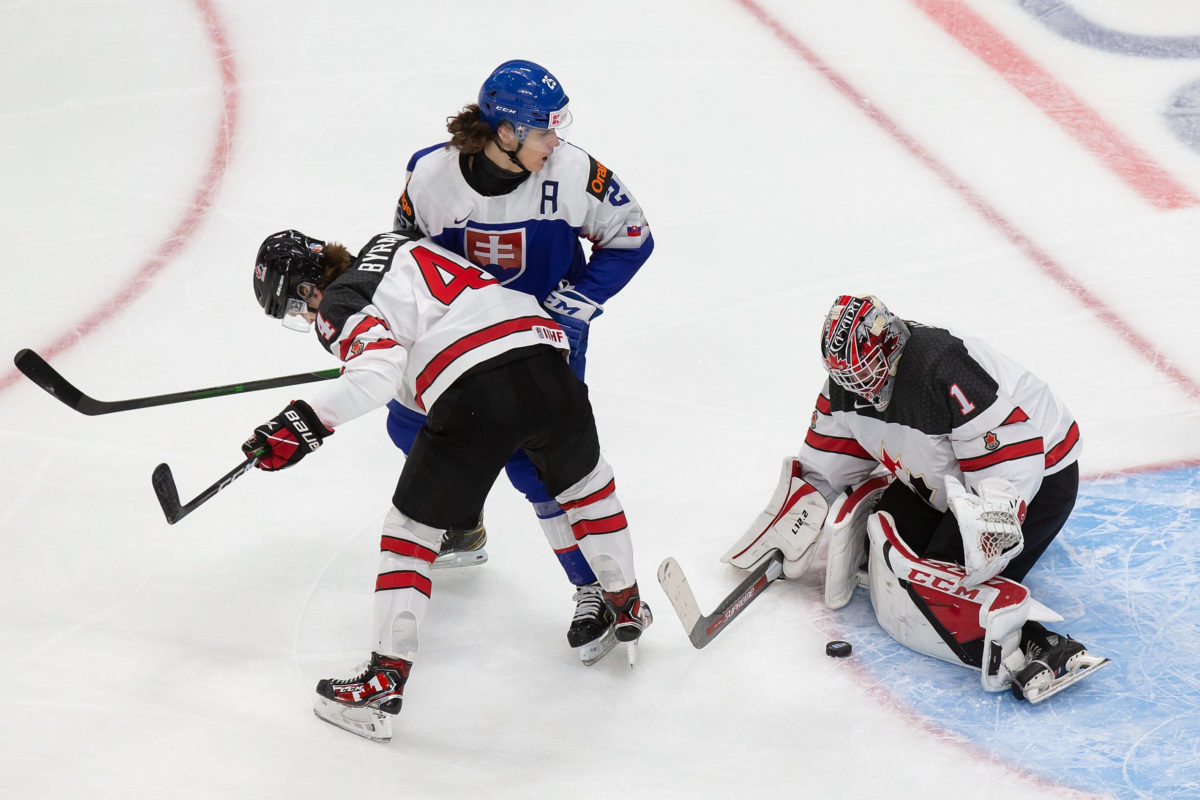 Speaking of goaltenders, another Panthers prospect made it to the gold-medal game.
Spencer Knight
Knight needs no introduction. He was drafted by the Panthers in the first round, 13th overall, in the 2019 NHL Draft after he was projected to be the best goaltender in his draft class. In his first season at Boston College in 2019-20, he played 33 games, posted a 23-2-8 record, earned five shutouts, a .931 save percentage and a 1.97 goals-against average.
He has only played four games to date for B.C. in the 2020-21 season, but he's won all four, with a 1.50 goals-against average and a .955 save percentage, and two shutouts. His performance at the WJC was not that different.
Knight was the second-best goaltender in the tournament behind Levi. He played six games for the Americans and his stats were fantastic. He won five games, posted a 1.63 goals-against average, a .940 save percentage and three shutouts. He also led Team USA to victory with a 2-0 shutout win over Team Canada in the gold-medal game; it was the USA's first gold-medal win by shutout.
Although it is seemed to be expected of a first-round selection, he seems to be panning out as the future starter for Florida to take over for Sergei Bobrovsky.
Get Your Sunglasses
The prospects showcased to the world are living proof that the Panthers have a very bright future ahead of them. With fantastic draft picks by general manager Bill Zito and former general manager Dale Talon, it now comes down to development. Most of these young players are excelling in their Finnish and Swedish league seasons and their college careers as well, so hopefully, early success will translate to the professional level. Either way, Panthers fans will need to go out and get their sunglasses. You're going to need them.
---
---