The Vancouver Canucks had a great top-six on paper before free agency last offseason. That remained true until Tyler Toffoli, a top-six winger for the club, signed with the Montreal Canadiens. 
Toffoli's departure left a vacant spot in the Canucks' top-six. General manager Jim Benning spent most of the Canucks' cap space to replace Jacob Markstrom and add Nate Schmidt on defence, which meant the team decided to provide players on the roster the opportunity to fill in for Toffoli. 
Training camp started on Jan. 3 for the Canucks. So far, Nils Hoglander has been impressive and looks like a lock for the start of the 2020-21 season. Jake Virtanen is in for another uphill battle for ice time to start the season. The forward lost his top-six spot to Hoglander in camp. 
Nils Hoglander
Head coach Travis Green gave Hoglander a shot in the top-six to start training camp, and he has run away with the opportunity. The 2019 second-round pick has played alongside Bo Horvat and Tanner Pearson in scrimmages and drills. Hoglander has shown his high competitive level throughout camp. 
Hoglander has shown up to camp in midseason form, which has given him an advantage over others. The Swedish forward played for the Rogle BK in the SHL this season. He totalled five goals and 14 points in 23 games while playing bottom-six minutes. Hoglander's skillset has impressed his linemates so far.
"I didn't know too much about him. I just saw him play World Juniors and a couple TSN highlight reel goals, but to actually skate with him today was was really good. He's really fast, shifty, smart with the puck."

Horvat said about Hoglander.
Jake Virtanen
When Benning re-signed Virtanen this past summer, it seemed as if the forward was a lock to play in the top-six. That all changed this past week with Green's choice to start Hoglander with Horvat and Pearson. Still, Virtanen is a great option to play in the top-six but is a better fit to play with Elias Pettersson and J.T. Miller. The Lotto Line, made up of Pettersson, Miller and Brock Boeser, has clicked well in camp, but Virtanen is an option if the top line needs a change during the season.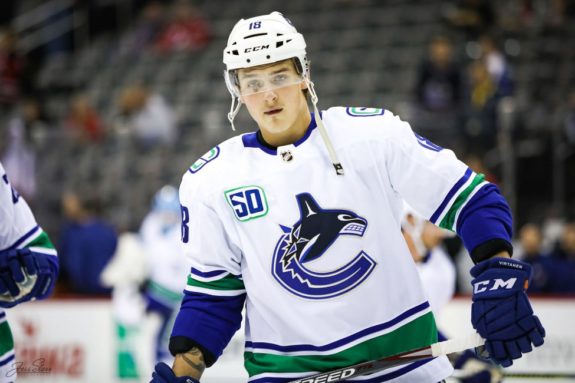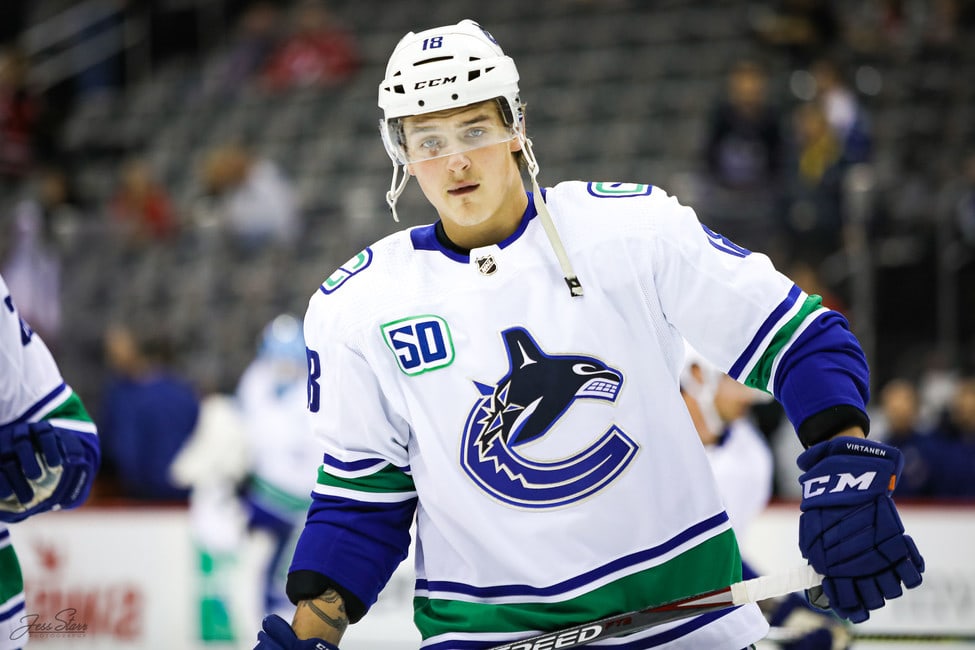 Virtanen finished last season with a career-high 18 goals and 36 points. He played his best hockey with Pettersson in the 2019-20 season. While playing away from the Swedish centremen, Virtanen's expected goals for percentage (xGF%) drops. Pettersson's xGF% also dropped when he was away from the 2014 first-rounder from 52.64 to 50.93 without him. Therefore, if the Canucks want the 6-foot-1 forward to succeed, they should play him with their best offensive weapon. 
Adam Gaudette
Adam Gaudette has played centre for most of the last two seasons, but his skill set is better suited on the wing. Gaudette has the tools to produce offensively and enough speed to help on the forecheck. Since he struggles in the defensive so, playing on the wing is optimal for the forward.
"There's not as much thinking in the D-zone as with a centre, and it's always easier going back and playing centre, so getting used to the wing is something I'll always have in the future, which is good. It will make me a little more diverse."

Gaudette said.
Gaudette had 33 points in 59 games last season, 14 of which came on the power play, which shows his offensive ability. The 24-year-old played on the wing before but moved back to centre due to injuries.  Putting him on Horvat's wing will allow him to produce a lot more. Last season, Horvat's line with Gaudette and Pearson had the highest xGF% compared to other wingers who played with the captain, except they only played together for a total of 30 minutes.
"I like that he's learning to play the right and I'm even thinking now that he could even play the left. When you're a centre and you get comfortable being on the wall, you can all of a sudden play left or right, and he can do that… It will give us a lot of nice options because he has a lot of energy and I still think the offensive side of his game is coming."

Head coach Green said about Gaudette playing on the wing.
Zack MacEwen
Zack MacEwen joined the main roster last season and played 17 games with the Canucks. The 24-year-old stands at 6-foot-3 and weighs 205 pounds, so it is no surprise that he plays a physical style of hockey.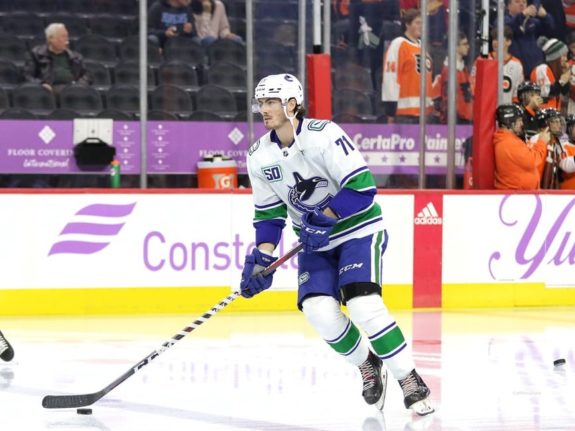 MacEwen is also a two-way forward, which makes him a useful option to play in the top-six. Horvat's line usually matches up against the opponent's top line, which means the forward's defensive abilities would be useful on the line. 
Canucks Will Have More Options Late in the Season
Benning plans on signing Vasili Podkolzin once his KHL deal expires in April. Podkolzin was impressive at the 2021 World Junior Championships as the captain of Russia. He showed his high compete level throughout the tournament, along with his leadership. 
Although the 2019 first-round pick finished with two goals and four points in seven games, he showed his ability to crash the net and create scoring chances for his teammates. Podkolzin's playstyle is perfect for the NHL and the Stanley Cup playoffs, and his arrival late in the season will be at the perfect time. The prospect seems to be a great fit to play alongside Horvat. 
---
---