After the Minnesota Wild's disappointing finish last season, they'll be looking for redemption. One area that really needs to be redeemed is their offensive core – a number of their forwards are doing well but some need to work harder to meet expectations.
Every player on the Wild roster could do something better to improve their game but several players need to really step up their game as a whole. One of those is forward Victor Rask.
Victor Rask: Where He Came From
Rask showed up on the Wild's doorstep during the 2018-19 season. He arrived in the aftermath of the Nino Niederreiter trade under former general manager Paul Fenton. Niederreiter was sent to the Carolina Hurricanes and Rask came to Minnesota.
The trade was highly questioned due to the fact that Niederreiter was doing quite well and Rask was struggling. At the time, however, the Wild really needed to jolt their line-up and Fenton felt this was a move that needed to be done.
Prior to landing in Minnesota, Rask spent four and a half seasons in Carolina. He was drafted by the Hurricanes in 2011, going as the 12th pick of the second round, 42nd overall. He made his NHL debut three short years later
Rask By the Numbers
Looking at Rask's past seasons with the Hurricanes, it's not a surprise Fenton would go for him. In Rask's very first season, he had 33 points in 80 games. He managed to score 11 goals and assist on 20 others.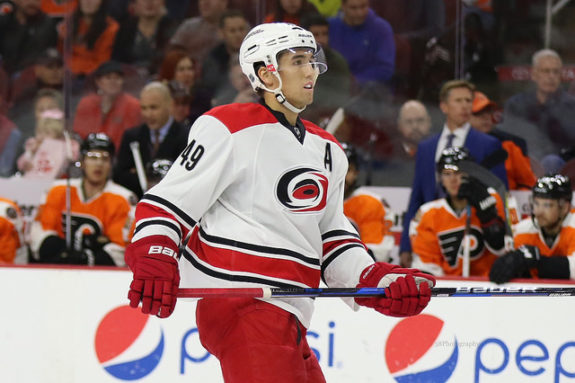 In his second season, he nearly doubled his goals total and had a near 50-point season. His third season was another almost 50 point season, landing just shy at 45. In his fourth season, he dropped off a bit, nothing terrible but headed in the wrong direction at just 31 points with 14 goals.
His last partial season with Carolina was where things really looked dismal. He played 26 games for the Hurricanes and had just one goal and five assists, for six points. Following the 26th game, Rask was sent to Minnesota. He played 23 games for the Wild and had just three points to finish out that season.
In Rask's defense, he hasn't had a chance to play a full season for Minnesota due to being traded and then the pandemic-shortened 2019-20 and 2020-21 seasons. It was expected once he settled in, his numbers would go up after being traded but that wasn't the case.
In what would have been his first full season with the Wild, he played 43 of Minnesota's 69 games. In those games, he had small numbers with five goals and eight assists totaling 13 points. This upcoming season, the Wild will be playing 56 games and he'll need to up his numbers.
Rask Needs to Make an Impression
Already being a questionable move with his low numbers at the time of his trade, Rask will need to improve his offensive game to keep his spot in the lineup. He's capable of speed and agility for scoring goals but for some reason he can't seem to get comfortable in that role for Minnesota.
He doesn't have just one specialty for scoring goals but he's the strongest when he's sitting in the slot. He can score the dirty goals that come off of rebounds right in front of the goalie. He makes good use of tips and deflections but he is effective at scoring a pretty goal or two as well.
Rask needs to find a way to make more of these goals happen and quickly. His teammates need him to step up and help be a momentum changer. One of the reasons he may not be scoring is he doesn't have the right line combination.
With the Wild changing out most of their centers during the offseason, he may be able to find a line combo that better suits him. He has done well with Kevin Fiala as a wing partner as well as Jordan Greenway or Marcus Foligno, and they may find themselves paired with Rask once again.
Closing Thoughts
Whether it be the right line combination or just finding his stride, Rask needs to start scoring and quick. The Wild need all the offensive help they can get, and with Kirill Kaprizov joining the lineup, there may not be room for players who don't perform.
However, if Rask finds his scoring touch he could even end up wing partners with Kaprizov. He's a very capable player that has experience in the NHL – he just needs to find his scoring talent again and use it.
---
---