Hockey is a funny thing.  For the 6th time in the last 8 games, the Florida Panthers found themselves in a 2-0 hole.  This time, the opponent was the Ottawa Senators, a team Florida had lost to in 9 straight meetings.  And coming into the game on a 2 game losing streak in which the Cats had scored just once, things were heading in a familiar direction.  I began my write up for the Hockey Writers during the 1st intermission, hoping I would be able to upload it early and enjoy what was left of my Sunday evening.  "Have the Panthers Played Themselves Out of the Playoffs?" was my tentative title.  Sure, they were still technically first in the division, but the games in hand were disappearing, as was their points lead.  Florida had lost 6 of 9, after all, and was trailing 2-0 after 20 minutes to a team that's simply owned them lately.  With teams like Winnipeg, Washington, Tampa Bay, and Buffalo all suddenly within shouting distance, things had started to feel rather dismal in sunny Sunrise, Florida.
But then something funny happened.  Florida scored just 33 seconds into the 2nd period.  Eh, but I kept typing.  They cut the lead to 2-1 Saturday against Nashville, but never really sniffed a tying goal against a better team, as I thought Ottawa was.  Surely tonight will be no different.  And then it happened again.  Just over 2 minutes later.  Krys Barch found himself on a breakaway, and scored?  Krys Barch?  He of the 3 points in 43 games?  He who spends about 5 minutes on ice per game?  He who's played just 34 games with the Panthers, yet leads the team in penalty minutes?  Suddenly, the game was tied and there was still almost 2 full periods to play.  Suddenly, I put down the laptop and started to watch the game.  When Mikael Samuelsson buried a beauty of a feed from Stephen Weiss 10 minutes later, I struggled to understand what I was seeing.  3-2. Panthers lead.
But this was a team that couldn't do anything right.  In losing the aforementioned 6 of 9, they averaged just one goal a game in those losses.  They'd scored just once in the previous 7 periods combined.  They've given up the first goal 9 of the past 11 games, 10 of 12 including tonight.  They were without leading scorer Kris Versteeg.  They were without leadership.  There was no secondary scoring.  A rookie head coach was wilting under the pressure to get this team to the playoffs for the first time in over a decade.  A marketing department was bound and determined to sell season ticket packages for next season while guaranteeing 2012 playoff tickets (and we all remember what happened the last time Florida guaranteed playoff games…) 15 minutes ago, the season was lost.  Winnipeg, Tampa, Toronto… they were going to pass by Florida, it was just a matter of time.  And in a span of just 11:03, things changed.  Now they were defending a lead against one of the hottest teams in the east, and taking it to them in the process.  Ottawa came in 4 points clear of Florida in the standings, 7-2-1 in their past 10.  And Florida was playing them straight up.  When Jack Skille bullied his way to the front of the net and sealed the win with the 4th goal of the night late in the 3rd, I had to start over.
"Panthers Save Their Season…. Again"
For the 3rdtime in the past 8 games, Florida came back to take 2 points after trailing 2-0.  What heart! What character!  This team never quits!  Barch!  Skille!  Goc!  What depth!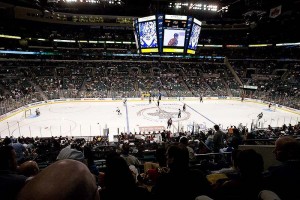 Ok… so 20 minutes can change perspective.  Just as the back-to-back comeback wins over Carolina and Montreal were important a couple weeks ago, this one is that much bigger.  And every minute of the final 18 games will become progressively more important.  A 4 point lead over 8th place Winnipeg with 2 games in hand is a good place to be in at this point of the season.  A 5 point lead over 9th place Washington is nice.  Trailing 7th place Ottawa by 2 points and 6th place New Jersey by 3 is good.  Florida now has 3 days off to rest up and get Versteeg healthy.  A quick, 2 day Pennsylvania road trip later this week followed by a 4 game home-stand, with 3 of those games coming against teams below the Cats in the standings.  All of a sudden, the cup is half full again.  Hockey's a funny thing.