Maple Leafs Panel is a weekly feature that is published every Monday here on The Hockey Writers. It is a feature where THW Toronto Maple Leafs correspondents Lukas Hardonk, Mark Ascione and Alex Mamalis answer three questions that concern the Maple Leafs each week. This week, we welcome Greg Thomson filling in for Lukas. To catch up on previous editions, click here.
Question: With 18 games remaining in the Leafs' season, can installing Randy Carlyle as coach be enough to push the team into the playoffs?
Greg Thomson: In his introductory press conference on Saturday, new coach Randy Carlyle emphasized that his team must focus on the task at hand by taking it one game at a time. While it's easy to look ahead of the schedule and try to catch teams ahead of them, the Leafs must come together quickly under their new coach in order to find any success.
Look for them to put together a four or five game win streak down the stretch, but they will likely fall short with not enough time to make up ground on the teams in front of them. Although the coaching change will ignite the Leafs, and potentially help them move several spots up the standings, there is simply not enough time left to secure a playoff berth.
What benefits the Leafs, at least in the long-term, is the familiarity that players will have already established with Carlyle in advance of next season. They will have the next month to make their mark on the coaching staff, which will create a clearer picture at training camp in the fall.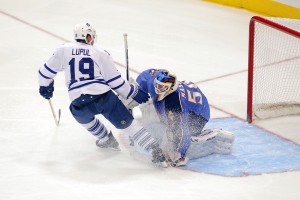 Alex Mamalis: In a sentence – yes, I believe it can. We've seen numerous coaching changes this season – Boudreau heading to Anaheim, Hitchcock to St. Louis, among others. The common thread among all of them? Every coach hired mid-season has excelled, leading their teams to well above .500 records. I think that trend continues with Carlyle, mostly because of the style of coaching he uses.
To elaborate, there are two specific aspects of his coaching style that strike me as vital for the Leafs to return to respectability. Firstly, it's that he demands respect from his players. Though that sounds a bit belligerent, it's a maneuver that really unifies the team with the coach. Once everyone is on the same page, things tend to go much smoother than when there are mixed opinions. Carlyle makes sure everyone is up to same standard. Secondly, he places huge emphasis on players being defensively committed, and he's never reluctant to bench guys if they don't respond. We saw a change after just a single morning skate on Saturday night. Joffrey Lupul blocked a shot in the most sacrificing of ways – something we've never seen from him all season – and everyone was finishing their checks. It was really enlightening to see, and eventually, Montreal became frustrated and beat down. There was evidence of that in the Eric Cole penalty with under a minute to go. Thus, with these two new implementations into the Leafs' style, I think they can make the playoffs in impressive fashion.

Mark Ascione: Unfortunately I think the Leafs may run out of racetrack. I expect them to be much better than they were in February. The coaching change should give them a spark. I expect a change in systems, and players to be used differently. We saw this in Montreal, where the coach relied heavily on line matching, playing Grabovski's line a lot, as well as the Steckel line to provide checking. I don't think it means he prefers the Grabovski line to the Bozak line, but I get the feeling Carlyle will be willing to lean on whichever line is working. I expect him to do a lot of work on the blueline also, sorting out issues there.
But, the schedule coming up is a tough one, and though the team is not far back, I just think that from 12th, it means playing better than 4 other teams who are ahead of you, and that's a tall order down the stretch. There's 34 points on the table out there, but to hit 93 points, the Leafs need to play .765 hockey and hope Winnipeg, Washington, Tampa Bay and Buffalo all fall off a bit. It may just be too much.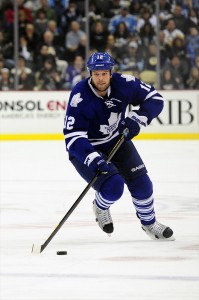 Question: Should Brian Burke be considering shopping veterans players such as Tim Connolly, Matthew Lombardi, Colby Armstrong, JM Liles and Mike Komisarek this summer?
Greg Thomson: Brian Burke and Dave Nonis are always scouring the league for potential trade partners and opportunities to upgrade their team. It would be out of character for Burke to unload the likes of Armstrong, Connolly and others for futures, considering he refused to trade current roster players for high draft picks at the draft deadline.
What Burke should look at is the possibility of packaging two or more of the players listed above in a 'hockey trade' to a contending team for one or two top nine/top four players. There will surely be teams seeking a playmaking centre or bottom six grinder, with Connolly and Armstrong both fitting the bill.
However, Liles will not be moved, in all likelihood, after just re-signing with the team long-term. Komisarek takes a lot of flack for the porous defensive play, but could be a fit on another team, such as the New York Islanders, in a salary dumping transaction.
Alex Mamalis: One thing you'll find in all of Carlyle's previous professional teams, he is very emphatic on having a solid mix of veterans and kids. It was obviously most evident in Anaheim, with guys like Selanne, Niedermayer, among many more mixed in with Getzlaf and Perry. Since this is the way he's always run his teams, I think most veterans will stay if they fit within the parameters of the club. Guys like Komisarek and Liles are locks to stay under Carlyle. Liles is his power-play stud – something he adores – and Komisarek should excel in a more defensive-minded system.
I also expect a bottom six contributor in Armstrong to stick as well, as Carlyle absolutely loves size in his bottom two lines. However, after those, it's gets a little murky. Realistically, Connolly and Lombardi shouldn't be back next season, each for different reasons. Connolly is an offensive catalyst, and his role was taken by Tyler Bozak. It would be a waste of resources and time to keep Timmy on the third and fourth lines, especially with his $4.75 million cap hit. For Lombardi, he's simply not a Carlyle player. Yes, Randy values speed in his teams as much as the next guy, however, he also likes his team to be decently sized and an under 6 foot Lombardi doesn't have that. It would be a waste to keep him on the fourth line.

Mark Ascione: It'll be another tall order, but in a word, yes. I have one caveat and one exception. The caveat is the new coach may find ways to make these players into effective parts of the team. The exception is Liles, who I think has been less effective since he returned from injury, but who overall I think had played well this season.
The thing is, fans should not expect much return. Specifically, I think trades involving players like these veterans would be situations where the cap hits have to add up, and the team acquiring the player likes him for some reason (ie. reuniting the player with a former coach or linemate). It's unlikely many teams are calling on players like these, and just as unlikely you can interest someone in taking one of these guys to sweeten a deal.
Question: What's your take on the Keith Aulie-for-Carter Ashton trade?
Greg Thomson: While the Aulie for Ashton deal was not of great magnitude, it's intriguing for a number of reasons.
Upon arriving in Toronto, Aulie was touted as the prize of the deal that also brought Dion Phaneuf to the Leafs. The team had high hopes for the 6-foot-7 blue liner and gave him an opportunity to play in 40 games last season. However, the emergence of Jake Gardiner resulted in Aulie becoming expendable within the organization.
Burke deserves credit for recognizing the value that Aulie still has and trading from a position of strength to acquire a young, promising forward – something the Leafs are lacking in the pipeline.
There's no question that Aulie will have a solid career in the NHL, but there was simply no space for him in Toronto. It will be interesting to see how Ashton finds his niche with the Leafs in two to three years from now, and whether he will live up to the billing as a former first round pick.

Alex Mamalis: I was impressed and excited with the swap, as it's a prototypical trade in the sense that both teams traded from strengths for weaknesses. Aulie was struggling this season, and his future was murky and yet somehow Burke managed to trade him in for a solid, young power forward prospect in Ashton. Will Ashton ever be a game-breaker like, say a Rick Nash? Absolutely not. However, he will be a guy you can bet will give it his all night in and out in both ends, and will even pot 12-15 goals for you. An offensively improved Colby Armstrong, if you will. I like the deal, because it addressed the Leafs need of a big, power forward for the bottom six (maybe top six) heading into the future.

Mark Ascione: I like the deal. I think Aulie still has a chance to be a very good NHL defender, but I wonder if there's something about missing in his game, in that Calgary was willing to part with him, and now Toronto has also. It's difficult to say, defensemen take time to develop, and Aulie has at times played well. Still, he just fell too far down the depth chart. Burke was able to deal from a position of depth to get something that could pan out in Carter Ashton.
While Ashton is not a sure-fire top-9 NHL forward, he's still developing and it'll take time. But, thinking 2-3 seasons from now, I like the idea of a Leaf top-9 that includes Kessel, Lupul, Colborne, Frattin, Grabovski and Ashton, for a good mix of skill, size and grit.
Frankly, I hope this turns into a trade that works well for both teams, and both players develop into regular NHLers.