As the Panthers 2013-14 team moves into the race for the playoffs, their 20th anniversary season is probably more of a struggle than they'd hoped. Despite celebrating an inaugural team that left an amazing legacy, this year's team is trying to find their niche.  Even with a good line up, the losses are adding up and there isn't a lot of time left. Unlike the originals, this year's team isn't reveling in the novelty of a new franchise in a new town. In fact, the vibe today is totally different.
When the NHL decided to bring a professional hockey team to South Florida, no one knew what to expect. It might not sound like a big deal, but to a hot, humid city whose greatest sports achievement was and probably still is the "Perfect Season" Dolphins of 1972, getting a hockey team was a huge deal. People weren't sure they were going to like it, but it became clear very quickly that not only were they going to like it, they were going to love it.
Who They Were
Momentum built from the opening game in 1993 until game four of the 1996 Stanley Cup Finals where the team lost a heartbreaking battle to the Colorado Avalanche. That team brought a non-hockey town like Miami to its knees. Players like Scott Mellanby and his infamous "Rat Trick," killing a rat in the dressing room with his stick and then using that same stick to score two goals during the game, started a whole tradition. For years, fans threw plastic rats on the ice every time the team scored a goal.  Though the NHL frowns upon that kind of thing anymore, it's still a part of the team's history and reminds fans of days when the team was hot. Because even when they lost, they were hot.
There were team heartthrobs, like Rob Niedermayer and Ed Jovanovski, who had teenage girls trying to learn the difference between off-sides and icing, even though a year before they'd never even heard those terms. They arrived at the games in car loads, getting dropped off and picked up by parents, like a trip to the movies. It was cool to go to a hockey game, and the team kept fans of all ages entertained.
On the tough guy/defensive end was Paul Laus, whose version of "Laus Enforcement" not only helped the team win games, but also emblazoned many a baseball cap and t-shirt.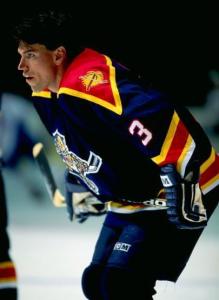 There were bruisers and scorers and a US-born hot-shot goalie named John Vanbiesbrouck that had everyone mesmerized. It was the kind of team that brings a town together. There may not have been any superstars like Wayne Gretzky or Ray Bourque, but there was heart. So much heart it was almost palpable. You could see it, feel it, hear it in the stands, and understand it on a primal level. This was a team who wanted to win, and cared about their team, their fans and their home town.
Changes…
Then everything changed. Beginning with the trade of their beloved captain, Brian Skrudland, to new owners, to someone's brilliant idea that superstars could replace heart with talent. So they brought in big names like Pavel Bure and Joe Nieuwendyk. Good players, to be sure, but not the players this team needed. The names everyone felt so accustomed to hearing slowly disappeared… Jody Hull, Stu Barnes and eventually even Captain Scott Mellanby. The times they were a-changin', and not necessarily for the better. There have been no more trips to the Stanley Cup Finals and no more championships. Now, it's a different vibe when you go to a Panthers game. Now, there is a team with a ton of talent but who is struggling to show it.
It's interesting, because in some ways the team has gone back to the basics. Tim Thomas is a skilled, talented goalie with a Cup under his belt, but at nearly 40, possibly past his prime. Brian Campbell brought some acclaim to the team by winning the Lady Byng Trophy in 2011-12, and he's been solid the last few years, but it's obviously not enough. Jonathan Huberdeau is, without a doubt, the Panthers' shining star, but the sophomore curse proves he can't do it alone.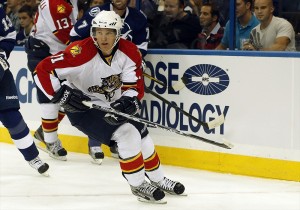 Alexander Barkov is just 18 years old, but holds a lot of promise. His raw talent and skill is unquestionable, but we have to wonder, do the Panthers have the time to wait for him to grow into his own? Historically, the Panthers organization has not nourished their players as they worked on chemistry and fluidity, but broke up solid lines by trading players for others who were making headlines, and trade speculation is already rampant.
Do The Math
When the player with the third highest number of points on the team is a defenseman (Brian Campbell has 5 goals and 20 assists), something is off. While there's never anything wrong with points, in this particular case, the numbers speak volumes. The Panthers are 27th in the league in goals allowed and 28th in goals per game. The team in last place in the NHL overall (Buffalo) has players with more points (30) than anyone on the Panthers (27). If you do the math, it's painstakingly simple: the defense isn't defending and the offense isn't scoring.
On a somewhat positive note, one of the originals from that Panthers team 20 years ago,  an older, wiser and more mature Ed Jovanovski was brought back. Not only back, but wearing the "C" as well. Despite injuries that kept him off the ice more than 22 games last season, Jovo is leading a team full of promise. It's possible that he holds the trump card this talented but struggling team needs to reach the success they found in their early years but he needs to stay healthy. Jovanovski seems to add a level of both leadership and cohesiveness to a team that desperately needs it, but after nearly three seasons it isn't showing on the scoreboard.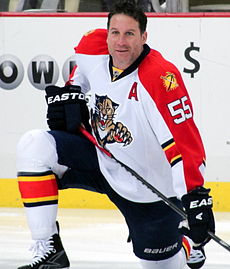 With the NHL shut down for the Olympics, the Panthers are 22-29-7, sitting seventh in the Atlantic division. Hope for reaching the playoffs  dwindles with each loss, and now the question on everyone's mind is who or what is going to change the tide? What is it going to take to bring this team together so that the sum is greater than all their parts? 
Whatever it is, it seems that it's time to find that winning  combination. The Panthers have only been to the playoffs once in the last 12 seasons and for a team celebrating such an auspicious anniversary, it's time to dig deep and find some of the heart they had in that original team 20 years ago. It's long overdue.