The Calgary Flames weren't expected to be very good as the 2013-14 NHL season approached.
In fact, they were expected to be pretty awful.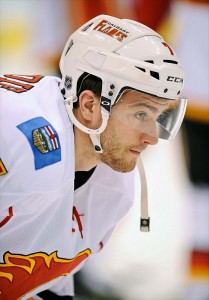 Jarome Iginla, Jay Bouwmeester and Miikka Kiprusoff had departed, none of whom were replaced by battle-tested NHL players. The opening night roster was comprised of the team's existing supporting cast and a cluster of untried young players. In short? The club had a lot of question marks and a series of players operating in situations to which they weren't normally accustomed. And a franchise that was previously defined by the contributions of its older, veteran players was suddenly left without an identity.
While the results in the standings have been roughly in line with expectations – they've hit the Olympic break sitting at 27th overall – the team's on-ice play has actually been astoundingly consistent, with the club winning six of the last eight games prior to the break. And a lot of the credit has to go to the team's younger players, who have been pressed into filling big roles on the hockey club and, for the most part, have been up to the task.
Last season, the Flames won 19 times in 48 games (winning 39.5% of their games). The difference-makers, the guys that scored the game-clinching goals, were primarily the team's veterans: Mike Cammalleri, Curtis Glencross, Jarome Iginla and Lee Stempniak. In fact, Mikael Backlund was the only Flames player under 25 year of age to score a game winner.
This season, the Flames are both flush with young talent, but rather than sitting idly by and merely enjoying being "in" the NHL, these youngsters are rapidly becoming difference-makers. Heading into the Olympics, the Flames have won 22 times in 58 games (37.9%). While the slight drop-off in winning percentage is notable, more interesting is who's scoring game-deciding goals. If you include shootouts, Calgary's most clutch player is Sean Monahan. Second-place is a tie between Cammalleri and Backlund. Young T.J. Brodie, Joe Colborne and Kris Russell are also in the mix.
And while one would expect that a sudden reliance on younger players to be difference-makers could've resulted in the Flames being on the wrong end of quite a few one-sided games, the opposite has actually happened. During the lockout-shortened 2012-13 season, Calgary played in 18 one-goal games (37.5% of all games). This year? 34 of their 58 games to-date have been one-goal contests, representing 59% of their games. And despite playing a less-experienced line-up, the Flames are winning these one-goal games on a more consistent basis.
"I just think, you look at who we have in the dressing room and the coaches are putting guys in situations, giving them a chance to make things happen," shared Flames forward Matt Stajan on the emergence of the team's young players. "Anybody in this dressing room could be thrown out in any situation, depending on how the coach feels. Maybe before everybody knew who would be out there, because obviously the things the guys who were here before did and could do. Each team has a different dynamic as to the way they approach things and the way the coach approaches things."
Several of the Flames young players have been markedly improved this year, even compared to how they performed early in the season. Defender T.J. Brodie commented on the progression of the club's younger players.
"I think some of that's confidence, another factor is just experience," said Brodie. "Me personally, at the start of the season I didn't really know what to expect and it took me a little while to adjust. I'm just trying to get a little better each day."
One thing the Flames have drawn praise for from throughout the league is their dogged work ethic. Renowned for their shot-blocking and their blue-collar mentality, the Flames have been much better in close games and much better at coming back from behind in games than in prior years. First-year Flames captain Mark Giordano noted that their ability to get back into games is a product of their work ethic.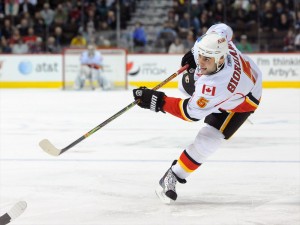 "It's our work. Number one, it's our hard work, and we've been able to stick with our game plan and keep being aggressive," said Giordano. "That's the main reason we get back into a lot of games. But in saying that, I think it's important for us to realize that we can't always win from behind. We've got to put some games together where we gain a lead, we learn how to protect that lead and stick with it."
After the Olympics are completed in late February, the Flames won't get much of a chance to relax before another inevitable wave of change occurs at this year's trade deadline. With several players – including Mike Cammalleri, Lee Stempniak, Chris Butler and Kevin Westgarth – being pending unrestricted free agents, more roster changes are almost a certainty. But regardless of what happens elsewhere, Brodie says the players are committed to giving it their all on the ice.
"Things are going to change," said Brodie. "Every team is going to change within the next couple years. No matter what the situation is we want to win. And every guy in here is not going to give up no matter what."