Although there are 230 members on the 2014 U.S. Olympic team, there are only three that count to Blues fans. David Backes, T.J. Oshie and Kevin Shattenkirk join a team of 25 NHL stars that have their eyes set on becoming the first U.S. team to capture Olympic gold since the storied "Miracle on Ice" team in 1980.
In total, the Blues are sending nine players to Sochi, Russia. The team went their separate ways and formed internal rivalries after a 3-2 shootout win on home ice against the Winnipeg Jets on Saturday. Oshie and Vladimir Tarasenko, selected to play for Team Russia, scored in the shootout to seal the victory.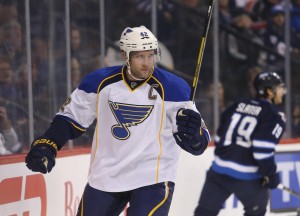 Backes, the Blues' captain, also participated in the 2010 Vancouver Games, capturing a silver medal after Sidney Crosby's historic overtime goal in the championship game. The native of Minneapolis posted two assists and three points in six contests for the American squad.
"In Vancouver, I think we were a group of younger players that didn't have really external expectations," he told NHL.com earlier this month. "Internally we wanted to succeed, but it was really unknown. And this year coming in, with our success in Vancouver, I think we've got more internal expectations and we've got a group of guys that has been together before, and we've proven to ourselves and a lot to other people on our capabilities and ability to perform at the Olympic level."
The U.S. selection committee decided to send 13 players from its Vancouver roster, including captains Zach Parise, Ryan Suter and Dustin Brown. Goaltenders Ryan Miller and Jonathan Quick will also be returning for their second tour with the red, white and blue.
Shattenkirk is one of the newcomers. He spent two years in the U.S. National Team Development Program before skating with his countrymen in the World Junior Championships and World Championships. However, these don't even hold a candle to the largest international tournament.
"Every stage gets a little bit bigger," Shattenkirk told Norm Sanders of the Belleville News-Democrat on Saturday. "Every time you see a jersey, you always get that same sense of pride when you see it hanging up in the locker room and you have your name on there."
The path won't be paved with cobblestone or concrete, though. It'll be more like barbed wire and pitchforks.
The Competition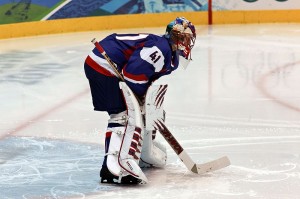 The U.S. is set to play its first game on Wednesday at 4:30 local time. Team Slovakia and Blues goaltender Jaroslav Halak, who led his team to a fourth-place finish in 2010, will be the first contestant in the round-robin tournament.
The next two games will pit the Americans against Russia and Slovenia before the qualification rounds begin next Tuesday. Slovenia features just one NHL player (Anze Kopitar), while the Russian roster boasts 16 NHL skaters, including Alex Ovechkin and Sergei Bobrovsky, as well as former New Jersey Devils sniper Ilya Kovalchuk.
The American skaters are likely to see a hard-nosed effort from the host country.
"This is unfair to all other athletes, but if Russia wins hockey and no other medals, this Olympics will have been a success," says three-time Olympian Igor Larionov, who captured two gold medals with the Soviets.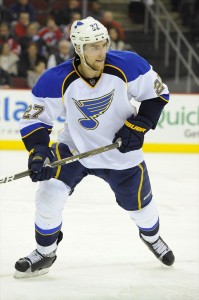 The American roster is not the only one that looks to stand in Russia's way. The reigning champion Canadians are entering Sochi with high hopes as Sidney Crosby and Roberto Luongo are two of the 11 players returning from the victorious Vancouver roster. The Blues' top defensive pairing, Alex Pietrangelo and Jay Bouwmeester, are expected to suit up together against some of the top lines the rest of the world has to offer.
That includes Team Finland, who Canada plays in its final round-robin game. The Finns roll out the NHL elite backstops to man the pipes, including starter Tuukka Rask, who will receive most of the playing time, and backups Antti Niemi and Kari Lehtonen. The 2010 bronze medalists' offensive charge is led by six-time Olympian Teemu Selanne.
Across from the Baltic Sea are the Swedes, who achieved Olympic gold in 1994 and 2006. Blues forwards Patrik Berglund and Alexander Steen make up components of the forward group while goaltender Henrik Lundqvist will be the key to Sweden's success.
Finishing the 1998 Olympics with the gold medal, Czech Republic has no shortage of firepower. Jaromir Jagr, a five-time Winter Games participant, joins an offense that is rounded out with Ales Hemsky and David Krejci.
The Rules
One of the larger obstacles for NHL players will be the wider ice surface. An NHL rink, as well as the rink used in Vancouver, measures 200-feet long and 85-feet wide. The rink in Sochi is 100 feet wider, meaning players will have to cover some 3,000 square feet of extra ice.
"For me it's a mental part of the game," added Backes. "You have to think it and anticipate it to evolve on the bigger sheet. The smarter players will have a lot of success in my opinion, unless they're already over in Europe or play on it frequently enough to where they are comfortable on it to begin with."
Although the ice surface is the most notable difference between the NHL and the Olympics, players will have to adjust to many other changes. No-touch icing, the basis for the NHL's current hybrid icing, is a game changer and the goaltenders are allowed to play the puck anywhere on the ice surface — unlike NHL goalies, who are restricted to the trapezoid behind the net.
Shootouts are affected, as well. In the NHL, players cannot be repeated in the shootout lineup. However, the Olympics allow repeat shooters after the first three shots. This is great news for the Americans, whose management team openly admitted that Oshie's selection was swayed drastically because of his shootout skills.

Oshie's shootout goal from Saturday
After Oshie's goal on Saturday, he was seven for 10 in attempts this season. He will have to maintain that pace if the Americans head to extra shots.
"It's just a fun part of the game where you've been doing it at the end of practices with goalies since you were a kid," Oshie told the press before heading to Sochi. "It's something I've had fun doing."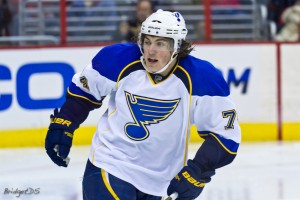 To allow Oshie to work his magic in the shootout in a medal game, his teammates will have to provide timely scoring and a steady defensive game. More importantly, though, any nerves will have to be shaken off before taking to the rink.
"I don't think I've fully come to grips yet with how big the stage is or how many people will be watching the games," Shattenkirk said. "That part of it is so cool. You're part of this much bigger thing."
—
If Vancouver was any indication, a gold medal will be won with hard work and determination. Flukes are nonexistent on the international ice surface.
"There's never a shoo-in, never an easy game," Parise told NHL.com on Tuesday. "It's hard to predict. Hopefully we'll find ourselves in that last game again and have a chance to win. But in saying that you know there are a lot of teams capable of winning it."
There may be 230 Olympians for the United States. Just one game, one shot could be the difference between 25 of them heading home with a medal around their necks.