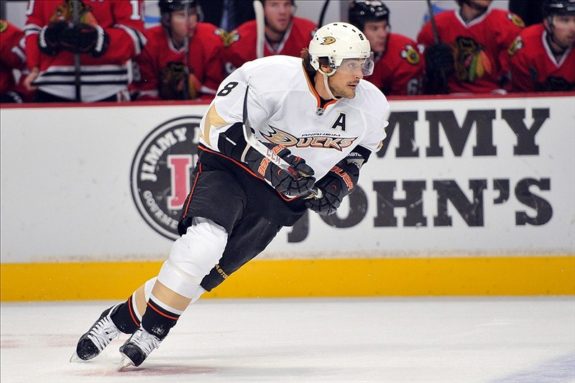 Boy, Teemu Selanne is old.
His NHL debut was over two decades ago, where the 'Finnish Flash' scorched the league for a rookie-record 76 goals en route to the Calder trophy. To put Selanne's oldness in context, his inaugural season was concurrent with the official end of the Cold War, the beginning of Bill Clinton's circus presidency, and the debut of PBS' Barney & Friends (I was two years old at the time, this is a big deal).
Anyone who's a fan of hockey couldn't have been happier when Selanne made his annual, off-season decision to return to the NHL for his 21st campaign, in classic Selanne fashion of course. Who doesn't fear change, right?
There's no doubt the affable 43-year-old has lost a step. He scored a pedestrian 24 points in 46 games last year, and has 20 in 47 this campaign. He doesn't play any more back-to-back games, preserving those legendary legs that have more mileage than Wayne Newton's Vegas act.
When he retires at season's end, it's difficult to envision the NHL without one of the classiest guys in the league – I've never known a Selanne-less NHL in my entire life. I felt the same way when Nicklas Lidstrom retired, and Selanne will leave as big a hole as his fellow European. This is indeed Selanne's last hurrah, and I'm hoping he goes out the way he operates – in style.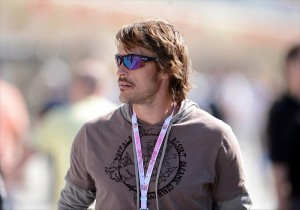 Selected for his record sixth Olympic games, Selanne can grab one of the few accolades that have eluded him for 20 years – an Olympic gold medal. With a pair of bronzes and single silver, a gold medal will put the metaphorical bow on Selanne's illustrious career. Now that's a Disney ending for Finland's captain. He's their all-time scoring leader at the Olympic games, and will need to increase that total by a few more if he wants to hear his anthem on February 23rd.
The Finns medal aspirations took a hit with Mikko Koivu's and Valtteri Filppula's injuries, but the Suomi always puts in gutsy efforts in international play. With the unmatchable goaltending of Tuukka Rask and Antti Niemi, the Finns can steal some games and make some noise in a short, unpredictable tournament. A gold medal is certainly not out of the question.
When Selanne returns to California from Sochi, he's in a great position to capture another Cup, too. He won his one and only Cup with the Ducks in '07 and they look just as strong and poised as that championship club. Ryan Getzlaf and Corey Perry are driving the bus, they have solid offensive depth, appropriate role players, an unheralded defense, and stellar, deep goaltending. They're the number one team in the league and are built for a long run.
Though his production won't be the deciding factor of what the Ducks or Finns can accomplish, Selanne remains an important figurehead for both clubs. He's respected and has seen it all before. If the value of the odd points he chips in isn't enough, his steadying presence on and off the ice alone makes him a valuable piece to each team.
There's really not much else to be said about Selanne. Everyone knows what he's done, what he continues to do, and the mark he'll leave on the game. The Ducks have already announced they'll retire #8 when Selanne hangs them up. There are no more surprises in store for hockey fans from Selanne – he's done it all and we've been fortunate enough to see it all.
So, I guess the only thing left to say is 'good luck', Teemu Selanne. Hopefully he can cap his career in Ray Borque fashion, with a Cup over his head and a smile on his face (and a gold in his pocket). I'm glad to have at least caught the tail end of the Selanne era though it feels, like all good things, to have gone by in a Flash.