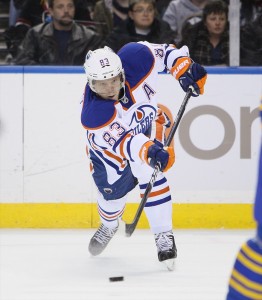 Some NHL players are on vacation. Others are in Sochi getting ready to represent their countries. Fans wait patiently for the break to be over and the NHL schedule to resume. But there won't be any rest for the weary once the Olympics are finished.
No Vacation for NHL General Managers
The NHL's trade deadline is less than a month away, and General Managers are likely taking advantage of the time off for some extra evaluation. Trade deadlines never seem to live up to the hype that surrounds them, as often the biggest deals happen a little before. But this year may actually be as exciting as advertised. There's currently a trade freeze while the Olympics are going on and there are a few big names that could be on the move.
The Edmonton Oilers will likely be sellars, again, at this year's trade deadline. But should we expect anything major? The Oilers already made a few moves this season, and with another season in the dumps, one can only wonder what Craig MacTavish has in mind. Now while the Oilers do tend to make deadline moves, they aren't usually blockbusters. In fact, since the lockout in 2005, the Oilers moves have mostly been minor. Fans expecting some kind of big shake-up may be disappointed if recent history is any indication.
The Oilers at the Trade Deadline
March 5, 2009: The Oilers acquired defenceman Tom Gilbert from the Avalanche in exchange for goalie Tommy Salo and a 6th round draft pick.
March 9th, 2006. The team traded Marty Reasoner, Yan Stastny and second round pick to the Bruins for forward Sergei Samsonov, who played a big role in their run to the Stanley Cup final.
Feb. 27, 2007: In a rather big trade for both teams, the Oilers dealt fan favorite Ryan Smyth to the Islanders for Robert Nilsson, Ryan O'Marra and a first-round draft choice. Edmonton has since re-signed Smyth
Mar. 4, 2009: The Oilers acquired forward Ales Kotalik from the Buffalo Sabres for a second-round draft choice.
Mar. 4, 2009: Edmonton traded Erik Cole and a fifth-round draft choice to the Hurricanes for Patrick O'Sullivan and a second-round draft choice.
Mar. 3, 2010: The team acquired Ryan Whitney and a sixth-round draft choice (they chose Brandon Davidson) from the Anaheim Ducks for Lubomir Visnovsky.
Mar. 3, 2010: The team acquired Aaron Johnson and a third-round pick (that became Travis Ewanyk) from the Calgary Flames for long-time Oiler Steve Staios.
Feb. 27, 2011: In a pretty minor deal, the team acquired Kevin Montgomery from the Colorado Avalanche for Shawn Belle.
Feb. 27, 2011: The Oilers dealt Dustin Penner and his contract to the Los Angeles Kings for Colten Teubert, a first-round draft choice (they chose Oscar Klefbom). They also gave the Kings a third-round conditional draft pick. Penner and the Kings won the Stanley Cup the following season.
Feb. 27, 2012: The Oilers traded Tom Gilbert to the Minnesota Wild for defenceman Nick Schultz.
What's in Store for this Season?
The Oilers are not known to make flashy trades, but that doesn't mean this won't be the year. But who could be on the move in Edmonton? Perhaps Sam Gagner, or Ales Hemsky? Would they part with one of their young guns in Jordan Eberle or Nail Yakupov? Can they give up David Perron, who's trade value is extremely high? There's a really good chance the Oilers won't make a big splash, but with a new arena finally coming, and a lot of pressure on management, anything can happen. Grab your popcorn.