On Oct. 9, Florida Panthers general manager Bill Zito went to work and brought in a handful of free agents. One of those was former Tampa Bay Lightning forward, Carter Verhaeghe, who signed a two-year, $2 million deal with Florida. Verhaeghe was coming off of his first NHL season with him reaching hockey's tallest mountain and claiming Lord Stanley's Cup with the Bolts. As a result, it was obvious that someone like him was hungry for more, and his ability took to new heights with Florida.
Verhaeghe Produces at a High Level
Ever since Verhaeghe made the move from Hillsborough County to Broward County, he's been nothing short of incredible. Through his first 13 games of the season, he's tallied 12 points (seven goals, five assists) and leads the Panthers in goals. In comparison, he had 13 points (nine goals, four assists) through 52 regular-season games and two assists through eight playoff games in his first NHL season with the Lightning.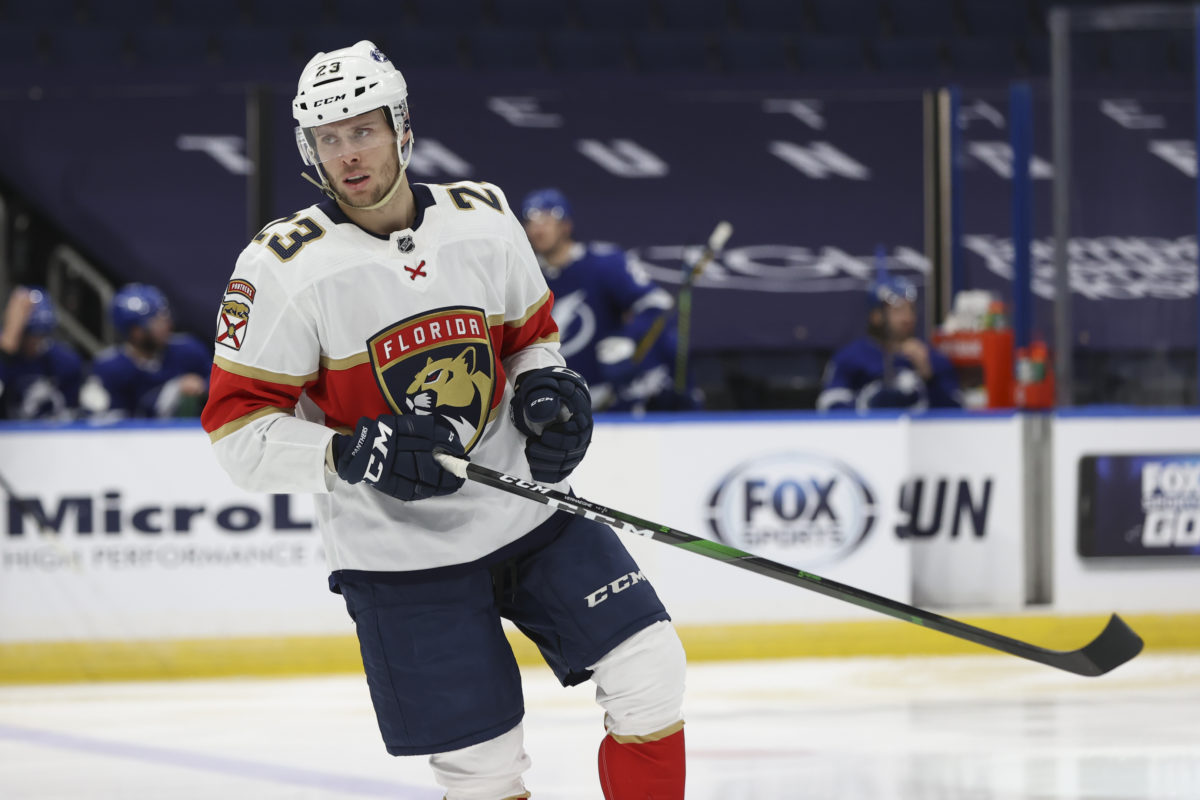 This may be a direct correlation to what he's learned during his time in Tampa. He's more than likely received lessons from superstars such as Steven Stamkos and Nikita Kucherov. Furthermore, as previously mentioned, he got his feet wet in playoff experience, so he knows how the game is at a high level. On top of that, he's only 25 years old, so he may not be too distant from hitting his prime.
Related: Florida Panthers' 3 Stars of the Month-January 2021
Additionally, his linemates have been excellent in assisting him. He has elite talent on the top line for the Cats in captain Aleksander Barkov and Anthony Duclair. The line itself has combined for a total of 33 points (13 goals, 20 assists) and a plus-10 rating.
In Comparison to Most Forward Signings, the Contract is Incredible
Verhaeghe's two-year, $2 million contract carries an annual average of $1 million a year. For the production the Panthers are getting from him, the deal is absolute larceny. Compared to around the league, some teams might be a little jealous of Florida's luck.
Mike Hoffman -St. Louis Blues
It is known by most of the league, especially Florida, that Hoffman can put up points. During his two years in Sunrise, he was an absolute machine. In 2018-19, he put up career highs in goals with 36 and points with 70. In 2019-20, he had 59 points (29 goals, 30 assists) through 69 regular-season games and five points (three goals, two assists) through four playoff games.
With that, he was offered a $4 million deal for one season by the St. Louis Blues after going through a professional tryout. While he is putting up decent numbers with 10 points (five goals, five assists) through 15 games, you're getting him for only a year and he's going to want a bigger deal if he wants to re-sign. If general manager Doug Armstrong isn't willing to offer him more money, he will pack his bags and search elsewhere. It's a sticky situation for the Blues.
Taylor Hall – Buffalo Sabres
Hall is arguably one of the best in today's NHL. Constant All-Star appearances and high point totals filled his career during his time with New Jersey and Edmonton. The only glaring issue is the injury bug, as he hasn't played a full season since 2015-16. Last season, he found once again a new home in Arizona, putting up 27 points (10 goals, 17 assists) through 35 regular-season games and six points (two goals, four assists) through nine postseason games.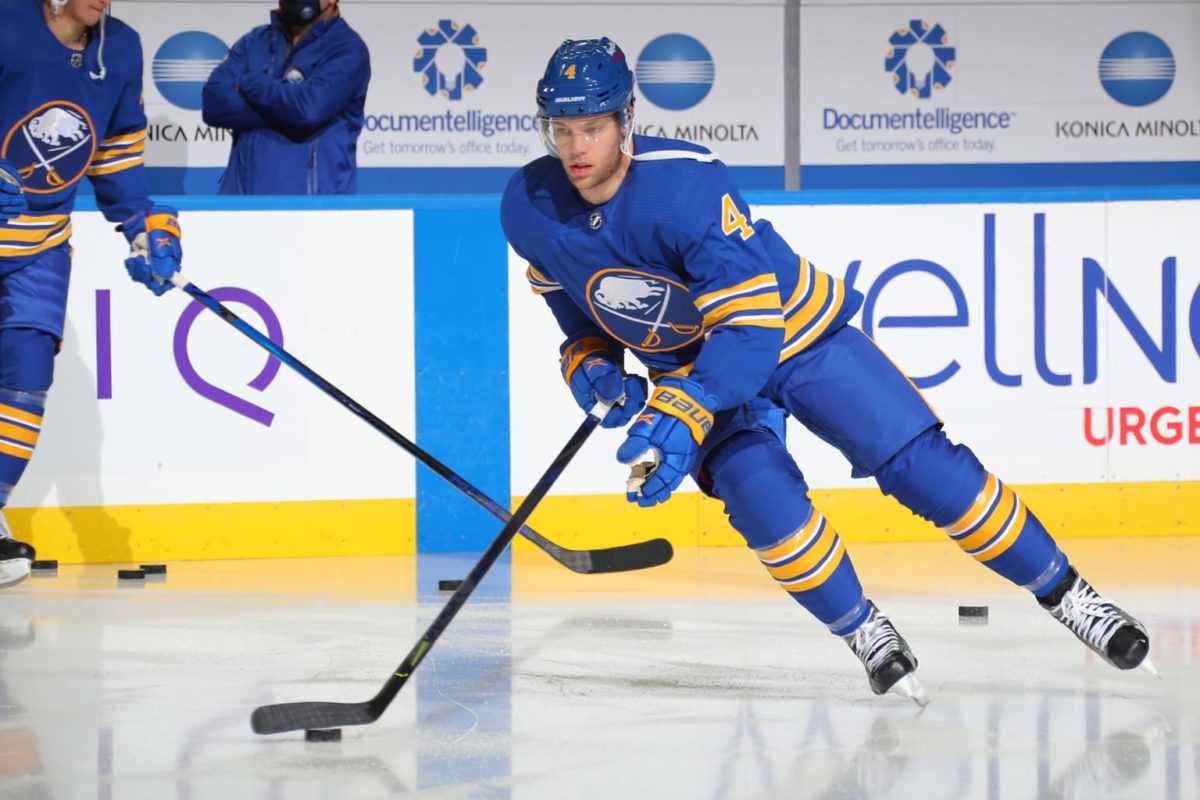 The Buffalo Sabres decided to take a chance and throw a whopping $8 million deal at him for one season. This is the same situation as Hoffman, but costs double the money. You only get him for a year and he's going to ask for a new contract. On top of that, he's already missed time this season and only has one goal through 11 games. As a result, this deal may not be as great as hoped. It also doesn't help that Buffalo is more than $500,000 past the cap.
What Does the Future Hold for Verhaeghe?
Verhaeghe has already made his mark within the Panthers organization so early in the season and he plans to continue his success. However, he is eligible for the expansion draft for the Seattle Kraken later this year and fans do not want a repeat of what happened with Jonathan Marchessault in Vegas a few years ago. As a result, Zito will more than likely use a protection spot to keep him around, and then possibly work out an extension.
Related: Florida Panthers' Hidden Gem: Carter Verhaeghe
Assuming it isn't in the works already, let's hope Verhaeghe continues his success throughout the rest of the 2021 season so he can earn that extension. He's a fantastic player and the NHL will soon know his name for years to come.
---
---
My name is Joey. I've been writing about the NHL for about 3 years with my experience spread out between TSJ 101 Sports and Panther Parkway. I look forward to you reading my articles!