Florida Panthers defenseman Mackenzie Weegar recently re-signed with the team on a three-year deal with an average annual value of $3.25 million. After speculation the team was going to move him, general manager Bill Zito decided to keep the former seventh-round pick around. Weegar has played four seasons with the Panthers and in that time he has shown legitimate signs of being a top-four defender.
Career
Throughout his first two seasons, Weegar showed the Panthers he was no better than a third-pairing defender. In the 2018-19 season, his game began to improve and he was awarded more ice time. He took advantage of that, blocking 103 shots and mustering up 127 hits while scoring 15 points in 64 games.
Moving into his third and fourth seasons in the league, Weegar began to make many positive strides toward becoming a problem for opposing teams. His average time on ice improved roughly two minutes every year since the 2017-18 season. That positive trend is well deserved; Weegar has shown up in big moments for the Panthers and in the 2018-19 season he would be picking up other teammates' slack, as the defense has not been strong for a number of years.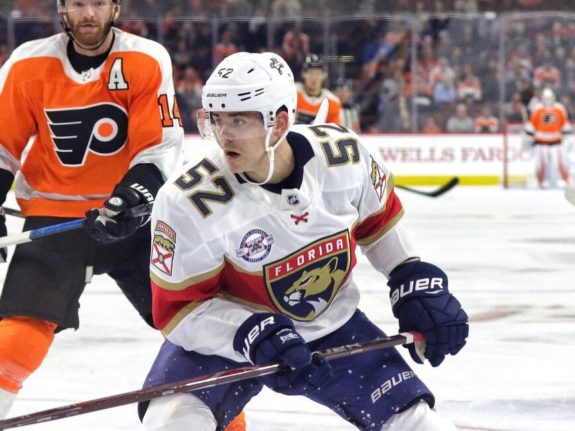 In the 2019-20 season, Weegar spent most of his playing time on the first pair with Aaron Ekblad. This seemed like the best fit for both players as Ekblad reached a career high in points with 41, along with a career low in games played with 67.
Why Weegar?
The Panthers have many young players on the team including Carter Verhaeghe, Vinnie Hinostroza, and Alexander Wennberg who could all have great seasons as well. However, they are all new to the team, so it may take them a while to create some chemistry. Weegar, on the other hand, has been with the Cats his entire career. Ekblad and Weegar could be a very dangerous top-two pair as both are quick and have great hockey IQ to be running the show from the back end.
I'm not saying that Weegar is going to be an all-star defenseman, but with a consistent defensive partner like Ekblad, both players should benefit. Weegar has yet to play a full NHL season — when looking at his statistics he improves in almost every category as each season progresses (excluding the paused 2019-20 season). He has shown that with each season he plays and the more time he's given on the ice, he improves.
Entering this season and beyond, depending on how many games the NHL decides to set for the season, I believe Weegar could eventually be a consistent 35-45 point defenseman. The 26-year-old is in his prime physical years and if all goes well he could be looking at a great career and a big payday three seasons from now.
Similar Scenarios
I'm not saying Weegar is going to be a Norris Trophy-caliber player, but I'd like to point out that sometimes it takes a while for a defenseman to settle into his own.
All-Star and Norris Trophy-winning defenseman Victor Hedman of the Tampa Bay Lightning has played 11 seasons in the NHL. The 29-year-old veteran is coming off a Stanley Cup victory, but in the first four years of his career Hedman only managed 20-26 points per season while averaging 21:33 a game.
After the first four seasons, his career took a jump — the following seven saw a large increase in production as he scored at least 50 points in five of those seven. To say that Weegar could reach 35-45 points a season while averaging similar minutes at roughly 22-23 a game is not unrealistic.
Proving Himself
Although he received a nice extension with Florida, Weegar still has lots to prove. With a new general manager on the team, it's important that he shows Zito that he deserves top-pairing minutes and earned his contract. Having been with the Columbus Blue Jackets who have a very strong defense including Seth Jones and Zach Werenski, Zito most likely understands the importance of a young defender to a playoff team.
Seeing Weegar grow in the past four seasons has been quite a sight. If he and Ekblad can stay together as a pair, expect things to fall into place with the Panthers' other defensive pairings as well. Sergei Bobrovsky may feel a lot better this year with a defense that can keep players away from the front of the net. Having a consistent defense will be a key to Florida's success this season and beyond as they look to reach past the first round of the playoffs for the first time since 1996.
---
---