The Florida Panthers had a crazy month of February, highlighted by late comebacks and knocking off Cup contender teams. As a result of their recent success, they entered the month of March tied for first in the Discover Central Divison with the Stanley Cup champion Tampa Bay Lightning.
The Cardiac Cats Strike Again
It seems the Panthers really like to make their fans have heart attacks with the number of close games they've been in. Their late heroics have stolen the show this past month, as they've mounted a league-leading 10 comebacks to win games this season. This included comeback wins against the Carolina Hurricanes, Dallas Stars, and Detroit Detroit Red Wings this past month. While you never want to go down at any portion of a game, a win is a win in the grand scheme of it all. Furthermore, good teams will always find ways to get two points on any given night, regardless of how tough or weak their opponent is.
The Panthers Upset the Lightning
Florida played their first few games against the Lightning this month and managed to steal four out of a possible six points. This completely shocked the NHL, and these were not that close. On Feb. 11, they beat the Lightning in convincing fashion by a score of 5-2, as Tampa goaltender Andrei Vasilevskiy allowed four goals on 28 shots and finished his night with a .857 save percentage. On Feb. 15, the Cats would do it again, as they beat the Bolts by a score of 6-4. That was their first win in Tampa since the 2015-16 season.
They can play up to their competition, and the rest of the league should not look down upon Florida.
High Flying Offense Continues to Make its Mark
While the offense struggled near the end of the month, it managed to pull off great feats and bring the team together in games that seemed out of reach. This was led by leaders such as forward Jonathan Huberdeau, who currently leads the team in points. He came to play in the month of February, as he tallied 17 points (seven goals, 10 assists), bringing him to a season total of 24 points (eight goals, 16 assists).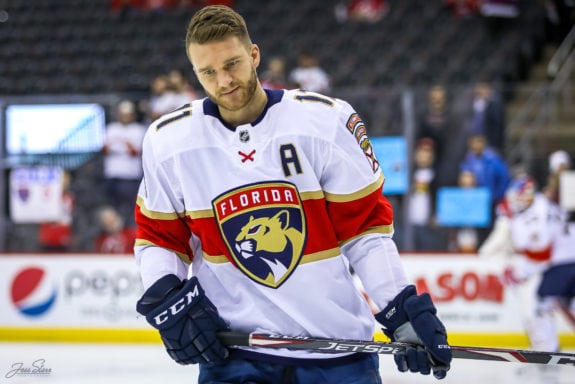 Furthermore, one of Huberdeau's linemates, Patric Hornqvist, also made a big impact last month. He had 11 points (four goals, five assists) through the month of February and now currently leads the team in goals and power play goals. Hornqvist's style of play continues to bring a sense of intensity and drive to the lineup, and it's resulted in massive success.
Related: Florida Panthers' 3 Stars of the Month- February 2021
In addition, the captain, Aleksander Barkov, also showed his ability and skill on full display. In February alone, he registered 14 points (six goals, eight assists), giving him 22 points on the year (eight goals, 14 assists). In addition, he became second in franchise history in points, passing former captain Olli Jokinen. He now currently has 429 points in his NHL career through 500 games played. Barkov has done tremendous things for this Panthers team this season, and he looks to continue doing much more.
Lastly, forward Frank Vatrano decided to get in on the fun and set up a goal streak that would go into March. In his last two games for the Panthers in February, he was responsible for either the game-winning or game-tying goals in those games. He even scored a game-tying goal in the first game on the first day in March against Carolina. In addition, he had a total of four goals and two assists on the month, bringing his point total to nine on the season (seven goals, two assists).
If the Panthers want to keep their good performances up, their offense needs to keep producing at a high level.
Ekblad Adds Fuel to the Offensive Fire
Defenseman Aaron Ekbald decided to put his own ingredients into the offense during the month of February. He had four goals and two assists, bringing his season total to 11 points (six goals, five assists).
Related: Panthers' Aaron Ekblad Should Have Sights on Norris Trophy
While his plus/minus rating is currently at even, he can still produce as a top-pairing defenseman and should have no problem playing like one in the month of March.
Driedger Continues His Elite Goaltending Performance
Goaltender Chris Driedger picked up right where he left off in January. In the seven games he started in February, he picked up five wins. In three of those five wins, he had a save percentage (SV%) higher than .920, bringing his SV% to .926 on the season. In addition, his goals against average (GAA) is now a 2.25, ranking for 15th in the NHL.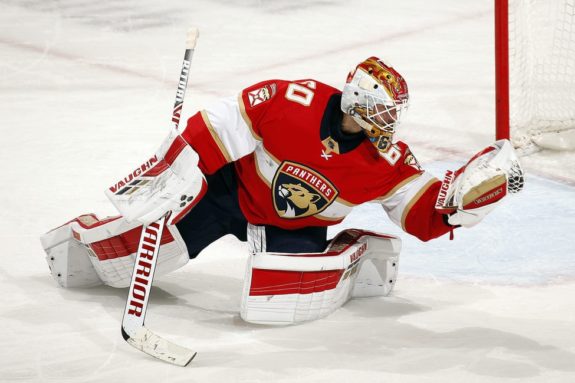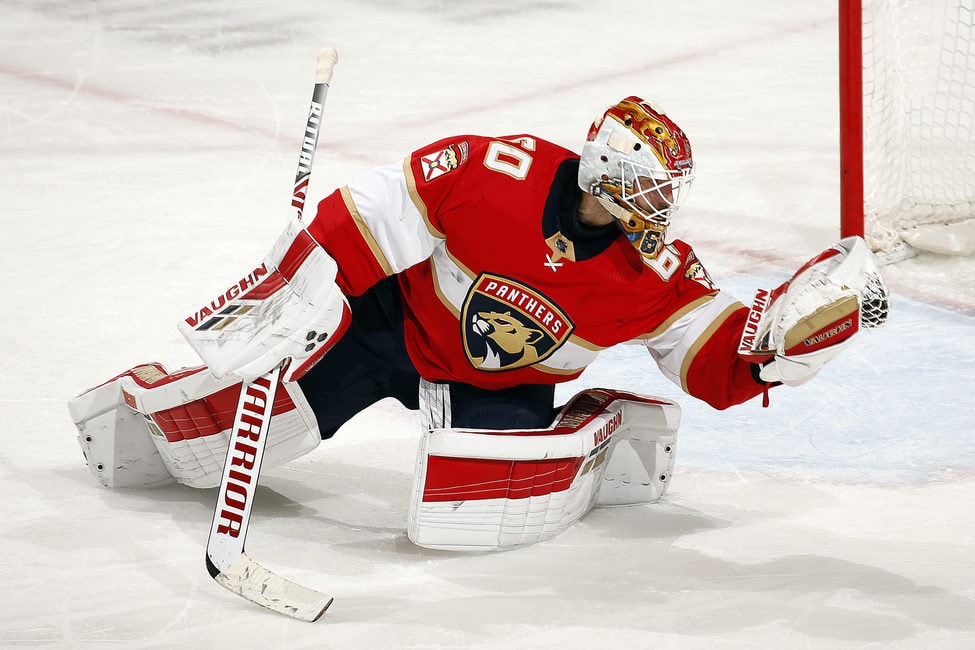 After bouncing around the AHL and Ottawa for nearly a decade, Driedger has earned himself a starting position in the NHL. Whether it be in Florida or somewhere else, his ability is something that teams are going to love to see from him.
Bobrovsky Picks Up His Play
While goaltender Sergei Bobrovsky struggled mightily in January, he managed to play more to his potential in February. He raised his stats up to a .899 SV% and a 3.02 GAA. Those are still rough, but they're trending in the right direction. In addition, he had a SV% of about .920 in all three games he won last month.
He can still pile up wins, and his play will presumably pick up near playoff time, as they're going to need it to secure a spot at the dance.
The Duke Is Snake Bitten
Anthony Duclair is still an extremely talented forward in today's NHL. During February, he finally scored his first goal as a Florida Panther. However, he was extremely unsuccessful to the point he was demoted from the top line to the third line. Through the last month, the "Duke" only had four points (two goals, two assists) and is now expected to miss at least a week entering this month after suffering an injury on Feb. 27. Throughout his career, he's always had his downs. But they do not normally last long, and his ability will more than likely allow him to rebound when he returns to the ice.
Connolly Put on Waivers
After playing in 85 regular-season games and four playoff games with the Panthers, forward Brett Connolly was placed on waivers and sent to the taxi squad. He's been struggling hard this season, as he's been scratched multiple times and has only registered three points through 16 games. He has two years left on a $3.5 million a year deal that he signed last offseason.
Florida Struggles Against Detroit
Despite being the second-worst team in the league, the Detroit Red Wings somehow managed to play up to their competition and beat the Panthers not once but twice in regulation this month. On Feb. 7, Florida was handed their first regulation loss of the season by the Wings at a score of 4-1. Nearly two weeks later, they would lose another regulation game to the Wings by a score of 2-1.
While these are games you can quickly look past, you cannot lose to underperforming teams as a potential playoff contender. Missing out on these points could come back to bite them near the end of the season.
It's Time for Some March Madness
The third month of the NHL season has already started for Florida, but it was in the form of a heartbreaking overtime loss to Carolina by a score of 3-2. Although, they entered this month on a three-game point streak, collecting a total of four out of a possible six points. Last season, March was very kind to Florida, as they collected points in three of the four games they played. However, they pulled the plug on the regular season due to the outbreak of COVID-19. If Florida can replicate the same success, playoffs will absolutely be in their future.
---
---