Assume you have not watched the  NHL at all this season and I asked you who you think is leading the league in scoring. You may rattle off some common household names such as Alexander Ovechkin, Sidney Crosby, Evgeni Malkin, or Steven Stamkos.
If you looked it up as of Sunday morning, you may be surprised to learn that San Jose Sharks forward Patrick Marleau is absolutely tearing up the NHL with eight goals in four games. He is also tied with his teammate Joe Thornton with 11 points to lead the league.
Let me give you some numbers to put this in perspective:
Marleau is on pace for a 96-goal, 132-point season if he scores two goals and dishes out an assist every game.

Marleau is the first Shark ever with four straight multi-goal games and first in NHL since Alexander Mogilny scored more than once for Buffalo in five straight games during the 1992-1993 season. 

Marleau has the same amount of goals as the Kings, Capitals, Panthers, Blue Jackets, and Devils this season.

Marleau is the second player in NHL history to begin a season with four multi-goal games. The only other player to do so was Cy Denneny, way back in 1917-18 with the Ottawa Senators.
"I don't know if he can keep scoring two goals every night, but he can keep his play up the way it's been," said head coach Todd McLellan, following a 4-0 shutout of the Avalanche on Saturday afternoon. "He's been skating extremely well. A ton of confidence. He's prepared to shoot the puck. He's engaged physically. It's a great reward for him. He came focused to play."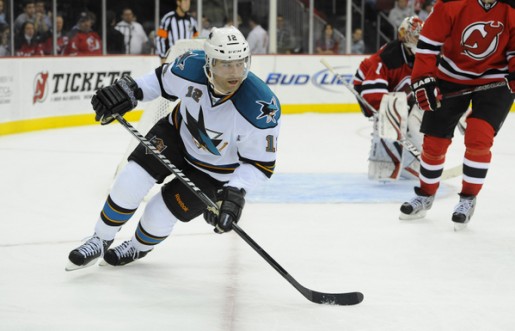 We all know that Marleau is a machine when it comes to putting pucks in the net. He has scored 30 or more goals in the last four and six out of seven seasons. He has put up double-digits in goals every year since he entered the league with the Sharks in 1997 as the second overall pick in the draft.
This season has been no different. So what has the key to success been in 2013? How has he continued to score at an elite rate at age 33, and this being his 15th season in the league?
It may be a small sample size, but I did my homework and re-watched each one of Marleau's eight goals thus far. I came up with three "categories," and placed each goal in one (or more) of them. Here are my results:
Right Place, Right Time: Four of Marleau's goals came as result of him being in the right position at the perfect moment to put the puck in the net. Whether it was cleaning up a rebound or shooting at a wide open net after receiving a nifty pass, luck has served Marleau extremely well this season. Some players simply have a feel for the game, or as Sharks color analyst Drew Remenda likes to call it, "good hockey sense." Marleau seems to have a knack for skating to the right spot and taking advantage of the opportunity when it comes.
Pure Skill: The other half of Marleau's eight goals were scored based on his pure skill and ability. Marleau is one of the fastest players in the game, and has a hell of a wrist shot that seems to blow by the goaltender in a split-second. An example is his game-winning goal against Phoenix on Thursday night. Once he received the puck on the wing with nobody in front of him but the goalie, you just knew that puck would wind up in the back of the net. With a quick wrist shot, the Sharks had captured a 4-3 lead faster than you could say "wow."
Assisted by Joe Thornton: Face it: whenever you play on the same line as Joe Thornton, you are going to score goals. Thornton currently leads the NHL with nine assists, and six of those have resulted in a goal by Marleau. Whether it was a no-look, backhand dish or a perfect feed right into the slot, Thornton has found a way to reward Marleau with his sensational passes.
Will Marleau continue this historic streak? With the way that Thornton is playing and the Sharks are firing off on all cylinders, it is almost a guarantee that Marleau will have at least one or two scoring chances each game.
Whether or not he converts those chances is a different question. Perhaps a shot rings off the post, the goaltender makes a spectacular stop, or a defenseman makes an alert play.
None of that matters right now.  What does matter is that the underrated, reserved Marleau is finally getting the attention that he deserves with an unbelievable start to the 2012-2013 season.