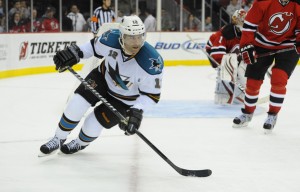 Numbers shape fantasy hockey. That is a fact. When fans and media joke about a player being on pace for 48 goals after game 1, one has to chuckle at least a little bit. What if the player keeps scoring like that? Then at least there is a little reverence at the very fact that someone can string together a streak in the shortened season. Having fun with numbers means twisting and stretching them at least a little for, in our case, mostly fantasy purposes. Are you ready? Let's go!
Again as we spin these numbers, please keep in mind this is only Week 1 still. Now here is our featured presentation!
Spinning The Numbers:
4 — Who knew that Patrick Marleau could play like this? Scoring a couple goals once was nice. Then we saw it again and then again. Saturday, Marleau hit the fantasy hockey world one more time with two goals for the fourth time this week! The whole entire first line for San Jose has been on fire. Can they continue it?  I do not know. However, it will be fun to see them try.
0 — That is the amount of goals that Alexander Ovechkin has this season in four games for the Washington Capitals. With new coach Adam Oates, Washington was supposed to be all about that freewheeling team we all saw a few years back. That has not happened and the top line has been almost nonexistent. One has to think he will snap out of it. Is it Ovechkin? Maybe as this article points out, it is somewhat at least.
40 – The magical age of 40 in the NHL usually means curtains for a career but apparently the shortened season has awakened a fountain of youth of sorts. Martin Brodeur has three wins already. Teemu Selanne is wreaking havoc once again. Jaromir Jagr had a four point evening on opening night. Ray Whitney still looks like Ray Whitney. Maybe the nearly four month lockout was a blessing for guys who were thought to have one foot in the retirement door. It will be fun to see what happens next.
32 – Did I read this right? When a Toronto defenseman plays this many minutes, there has to be a gasp. And yet it happened. If anyone really knows what they are trying to do up in the land of the "Maple Leaf", please let us know. Here is the proof.
Kostka played nearly 32 minutes tonight. That's absurd bench management. Fraser, Brown and Orr playing cards at end of bench.

— James Mirtle (@mirtle) January 27, 2013
3 — Three is a magic number. If you do not think so, then just ask Steve Sullivan. All Sully did was score three times on just three shots. Usually when you see hat tricks, the player has 4, 5, 6 shots or sometimes more. In this case, Sullivan did not need what Shane Doan did last year when he needed every single second. The diminutive winger definitely surprised some people this last week.
320 — This one is a bit more obscure but the number itself will prove to be quite daunting in just a second. Yes, here is the difference between the #1 and #2 active goalies in wins. Think about this for a second. Martin Brodeur has 659 wins (at press time) and Roberto Luongo has 339. At the best case scenario, Luongo would have to win 40 games a year for the next eight seasons. That does not appear likely. 
27 — In the post lockout era, few players could top 20 power play goals and this guy found a way. Give this guy credit but Ilya Kovalchuk tallied 27 times on the man advantage in the 2005-06 season. Some will argue that the new obstruction rules did aid the numbers a little bit but it takes talent to score that many times when your team has the power so to speak. 
————————————————————————————————
If you have any other numbers to spin at all, place them in the comments section. There will be more soon.