The Florida Panthers' recent struggles came to a head on Saturday night as the Philadelphia Flyers embarrassed the Cats during a 7-1 victory on their home ice in Sunrise Florida.
After winning their home opener 5-1 in an impressive fashion, the Panthers have been outscored 18-3 since then and have looked down right terrible on most nights.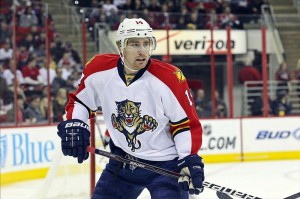 "You have to panic right now," winger Tomas Fleischmann told George Richards of the Miami Herald. "We have to bring everything we have. It's a short season. We have to panic right now."
Much like it has been over the past few games, the Panthers were their own worst enemy early on in the night. Bad penalties by Dmitry Kulikov and Jack Skille gave way to two early power play chances for the Philadelphia Flyers, one of which resulting in a goal by Matt Read – his first of three on the night.
Even though the Panthers outshot the Flyers 31-26, their sticks were once again held silent as goaltender Ilya Bryzgalov played a fantastic game in net and had several highlight reel saves. The forward pairing of Jonathan Huberdeau, Peter Mueller and Drew Shore was a silver lining for the Panthers as the young trio was responsible for most of the team's best scoring chances, including the Panthers lone goal scored by Peter Mueller in the  2nd period.
The Panthers' best weapon in recent games became their worst enemy on Saturday night as goaltender Jose Theodore was pulled from the game early after allowing 3 goals on just 9 shots. Recently, the excellent play of Theodore was the only thing keeping the Cats in games, if he begins to slump then team could be in even bigger trouble than they are now.
The Panthers' current frustrations were best summed up on Saturday night after the Philadelphia Flyers' Matt Read completed his hat trick in the 3rd period. As a few Flyers friendly hats rained down on the ice, Panthers' forward Tomas Kopecky took out his anger on the closest thing he could find – a flyer cap. Although the hat survived a few slashes from Kopecky's stick, it most likely suffered bill and/or thread damage and its' future as a piece of men's headwear is still uncertain. I will update fans on the hat's status as information becomes available.
While the Panthers could easily blame their struggles on a laundry list of injuries – most notably Marcel Goc, Sean Bergenheim, Erik Gudbranson, Kris Versteeg and Stephen Weiss – it is clear that the overall team chemistry and intensity just isn't there right now. Coach Kevin Dineen has been doing more shuffling than a Las Vegas black jack dealer as he tries to find the best line pairings with his depleted roster.
As the losses begin to pile up, the Panthers are becoming more aware that they don't have time to wait for players to return from injury as every loss stings just a little bit more in a shortened 48 game regular season. The team will have to learn to win with what they have, or face becoming irrelevant before the midway point of the season.
After Sunday night's embarrassment, it would not surprise me in the least if Panthers' General Manager Dale Tallon picked up the phone and started talking trades with teams around the league. Panther fans will remember that Tallon shipped Panthers' forward David Booth to Vancouver after the team struggled early last season. With the team in desperate need of help and urgency being felt both in the locker room and front office, it is nice to know that Tallon isn't afraid to pull the trigger on deals to potentially help the team.
The Panthers will have two days off to lick their wounds before heading across the state on Tuesday to take on their in-state rivals, the Tampa Bay Lightning. Considering the potency of the Lightning's offense and an arsenal of talented scorers like Steven Stamkos, the Panthers will need to figure out how to remedy their defensive woes quickly or else they could be in for another long night.
Notes:
While rookie Quinton Howden's NHL debut will be remembered for all the wrong reasons, the young winger still held his own and played well in spots during the Panthers' awful night. Overall he played 9:29 and was a -3 +/- with one shot on net. If Kris Versteeg and Stephen Weiss aren't ready to go on Tuesday expect him to get another start. 

I said it before and I'll say it again, where is George Parros? Parros was once again limited on Saturday night and only saw 5:32 of ice time. You would think during the Panthers current skid that a man with Parros' special skill set would have been used to spark the team by this point. Parros is known as a fighter yet the Panthers refuse to use him as a conductor to get the team fired up.
Follow Jameson on Twitter @coopdaloop123
An English major with a passion for pucks, Jameson has been a credentialed media member covering the Florida Panthers for Panther Parkway since the 2012-2013 season. Although his focus rests mainly with Panther Parkway, Jameson still contributes occasionally to the Sunbelt Hockey Journal. Through player interviews and discussions it's his goal to help bring players closer to their fans through interesting stories and personal pieces. With a unique brand of humor and insight, Jameson looks to provide hockey fans with articles that not only entertain, but also educate.