Only one week into the shortened 2013 season, we have already witnessed several exciting headlines in the NHL. Whether it's the performance of some of the league's "Ageless Wonders" or some quick starts by high flying rookies, we take a look at 10 surprises so far this season from a Fantasy Hockey perspective.
[Editor's Note: If you enjoy Daily Fantasy or want to see what it's all about – check out our partners at DraftKings.com]
1) Andrei Markov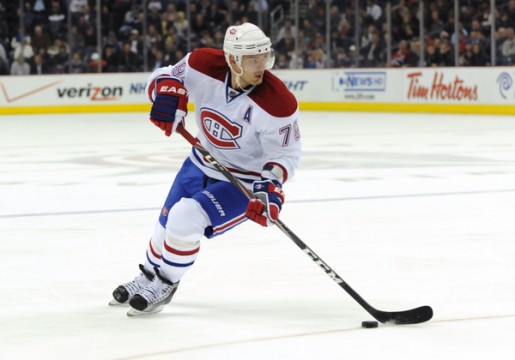 After missing the better part of the last 2 seasons to knee injuries, the Canadiens were not sure of whether or not Markov would be able to regain his old form. Now only three games into the season, and Markov is already looking like his old self. Although his skating and mobility may never be what it once was, the former All-Star has displayed exactly why he was once considered one of the top D-men in entire league. He's calm with the puck, has a great first pass, a rocket of a shot, and understands how to compensate on defense even with his decreased speed due to three knee surgeries. Markov leads all NHL defensemen with 3 Power Play Goals in only 3 games. He has also propelled the Canadiens Power Play to 8th overall in the league. While he may not be getting any younger, there is definitely no doubting his importance to the Montreal Canadiens. With Markov in the lineup, the Habs are a completely different team. Now all he has to do is remain healthy.
2) Patrick Marleau
Patrick Mearleau being amongst the league's top scorers is hardly a surprise. After all, he has scored 30 or more goals in 6 of his last 7 seasons. However, the pace he is scoring at this season is unheard of. Although he will likely come back down to earth, Marleau has already helped push Fantasy owners to the top of their standings with his early start. If he simply continues at around a point per game pace the rest of the way, he will finish with over 50 points in 48 games. His hot start prompted the NHL Twitter account to post the following tweet.
Patrick Marleau is on fire right now. Fact: He's also the 2nd player in NHL history to begin a season w/ 4 multi-goal games. #SJSharks

— NHL (@NHL) January 26, 2013
3) Vladimir Tarasenko
Rookie sensation Vladimir Tarasenko has started his NHL career in 5th gear. The former first round pick came out blazing in his first game of the season with two highlight reel goals vs the Detroit Red Wings. He currently leads all rookies with 4 goals through 4 games and is already a leading candidate for the Calder Trophy. See his 2 goals against the Wings below.
4) Steve Sullivan
Steve Sullivan showing up on this list is definitely a big surprise. The 38 year old signed with Phoenix in the off season after putting up 48 points in 79 games with the Pittsburgh Penguins last season. So far the 5-8 forward has been a perfect replacement for veteran Ray Whitney, who signed with Dallas in the off season. Sullivan has 5 points in his last two games including a hat trick. If he can continue scoring for the Yotes he will surely make it easier for the fans to forget about Whitney.
5) Cory Conacher
If Cory Conacher is still available in your fantasy league, then please pick him up immediately! I recently wrote an article highlighting 5 reasons the Lightning will be an improved team in 2013, and Conacher was on that list. Last year's AHL MVP has had an amazing start to his rookie season with 7 points in 4 games. He's currently the leading scorer of all rookies in the league, and isn't showing any signs of slowing down. The diminutive forward is logging top flight minutes playing along side Steven Stamkos and Marty St.Louis at both even strength and on the Power Play. He's a good fit on the team's top line, and as long as he continues to produce he should remain there all season long.
6) Kyle Turris
2007 third overall pick Kyle Turris has taken quite a while to develop at the NHL level. However, after being dealt out of Phoenix last season, the 6-1 Center seems to have found a home centering Ottawa's second line. After putting up 29points in only 49 games with the Senators last season, Turris has started off the year on a hot streak. He leads the Senators with 4 goals and 5 points in his first 4 games. While we don't expect him to continue scoring at a goal per game pace, it is nice to see him finally find his offensive touch in the NHL. If he can continue to produce solid offensive numbers in Ottawa as a 2nd line center, then he could be someone to target for your Fantasy team. If you need help at Center, odds are he wasn't drafted in your league and he may be worth a look.
7) Nazem Kadri
Leafs nation has been patiently waiting for the day where Nazem Kadri started to produce at the NHL level. Well, that day may have finally come. While it's still early to say for certain that Kadri will remain and everyday NHLer, he certainly has helped his cause with an ultra hot start. The 22 year old has 5 points in his first 4 games this season, and has displayed the offensive skills that had him drafted 7th overall in 2009. If the 6-0 forward continues to put up points and create offense in the NHL, we can see him being a mainstay in the top 6 for years to come. It may be too early to add him to your fantasy teams, but he's definitely someone to keep on your scout list.
8) Raphael Diaz
Swiss Defensemen Raphael Diaz has enjoyed a fine start to the 2013 season. With Habs star D-man PK Subban sitting out over a contract dispute, Diaz has been given an opportunity to step in to the Canadiens top Power Play unit. The 27 year old has not disappointed racking up a team high 5 assists in the first three games. He seems to have found a home along side Andrei Markov at the point, and all signs point to him remaining in that role even if Subban does sign soon. In a league where offensive defensemen are hard to find, Diaz would be a great pickup as a number 4 fantasy dman. If he's out there in your leagues, he should be added.
9) Patrick Kane
Seeing Patrick Kane on this list may come as a big surprise to everyone, however it's important to keep in mind that the young star only finished with 66 points in 82 games last season. While that may sound like a good season for most players, it was considered a down year after Kane had 4 straight 70+ point seasons (including 88 in 2009-10). Kane has started off the season on an absolute tear, leading his Hawks to a 5-0 start. He is looking every bit like the Kane we remember with 9 points through the first 5 games. If he keeps this pace up he will surely be amongst the league's top scorers at the end of the season.
10) Michael Grabner
Over the past few seasons Michael Grabner has become a frustrating player for both the Islanders coaches and fantasy owners alike. After being claimed off waivers in 2010 by the Islanders, the speedy winger had a breakout season scoring 34 goals and finishing with 52 points. He followed that up with a big step back in 2011-2012 after only accumulating 32 points in 78 games played. Now through the first week of the season Grabner seems to have regained his scoring touch with 5 points in the first 4 games. He's leading the Islanders in scoring and although it's very early, he's on pace to have an outstanding season. There's a good chance that Grabner went undrafted in your Fantasy Leagues this year, so if he's available he's worth a flier.
Santino currently works as a QMJHL Prospects writer for DobberSports.com. He is also covering the Montreal Canadiens & Fantasy Hockey for AllHabs.net. Santino will be covering Fantasy Hockey for THW. Follow him on twitter @SantinoFasulo