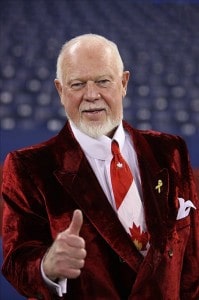 When the 2012-13 NHL Lockout came to a close, players, fans and the like were all happy to have hockey back.  But for the true north strong and  free, Canadian Hockey fan, they were happy to have 'Hockey Night in Canada' back and more importantly, they were happy to have the great media icon, Don Cherry back.
On the first night of hockey, the usual knock'em, sock'em Cherry as he settled in to his seat for the CBC's 60th season of HNIC.
One thing that Don loves to do is tell everyone about how right he is.  He started his segment by confirming that it was he who said that the league and it's players would get back to playing by January 15th, and here they were dropping the puck on January 19th.
"Guaranteed", he said as he hammered his fist on the desk.
Yes Don, it was all you sir.
Clearly the Don is a passionate fan of hockey in Canada.  His first affiliation always lies with the Canadian hockey player and the Canadian fan.  A close second is his love for the Toronto Maple Leafs, even though he didn't ever play for or coach them.  Actually it's quite amusing to have a look at Cherry's colorful playing career.  Here's a look at his hockeydb.com profile: Don Cherry
When it came down to talking hockey, Cherry started with a quick jab at the Toronto Maple Leafs former manager Brian Burke and its former coach Ron wilson by touting Canadian kid Nazem Kadri.  "Hey, by the way, that Nazem Kadri is a pretty good hockey player".  Kadri who has made the team out of camp, again, scored in the first period on opening night in Montreal.  In case you missed it, here it is again.
http://youtube.com/watch?v=-odFlxm0WRA
Cherry is not wrong on this one, at least not so far.  Kadri has three goals and five points in four contests so far and he's doing it in just over thirteen minutes of ice-time per game.  I'll give you this one Don.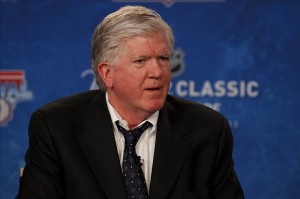 Brian Burke
When it came to Brian Burke and Don Cherry, there was no love lost.  This city was not big enough for both of these two boisterous hockey minds.
Burke didn't like that Cherry bashed his hockey club and it's decision making on national television.
Cherry didn't like that his hometown team lacked good old boys from this great nation.
The two spent a lot of time beating each other up in the media during Brian Burke's tenure as President and General Manager.
However, on opening night, which came just a few short days after Burke was fired from this glorious post, Cherry told Ron Maclean that he supported Burke coming in.
Ron: sounds like you get your wish?
Don: MY WISH?
Let's face the fact Mr Cherry. Ron was right, you couldn't wait to get Brian Burke out of Toronto.  You couldn't have a loud mouth, boisterous, "i'm smarter than you" American hockey guy leading one of the oldest and richest Canadian Franchises right?
Although Cherry did support the Burke hiring at first, he said that a week later that all went away, when instead of going after the pugnacious type player, Burke went after college guys, finns and swedes.  He helped us to recall that when Burke was in Anaheim, he did it with a bunch of Canadian guys.
Cherry struggled with understanding Burkes moves and then it hit him last year when Colton Orr was sent down.  Burke, who loved Orr, was too loyal to Wilson and the Wilson style of playing.  In the end, Cherry believes this is what costs him the job.  In fact, he couldn't believe that Burke and Wilson had as long as they did stating that when he was in Boston, he asked Harry Sinden for a fighter and Sinden agreed, but they both knew that if the experiment didn't work, that Cherry would be gone after just one year.  Emphatically again, he stated "These guys had four years!"
he added "All he needed to do was make the playoffs".
The Burke talk ended when Cherry dismissed the timing discussion.  He said, without a CBA, the owners were told they couldn't make these moves.  End of story.
So where will Cherry go this week?  I guess you'll have to tune in to find out.
In case you missed the episode:
Tonight's Coach's Corner was a beauty. http://t.co/rH46a1da

— Don Cherry (@CoachsCornerDC) January 20, 2013
For every Maple Leafs article on THW, follow @THW_MapleLeafs  on Twitter